NLDS Game 1 lineups: Giants vs. Cubs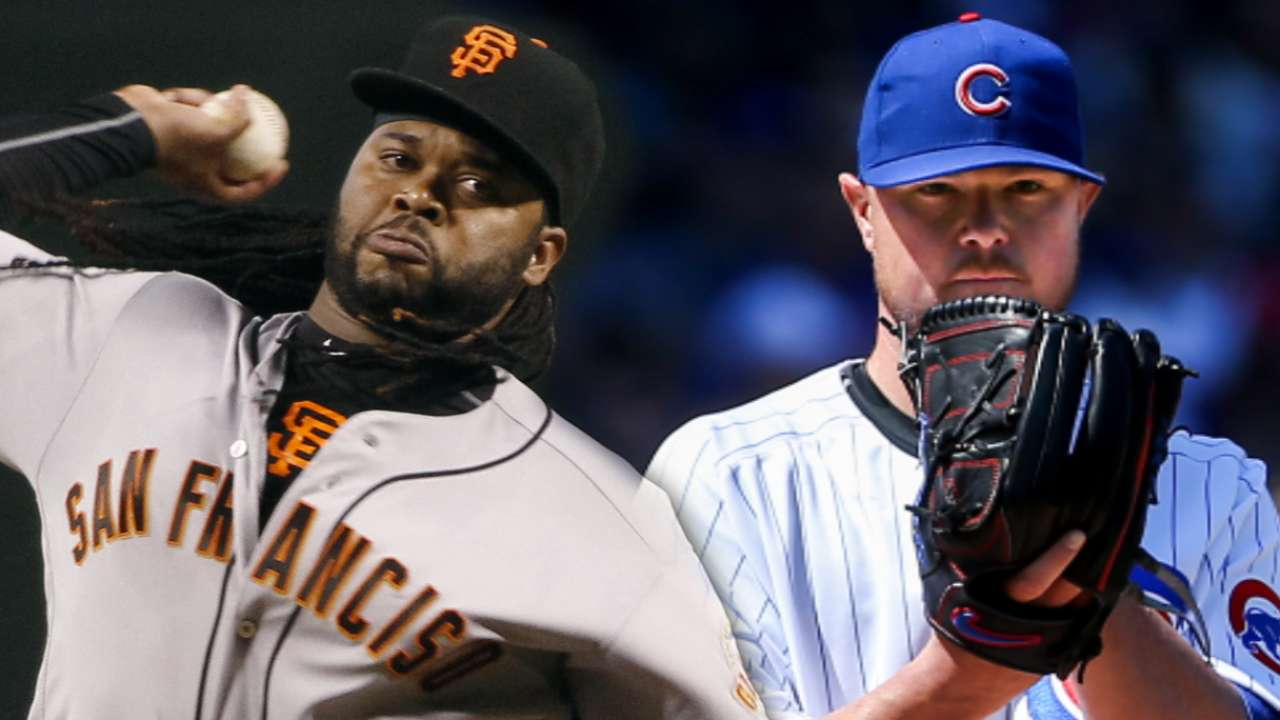 CHICAGO -- Facing a formidable left-hander in All-Star Jon Lester, Giants manager Bruce Bochy went with right-handed hitters Gorkys Hernandez in center field and Kelby Tomlinson at second base in Game 1 of the National League Division Series against the Cubs on Friday night (FS1, 9 ET/6 PT) at Wrigley Field.
The two replace Denard Span and Joe Panik, respectively, at those positions in the starting lineup from San Franicsco's Wild Card Game victory over the Mets on Wednesday
Meanwhile, Cubs manager Joe Maddon inserted defensive whiz Javier Baez at second base and Ben Zobrist in left field for the NLDS opener. Baez made 38 starts at second base during the regular season, and Maddon has usually started him where they need the strongest defense. Zobrist started 11 games in left field during the season.
"Looking at the big picture of everything, even though [the Giants are] hitting righties, just going over our work and talking it through, we thought it would be best to have him at second," Maddon said of Baez.
Dexter Fowler leads off, as usual, for the Cubs vs. Giants starter Johnny Cueto, who tossed seven innings of one-run ball vs. Chicago on Sept. 4., at Wrigley, where he's gone 5-5 with a 3.07 ERA in 15 career starts. Fowler, Zobrist, Kris Bryant and Anthony Rizzo finished among the top 10 in the NL in on-base percentage, and as Maddon likes to say, as Fowler goes, the Cubs go.
Lester not only ranked third in the NL with a 1.74 home ERA during the regular season, but he also went 13-0 with a 2.09 ERA in night games. Cueto was almost as good under the lights, sporting a 15-3 record with a 2.52 ERA over 22 starts.
GIANTS
Gorkys Hernandez CF
Brandon Belt 1B
Buster Posey C
Hunter Pence RF
Angel Pagan LF
Brandon Crawford SS
Kelby Tomlinson 2B
Conor Gillaspie 3B
Johnny Cueto P
CUBS
Dexter Fowler, CF
Kris Bryant, 3B
Anthony Rizzo, 1B
Ben Zobrist, LF
Addison Russell, SS
Jason Heyward, RF
Javier Baez, 2B
David Ross, C
Jon Lester, P
Carrie Muskat has covered the Cubs since 1987, and for MLB.com since 2001. She writes a blog, Muskat Ramblings. You can follow her on Twitter @CarrieMuskat and listen to her podcast. This story was not subject to the approval of Major League Baseball or its clubs.