NLDS Game 1 lineups: Dodgers vs. Nationals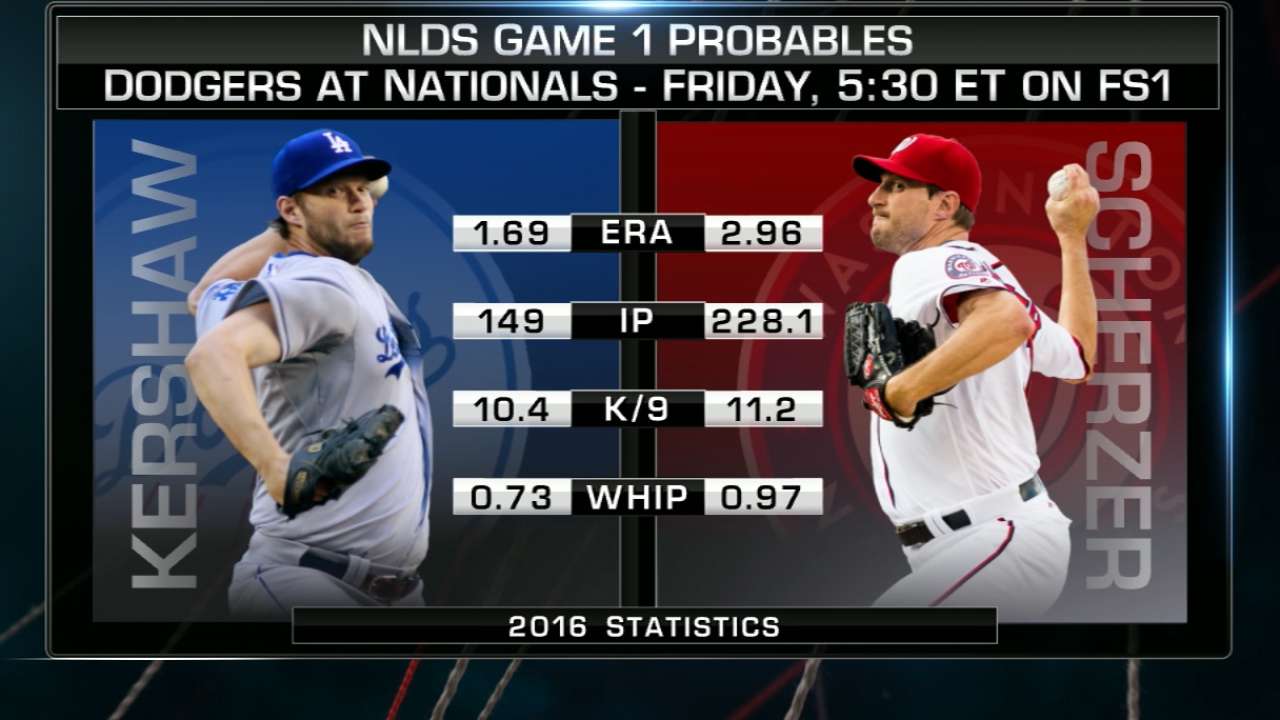 The Nationals and Dodgers have set their lineups for Game 1 of the National League Division Series, each hoping to scratch out runs against past Cy Young Award winners.
The Nationals will go with the usual faces but a slightly different order against Dodgers left-hander Clayton Kershaw for Friday's game at Nationals Park, where Game 1 is scheduled to begin at 5:30 p.m. ET/2:30 PT on FS1.
Right fielder Bryce Harper has been bumped up to the two-hole, with Jayson Werth (.286 career vs. Kershaw) sliding into the No. 3 spot. Second baseman Daniel Murphy (.316), third baseman Anthony Rendon (.313) and first baseman Ryan Zimmerman (.318), all of whom have good career numbers against Kershaw, make up the middle of the order.
The Dodgers will go with their standard lineup against Nationals right-hander Max Scherzer, with the exception of Andrew Toles batting eighth and playing left field in place of veteran Howie Kendrick.
"I'm just ready to get going and go out there and do my best, really," said Toles, who began the season at Class A Advanced Rancho Cucamonga.
Josh Reddick, batting fifth and playing right field, has the best numbers of any Dodger against Scherzer, with a .294 average with one triple.
DODGERS
Chase Utley, 2B
Corey Seager, SS
Justin Turner, 3B
Adrian Gonzalez, 1B
Josh Reddick, RF
Joc Pederson, CF
Yasmani Grandal, C
Andrew Toles, LF
Clayton Kershaw, P
NATIONALS
Trea Turner, CF
Bryce Harper, RF
Jayson Werth, LF
Daniel Murphy, 2B
Anthony Rendon, 3B
Ryan Zimmerman, 1B
Danny Espinosa, SS
Pedro Severino, C
Max Scherzer, P
Cash Kruth is a reporter for MLB.com. Follow him on Twitter at @cashkruth. This story was not subject to the approval of Major League Baseball or its clubs.