Nationals go with 5 rookies on NLDS roster
Revere, Belisle, Petit among veterans who will not be active vs. Dodgers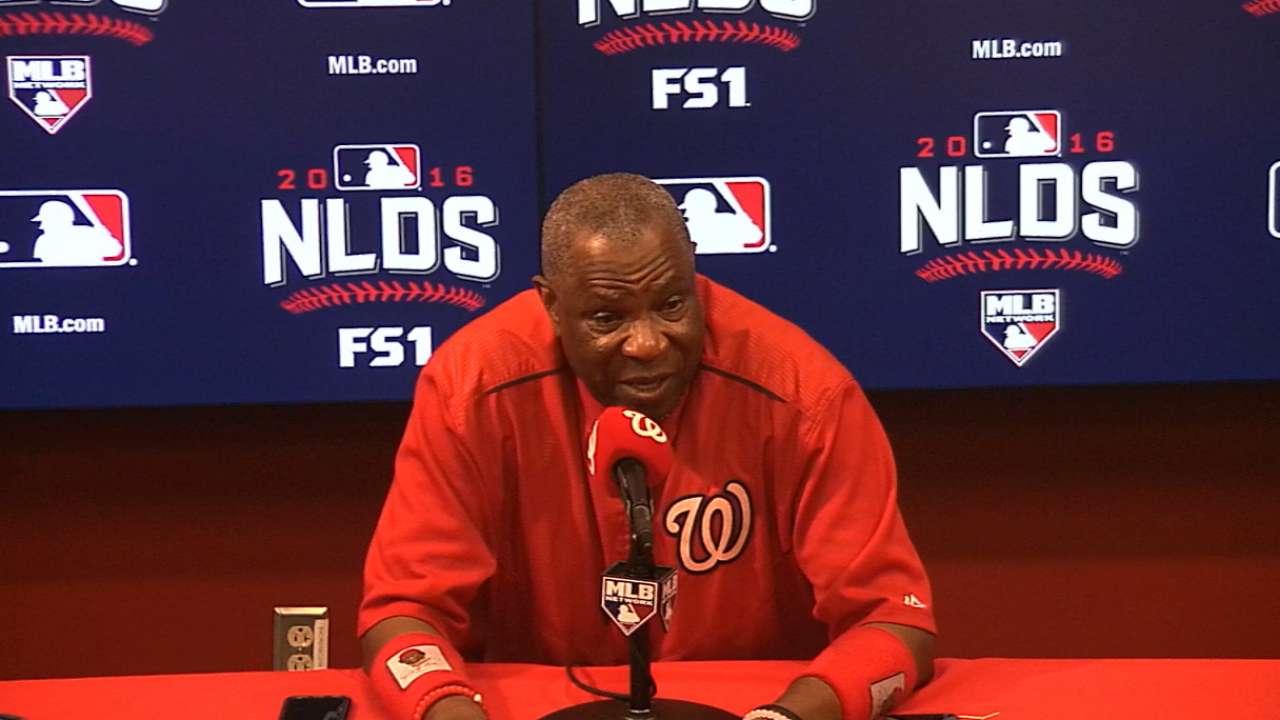 WASHINGTON -- The Nationals spent the past few weeks debating on which players would secure the final spots on their postseason roster, decisions manager Dusty Baker said would be some of the toughest of the year.
When Washington released its roster for the National League Division Series against the Dodgers -- which begins Friday (5:30 p.m. ET on FS1) at Nationals Park -- the Nationals decided to carry 11 pitchers and 14 position players. In many ways, they went with youth over veterans, electing to carry five rookies.
Outfielder Michael Taylor, who had been battling a thumb injury recently, and rookie infielder Wilmer Difo will join Stephen Drew, Clint Robinson, Chris Heisey and the other half of the Jose Lobaton /Pedro Severino catching platoon to make up the Nationals' bench. Hard-throwing rookie right-hander Reynaldo Lopez will be the Nationals' long reliever to provide insurance with question marks surrounding left-hander Gio Gonzalez, who will start Game 3, and potential Game 4 starter right-hander Joe Ross.
That meant the Nationals chose to leave off a few veterans who had been with the team since Opening Day, including outfielder Ben Revere and right-handers Matt Belisle and Yusmeiro Petit.
The Nationals elected to carry three left-handers -- Marc Rzepczynski, Oliver Perez and Sammy Solis -- in their bullpen, because of the Dodgers' lefty-heavy lineup and their struggles against southpaws all season long. Los Angeles posted the lowest OPS in baseball against lefties in 2016.
"I don't think any roster is like completely the way you want it," Baker said last week. "But we're gonna try to get it as close as we can to fill as many holes or possibilities as we can."
PITCHERS (11)
Gio Gonzalez
Shawn Kelley
Reynaldo Lopez
Mark Melancon
Oliver Perez
Tanner Roark
Joe Ross
Marc Rzepczynski
Max Scherzer
Sammy Solis
Blake Treinen
CATCHERS (2)
Jose Lobaton
Pedro Severino
INFIELDERS (7)
Wilmer Difo
Stephen Drew
Danny Espinosa
Daniel Murphy
Anthony Rendon
Clint Robinson
Ryan Zimmerman
OUTFIELDERS (5)
Bryce Harper
Chris Heisey
Michael A. Taylor
Trea Turner
Jayson Werth