ALDS Game 2 lineups: Red Sox vs. Indians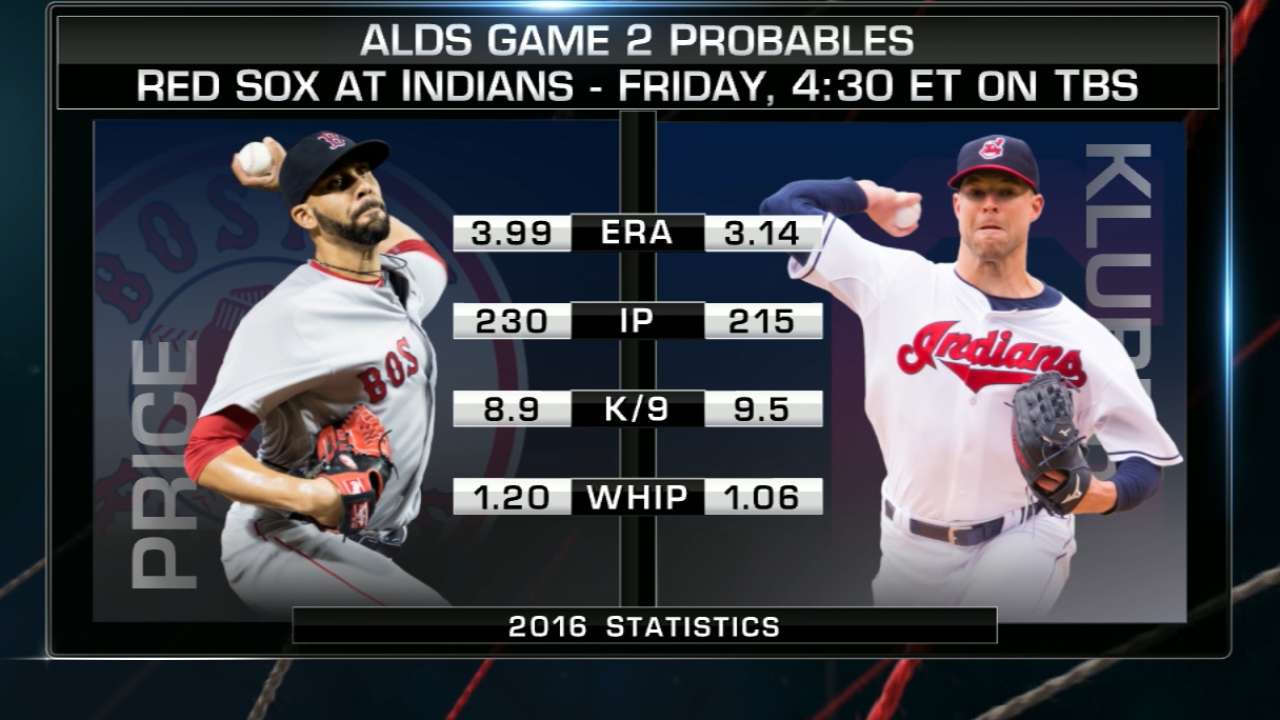 The starting lineups have been announced for Game 2 of the American League Division Series between the Red Sox and Indians, scheduled to begin at 4:30 p.m. ET/3:30 CT today on TBS. The Indians have switched their lineup with Boston left-hander David Price on the mound as they look to take a 2-0 series lead at Progressive Field.
Cleveland inserted center fielder Rajai Davis in the leadoff spot, with Carlos Santana hitting fifth. Third baseman Jose Ramirez is batting sixth, with left fielder Brandon Guyer, right fielder Lonnie Chisenhall and catcher Roberto Perez filling out the final third of the order against the lefty Price.
Chisenhall typically only starts vs. RHP, but he's in there vs. Price, against whom he is 4-for-11 (.364) in his career. Manager Terry Francona also wanted to have a better defensive alignment with Kluber pitching.
"A little bit," Francona said when asked if Chisenhall's presence was related to defense. "It's balance related, defense related and Lonnie's faced him as much as anybody. His splits are basically even. I wanted to give us some balance, and now we have a switch-hitter [Coco Crisp] on the bench that can pinch-hit. With Klubes pitching, I like having a really good defensive team out there, too."
The Red Sox are keeping their lineup mostly the same as the opener for Game 2, going with their usual batting order against Indians right-hander Corey Kluber, with one exception: Rookie outfielder Andrew Benintendi is hitting seventh after going 2-for-4 with a home run in Game 1.
"I don't think there's anything to suggest he's not ready for that," Red Sox manager John Farrell said of bumping the rookie up from ninth. "But at the same time, I firmly believe as you kind of gradually bring guys along … I would rather a guy stay on a steady migration north rather than jumping them all over the place."
Jackie Bradley Jr. is in the nine-hole. Bradley is the rare player who loves batting ninth. In 147 plate appearances in that spot this season, he is slashing .341/.388/.598 with six homers and 31 RBIs. The only spot in which he had more plate appearances this season was the sixth spot.
"I look back to where Jackie has been most productive, and it's been in the ninth spot," Farrell said. "A slight change to the bottom of the order."
RED SOX
Dustin Pedroia, 2B
Brock Holt, 3B
Mookie Betts, RF
David Ortiz, DH
Hanley Ramirez, 1B
Xander Bogaerts, SS
Andrew Benintendi, LF
Sandy Leon, C
Jackie Bradley Jr., CF
David Price, P
INDIANS
Rajai Davis, CF
Jason Kipnis, 2B
Francisco Lindor, SS
Mike Napoli, 1B
Carlos Santana, DH
Jose Ramirez, 3B
Brandon Guyer, LF
Lonnie Chisenhall, RF
Roberto Perez, C
Corey Kluber, P
Cash Kruth is a reporter for MLB.com. Follow him on Twitter at @cashkruth. This story was not subject to the approval of Major League Baseball or its clubs.