Tale of the Tape: Giants-Cubs NLDS Game 1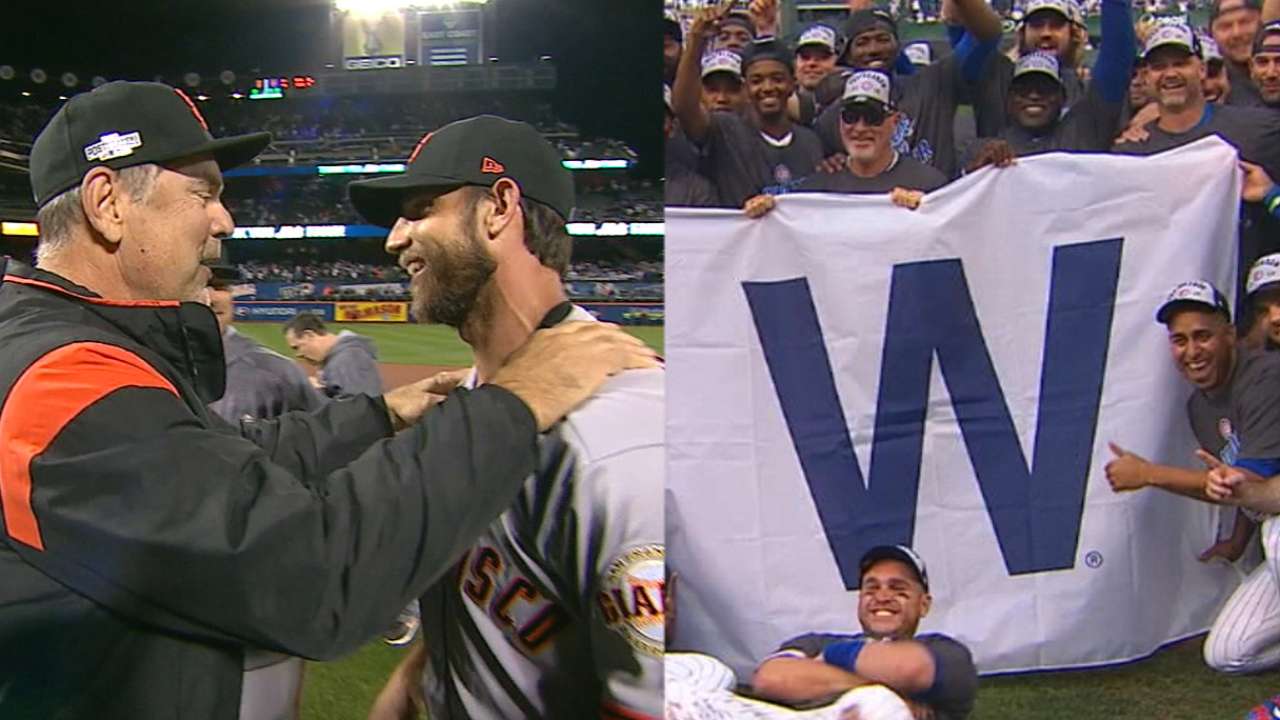 The Cubs host the Giants in Game 1 of the National League Division Series Friday (9 p.m. ET, FS1), with a pair of the most lethal arms in the Majors squaring off at Wrigley Field.
Chicago will hand the ball to left-hander Jon Lester as it begins the 2016 postseason. Meanwhile, after a shutout from Madison Bumgarner in the NL Wild Card Game, the Giants will turn to Johnny Cueto.
Season Stats
Lester: 19-5, 2.44 ERA, 202 2/ 3 IP, 197 K's
Cueto: 18-5, 2.79 ERA, 219 2/ 3 IP, 198 K's
Lester against the Giants
Career: 4-1 (5 GS), 2.25 ERA
2016: 1-1 (2 GS), 4.63 ERA
Loves to face: Brandon Belt, 0-for-6
Hates to face: Buster Posey, 5-for-16, 1 HR, 2 RBIs
Why he'll win: Lester has logged arguably the most consistent season from a starter in 2016. And the southpaw has only become more dangerous in the latter months of the year, going 8-1 with a 1.57 ERA in his last 11 outings. Included in that run was a start against the Giants on Sept. 2, in which he surrendered just one run and three hits in a 2-1 complete-game victory.
Pitcher beware: Lester has a career 2.85 ERA in 98 postseason innings. But he hasn't enjoyed success like that recently, going 0-2 with a 5.48 ERA in his last three postseason appearances.
Bottom line: Like every pitcher, Lester has been susceptible to a pedestrian performance every now and then. He allowed five earned runs in just 2 2/ 3 innings to San Francisco on May 21. However, unproductive outings have rarely occurred when he's pitching at Wrigley Field. The left-hander is 10-2 with a 1.74 ERA at home this season.
Cueto against the Cubs
Career: 9-8 (24 GS), 3.24 ERA
2016: 0-0 (1 GS), 1.29 ERA
Loves to face: Anthony Rizzo, 3-for-25, 8 strikeouts
Hates to face: Addison Russell, 3-for-6, 2 doubles
Why he'll win: Cueto taking the mound was almost synonymous with a Giants victory before the All-Star break. The right-hander posted a 2.47 ERA and San Francisco won 16 of his 18 starts. Cueto and the Giants didn't enjoy success like that in the second half of the season. But the first-year Giant returned to his dominant form in the final month, going 4-0 with a 1.78 ERA in his last five outings.
Pitcher beware: While Cueto has had success against the Cubs throughout his career, Chicago's lineup nonetheless poses a distinct threat. The club ranked second in the NL with 808 runs scored this season, with Kris Bryant and Rizzo combining for 71 home runs and 211 RBIs.
Bottom line: Beginning the game strong will be key for Cueto on Friday night. The right-hander has allowed more earned runs in the first inning (15) than any other frame this season.
Justin Wise is a reporter for MLB.com based in the Bay Area. This story was not subject to the approval of Major League Baseball or its clubs.