ALDS Game 1 lineups: Red Sox vs. Indians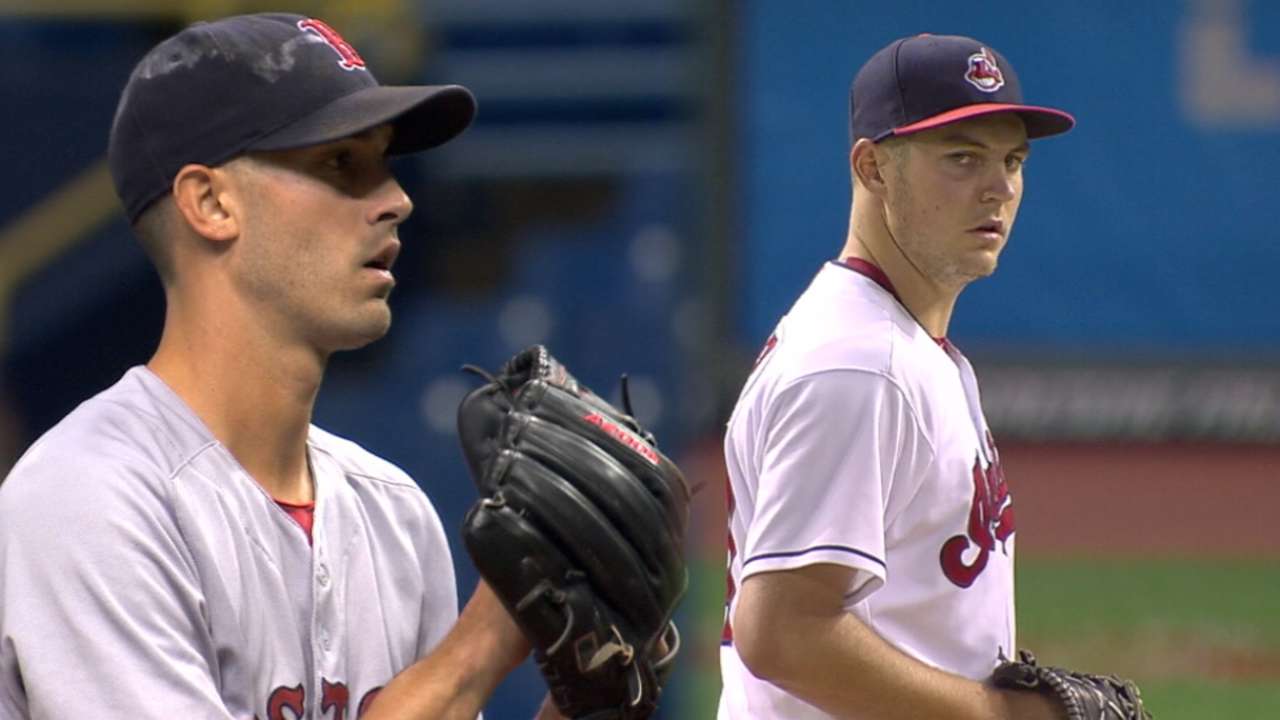 Mike Napoli is penciled in to play first base and bat cleanup for the Indians, while Red Sox manager John Farrell will go with a potent lineup in Game 1 of the American League Division Series tonight at 8 p.m. ET on TBS.
Carlos Santana leads off and is the designated hitter against Red Sox right-hander Rick Porcello. He's followed by Jason Kipnis at second base, Francisco Lindor at shortstop and Napoli, who won the World Series with the Red Sox in 2013.
Jose Ramirez is in the five-hole for the Indians and playing third base, followed by Lonnie Chisenhall in right field, Coco Crisp in left field, Tyler Naquin in center field and Roberto Perez behind the plate.
Dustin Pedroia is leading off and playing second base for the Red Sox. He's followed by Brock Holt, who starts at third base with right-hander Trevor Bauer on the hill for the Indians. Xander Bogaerts, who spent much of the season in the No. 2 spot but struggled down the stretch, is hitting sixth and playing shortstop.
"It's not as much about Bogey as it is splitting up the left-handers," Farrell said. "I think for the better part of this year, we've been an easy team to match up against, when you look at the lineup we've used. I think it's pretty clear that there's a willingness to go to the bullpen and match up earlier, and just trying to avoid the obvious ones without trying to go to your bench and bank on a pinch-hit."
After Holt is the heart of Boston's batting order, with right fielder Mookie Betts, designated hitter David Ortiz and first baseman Hanley Ramirez. Farrell said that Holt's spot in the order will be a platoon spot, meaning it's a place where pinch-hitters will likely be used in mid- to late-inning situations against a lefty reliever.
Bogaerts is followed by Jackie Bradley Jr. in center field, Sandy Leon behind the plate and Andrew Benintendi in left field.
It has been a rapid ascent for the 22-year-old Benintendi, who was promoted from Double-A Portland on Aug. 2, and drafted out of Arkansas in 2015.
"It's pretty amazing that for a young guy who was on the University of Arkansas campus maybe 15 months ago, he's now in a Major League postseason," said Farrell. "It's obviously a rapid ascent, but as we've seen, this is a pretty calm and very much under control young player. So I'm sure there's going to be butterflies. We just hope they're flying in formation."
RED SOX
Pedroia, 2B
Holt, 3B
Betts, RF
Ortiz, DH
Ramirez, 1B
Bogaerts, SS
Bradley, CF
Leon, C
Benintendi, LF
Porcello, P
INDIANS
Santana, DH
Kipnis, 2B
Lindor, SS
Napoli, 1B
Ramirez, 3B
Chisenhall, RF
Crisp, LF
Naquin, CF
Perez, C
Bauer, P
Quinn Roberts is a reporter for MLB.com. This story was not subject to the approval of Major League Baseball or its clubs.