MLB.com Columnist
Jim Callis
Hansen, Fry, Zangari headline White Sox instructs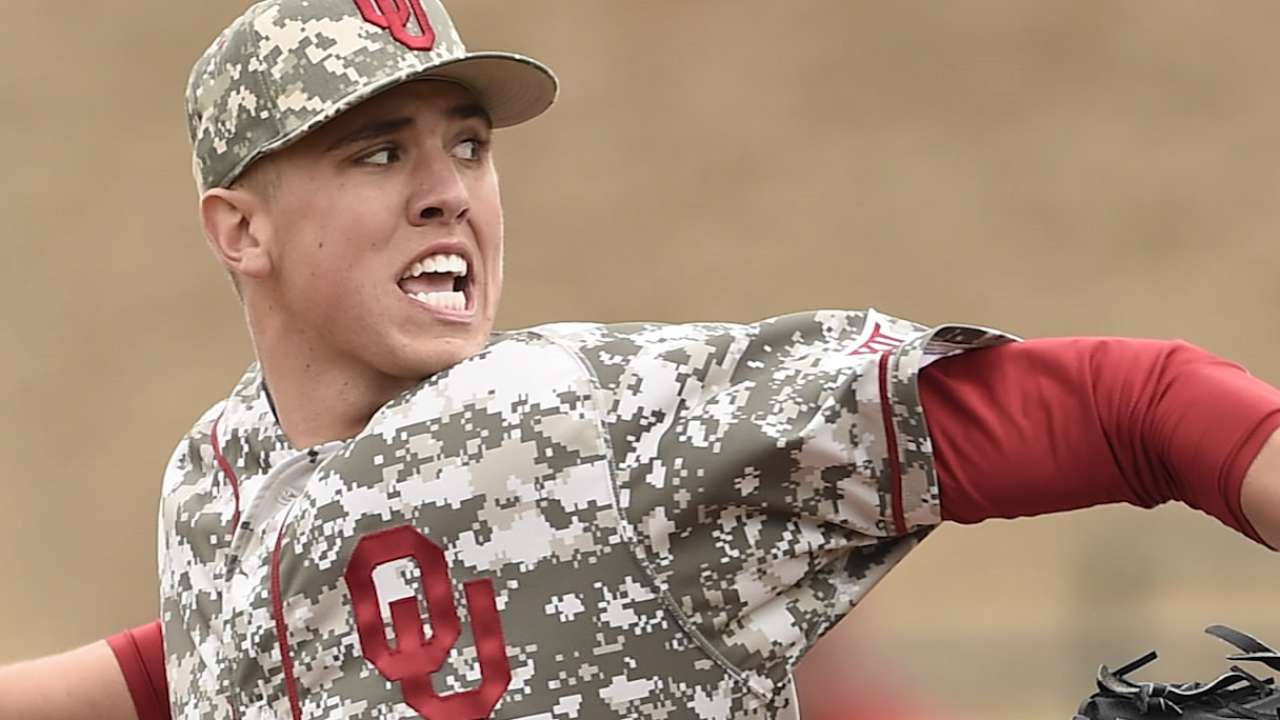 The White Sox 2016 Draft looks promising, and many of those picks are getting extra work during instructional league.
First-round picks Zack Collins and Zack Burdi aren't on hand, but the other 14 players whom Chicago signed in the top 15 rounds reported to the organization's training base in Glendale, Ariz. Of the 47 players on the White Sox instructional league roster, 21 were drafted in June.
Right-hander Alec Hansen (second round) is the highest selection in camp, which runs from Sept. 19 through Oct. 15, and he's coming off an exceptional pro debut. After losing his control and command during a rough junior season at Oklahoma that torpedoed his candidacy as a possible No. 1 overall pick, he recorded a 1.32 ERA in 12 pro starts, averaging 13.3 strikeouts per nine innings and holding opponents to a .133 average across three levels.
In his introduction to pro ball, the White Sox had Hansen focus on staying taller in his delivery and getting the ball out of his glove more quickly. That helped him cut his walk rate from 6.8 per nine innings with the Sooners to 3.3 in his debut. He didn't lose anything off his mid-90s fastball while also showing more consistency with a slider than can be devastating.
WHITE SOX TOP 30 PROSPECTS AT INSTRUCTS
8. Alec Hansen, RHP
9. Jameson Fisher, OF
13. Micker Adolfo, OF
17. Amado Nunez, SS
19. Luis Curbelo, 2B/SS
20. Alex Call, OF
24. Jhoandro Alfaro, C
26. Corey Zangari, 1B
29. Franklin Reyes, OF/1B
"Alec is continuing to work on the mechanical stuff we did early with him," Chicago farm director Nick Capra said. "We're trying to keep it pretty simple. He's mostly fastball/changeup right now. We're trying to get his changeup a little better. We're doing that with all of these guys, because the changeup is an important pitch to learn and this is a great environment to work on it."
Though he had a 5.26 ERA in his debut, fifth-rounder Jimmy Lambert is one of the more polished pitchers in the system. The Fresno State right-hander commands his fastball well and can throw four pitches for strikes. He's the older brother of Peter Lambert, a Rockies second-rounder in 2015 who's also advanced for his age.
"Jimmy has got a little more velocity than everyone thinks," Capra said. "He'll be 92-93 at times. The kid really knows how to pitch. He's competitive when he gets on the mound, knows what he wants to do and has had success executing that plan. He's working on his secondary pitches: his breaking ball and his changeup."
A number of later-round picks have stood out in Glendale as well. Right-hander Ian Hamilton, who dropped to the 11th round after struggling to make the transition from reliever to starter at Washington State, has a fastball that can reach the mid-90s and a hard slider. Outfielder Aaron Schnurbush, a $1,000 senior picked in the 28th round, is a baseball rat who led the Rookie-level Pioneer League with 47 walks and a .471 on-base percentage while finishing third in hitting at .357.
Third baseman Zach Remillard has more upside than might be expected from a 10th-rounder who turned pro for $10,000. He has the power and arm strength to profile at the hot corner, and he's a gamer who led College World Series champion Coastal Carolina with 19 homers and 72 RBIs during the spring as a senior.
"Zach is very athletic," Capra said. "Defensively, he's made some plays where you look back and go, 'Wow!' He's great at moving from side to side, has a plus arm and offensively, he has an idea of what he wants to do. We're going to have to modify that big leg kick a bit, but he could be a really good senior sign for us."
Fry cooking again on mound
Instructional league marked a return to the mound for Jace Fry, a left-hander with advanced pitchability. The White Sox drafted him in the third round in 2014, when he threw a no-hitter at Oregon State and was the Pacific-12 Conference pitcher of the year, and thought he had the chance to advance quickly.
Fry began his first full pro season in 2015 in high Class A but blew out his elbow after 10 starts and required Tommy John surgery. He had his elbow reconstructed three years earlier while with the Beavers but bounced back from that operation to command four pitches, the best of which were an 88-93 mph fastball and a slider.
Chicago is still taking it easy with Fry, who has worked three one-inning outings in instructional league so far. He's not all the way back to where he was when he got hurt, but the early results are encouraging.
"Jace is getting back in the flow of things," Capra said. "The velocity of his pitches is back, though the crispness of his pitches is not there yet. More than anything, it's exciting to have him healthy again because he can really help the big league club in the future."
Zangari seeks consistency
Corey Zangari has some of the best raw power in the system, but he's still learning how to translate into game production on a consistent basis. After a strong pro debut in 2015, he opened as one of the youngest players (not quite 19) in the low Class A South Atlantic League and hit just .166/.247/.314 with eight homers and 106 strikeouts in 57 games. Sent down to Rookie-level Great Falls, where he finished the previous summer, he batted .257/.330/.426 with seven homers and 70 whiffs in 53 contests.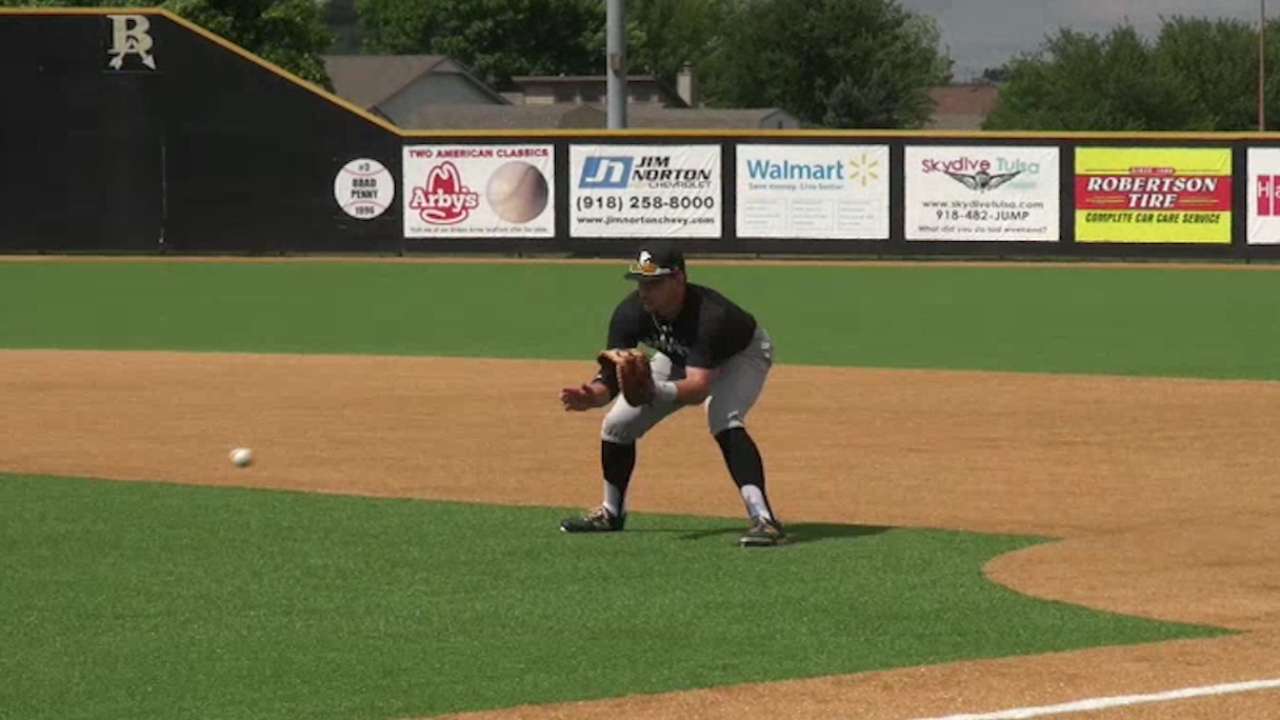 Zangari ranked second among White Sox farmhands with 15 homers and topped them with 176 strikeouts, the eighth-highest total in the entire Minor Leagues. He also has one of the strongest arms in the system -- his fastball was clocked at 97 mph in high school -- though his lack of quickness limits him to first base.
"Instructional league is great because there's so much one-on-one instruction and not a lot of pressure, just trying to get better," Capra said. "This is important and valuable for Corey. He's caught in between a little bit mechanics-wise, and he can come out here and work on some of those things."
Jim Callis is a reporter for MLB.com. Follow @jimcallisMLB on Twitter and listen to him on the weekly Pipeline Podcast. This story was not subject to the approval of Major League Baseball or its clubs.