Creating runs, situational hitting crucial for Texas
Club has plenty of power, but can't afford to rely solely on home runs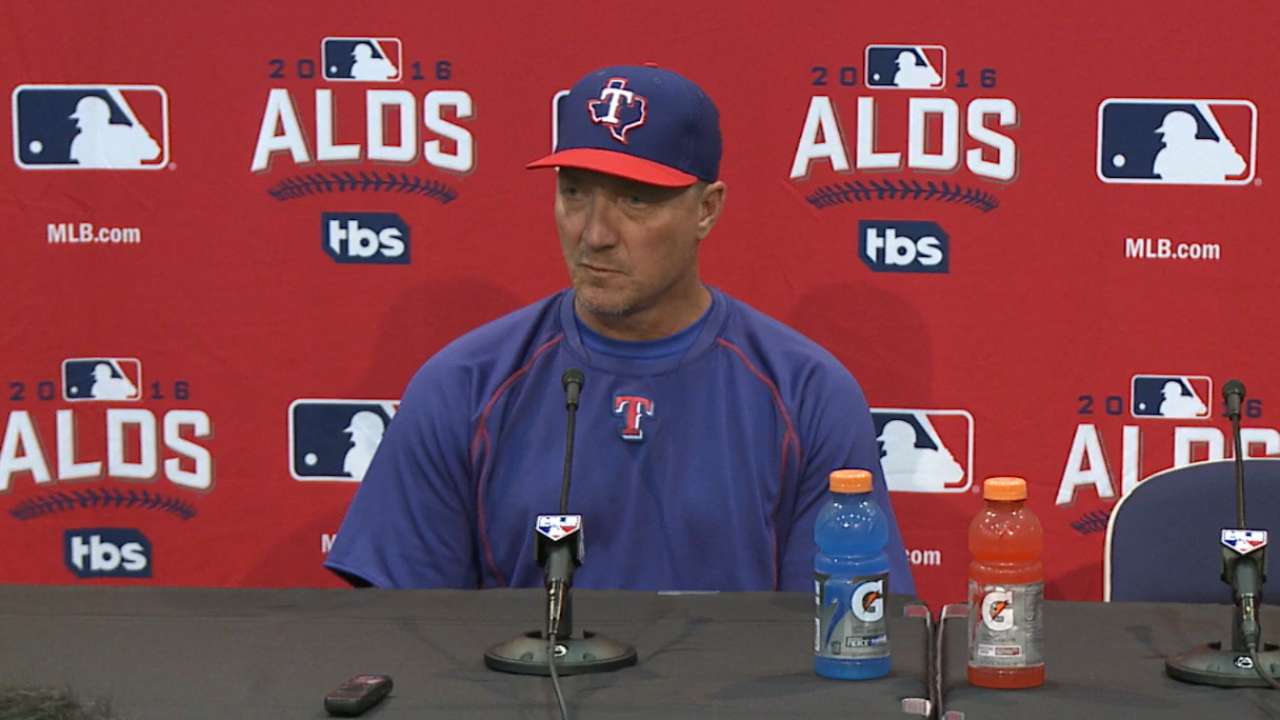 ARLINGTON -- Watching the Orioles against the Blue Jays in the American League Wild Card Game on Tuesday night should have sent a warning to the Rangers.
It would not be wise to sit back and wait for the home run against the Blue Jays pitchers during the AL Division Series. The ability to manufacture runs will be a big key for the Rangers if they hope to advance to the AL Championship Series.
"I believe it's crucial," Rangers manager Jeff Banister said. "When you get into these games and you're facing the No. 1 and No. 2 and 3 [starters], and possibly the fourth starter, you know you're getting their best and those guys don't generally give up the long ball a lot."
The Blue Jays advanced with a 5-2 victory over the Orioles and will play the Rangers in Game 1 at 4:30 p.m. ET/3:30 p.m. CT on Thursday at Globe Life Park while being broadcast on TBS in the United States and Sportsnet (English) and TVA (French) in Canada.
The Orioles only runs came on a two-run home run by Mark Trumbo, and the Blue Jays won it with a three-run home run by Edwin Encarnacion in the 11th inning. As Banister said, if either team had been able to manufacture some runs, it would have been a different game. But the Orioles had just four hits and one walk while going 1-for-3 with runners in scoring position.
Improving their situational hitting and ability to manufacture runs was a primary goal for the Rangers this season under new hitting coach Anthony Iapoce.
"It's what we talked about in Spring Training," Iapoce said. "Just score more runs than the other team. In postseason, when you're facing the best pitchers in baseball, it's about guys competing, getting on base and scoring runs. Our guys have been doing that all year."
The Rangers still have power. They hit 215 home runs, ninth-most in club history. Their home runs accounted for approximately 42 percent of their runs, the 10th-highest rate in the Major Leagues. That was up from 34 percent last season.
But the Rangers were better in other areas as well, including a .277 batting average with runners in scoring position that was second-best in the league. Their .282 batting average in late-inning pressure situations -- game tied or team trailing by four or less runs in seventh inning or later -- was the highest in the Major Leagues by 16 points.
That helps account for 49 comeback wins and a 36-11 mark in one-run games.
"Inside most all those games, there were situations where we needed to manufacture a run, whether it was taking advantage of a mis-thrown ball, a ball in the dirt, moving a runner, sacrifice fly, something that early on last year we were not well-versed at," Banister said. "The commitment to being able to do those things has been vital to our success."
The Rangers' inability to manufacture runs cost them last year in the ALDS against the Blue Jays after they won the first two games. The Blue Jays won the next three as the Rangers drew just two walks and were a combined 2-for-17 with runners in scoring position. It's going to be tougher this year against a rotation of Marco Estrada, J.A. Happ, Aaron Sanchez and Marcus Stroman.
"In playoff games, you have to think about the team," Rangers designated hitter Carlos Beltran said. "In the regular season, you can go up there thinking about hitting a home run, but in postseason it's all about taking advantage of the opportunities given to you and capitalize."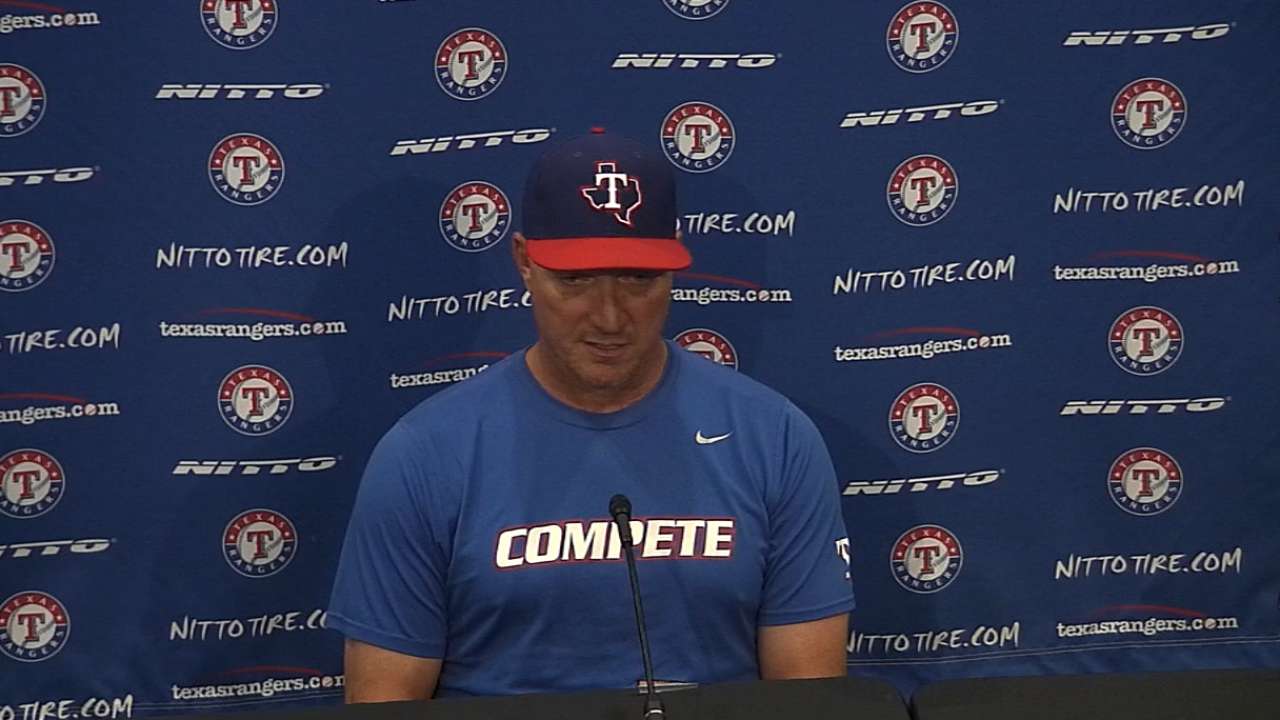 The leadoff spot could be critical for a team that needs to create runs. Carlos Gomez hit .328 with a .386 on-base percentage in 17 games as their leadoff hitter, but the Rangers could also have back Shin-Soo Choo. He is the Rangers' most versatile offensive player and their No. 1 leadoff hitter when healthy. He missed six weeks because of a broken left forearm, but could be on the roster for the ALDS.
That would put the Rangers at full strength offensively.
"Best record in the American League for a reason," Blue Jays manager John Gibbons said. "So it's a really dynamic offense. They've got very good balance ... the left/right. They've got a lot of team speed and they've got power. So it's tough to shut them down."
T.R. Sullivan has covered the Rangers since 1989, and for MLB.com since 2006. Follow him on Twitter @Sullivan_Ranger and listen to his podcast. This story was not subject to the approval of Major League Baseball or its clubs.