MLB.com Columnist
Phil Rogers
Cubs unstoppable if Bryant, Rizzo heat up
NL MVP Award favorites could carry North Siders deep into postseason
Swanson, of course, didn't have Anthony Rizzo hitting behind him. Nor did Russell, Zobrist, Ross, Hechavarria, Herrera or Mercer. Rare is the time when an opposing manager concludes it's a good idea to pitch around Bryant to get to Rizzo, an All-Star in each of the past three seasons.
At one point this season, Rizzo started to tell Bryant that he was "your Prince Fielder.'' That's a reference to how well Fielder protected Miguel Cabrera when they played together in 2012 and '13.
Miggy won American League MVP Awards both seasons when he and and Fielder were lethal combinations, so you can see where Rizzo was going with the comparison. But the Cubs should hope it applies only in the regular season, not October.
Fielder and Cabrera weren't able to deliver a championship to the Tigers, who lost to the Giants in the 2012 World Series and the Red Sox in the AL Championship Series the following year. They could never get hot at the same time, not against the quality pitching hitters face in the postseason.
Like Cabrera and Fielder, Rizzo and Bryant are the two Cubs who will have the most weight on their shoulders this October. Their team is favored largely on the strength of its pitching and defense, but Rizzo and Bryant will more than likely need to deliver in a big way, beginning Friday night in the NL Division Series (9 p.m. ET/8 CT on FS1) against the Giants, if there's going to be a parade down Michigan Avenue.
Joe Maddon calls the chance to win a World Series "a once-in-a-lifetime opportunity for us, hopefully on an annual basis.'' There's a reason for his optimism, both for the long term and the immediate, but the focus now is winning Game 1 of the NLDS behind Jon Lester.
Lester is one of a handful of proven October players on the Cubs' roster. Bryant and Rizzo are like most others, who enter this round of postseason baseball drawing from the experience gained last October.
"If anything, they're ready to get started,'' Maddon said during a Wrigley Field workout on Wednesday afternoon. "We've been talking about this since last offseason. If you want to talk about expectations, there couldn't have been more, there wouldn't have been more all season long. These guys have been living this lifestyle for a long time. Why run away from it? Why worry about it right now? Just enjoy it.''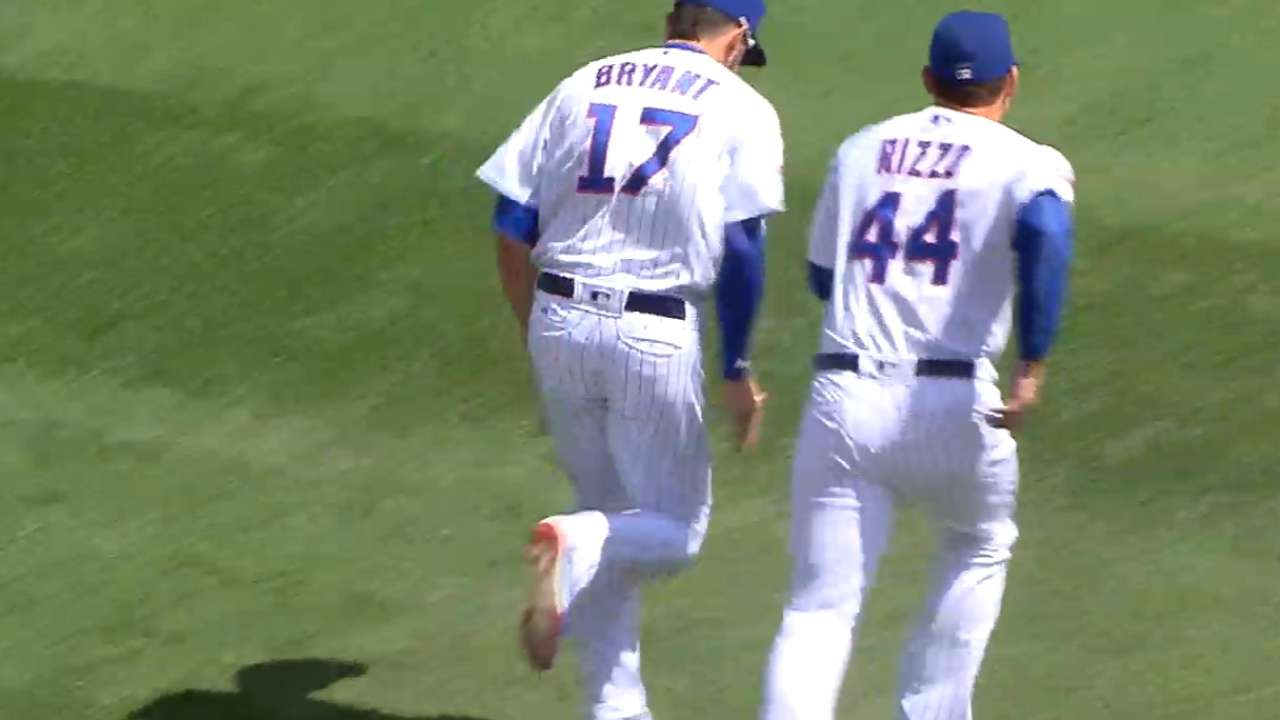 The Cubs certainly did that last fall, when they celebrated after winning the NL Wild Card Game in Pittsburgh and then retired as a team to Lester's rooftop deck after beating the Cardinals in four games in the NLDS.
Being swept by the Mets in the NLCS was seen as merely delaying the ultimate gratification for a young team that expects to be among the best in baseball for the foreseeable future.
Looking back, it's remarkable that the Cubs were as successful as they were, given how well their opponents handled the middle of their order.
Rizzo and Bryant combined to hit .182 in the nine games. They each hit two home runs, but they were turned into supporting cast members behind teammates Kyle Schwarber and Jorge Soler.
Schwarber, who was lost for the 2016 season to a left knee injury in the third game, and Soler hit a combined .391 with eight home runs in the postseason. Soler reached base in nine consecutive plate appearances in one stretch against the Cardinals. Leadoff man Dexter Fowler also had a nice October, scoring six runs.
This time around, look for Bryant and Rizzo to carry the load for the Cubs, who averaged five runs, second to the Rockies in the NL. They were able to coast in September, but they still went 10-5-1 after clinching the NL Central, scoring 5.1 runs per game.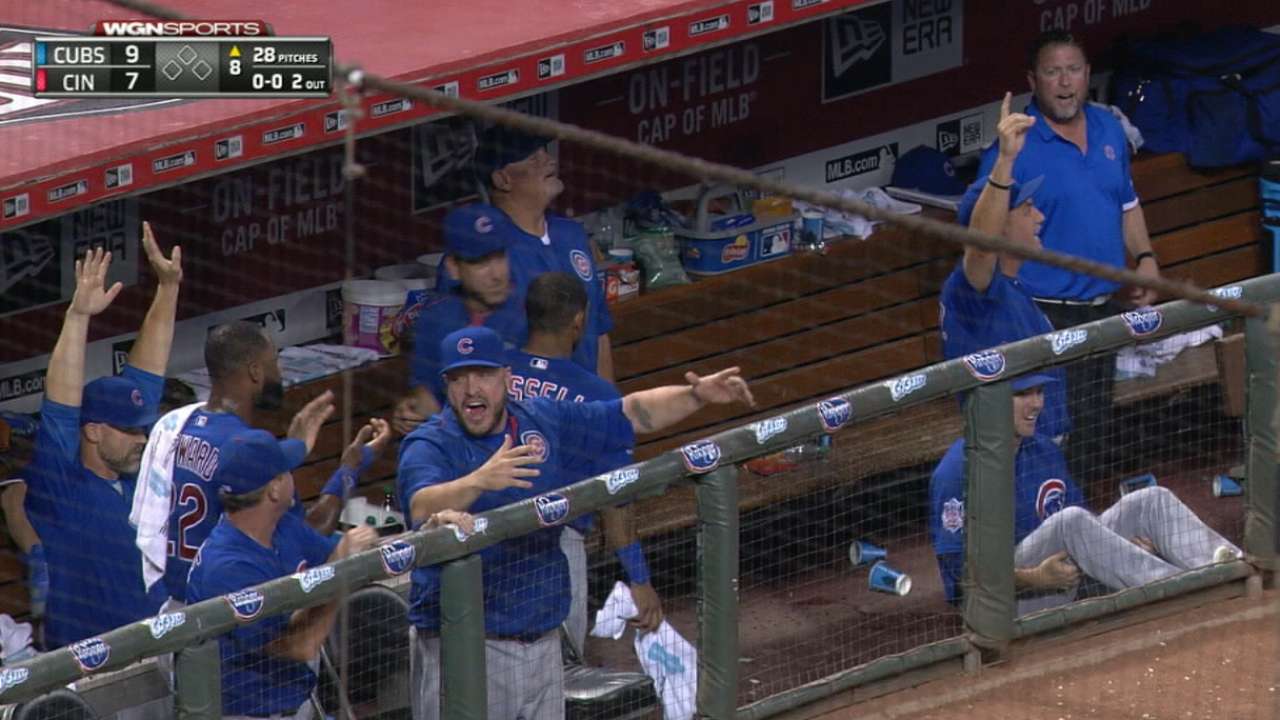 Everything they've done this season shows they should be ready to jump into the October spotlight. The Cubs are arguably baseball's deepest team, but they are at their best when Bryant and Rizzo are jumping on opposing pitchers from the second and third spots in the lineup. They had 48 go-ahead hits between them this season (25 for Rizzo, 23 for Bryant).
The Cubs are 50-12 when Bryant drives in a run, including a 22-1 record after July 5. A loss to Milwaukee on Sept. 17, two days after the Cubs clinched the division title, marked the only time they lost when Bryant drove in a run in their last 79 games.
Rizzo isn't as much of a barometer, but the Cubs are 49-18 when he drives in a run. They're at their best when they bring in runs, carrying the team to a 20-1 record in those games.
The last time the Cubs lost with both Bryant and Rizzo driving in runs was on April 20 in St. Louis. That's 92 wins ago for baseball's winningest team.
If Rizzo and Bryant get hot together, the North Side of Chicago is going to be crazy in late October or early November.
Phil Rogers is a national columnist for MLB.com. This story was not subject to the approval of Major League Baseball or its clubs.