Oct. 5 Marco Estrada workout day interview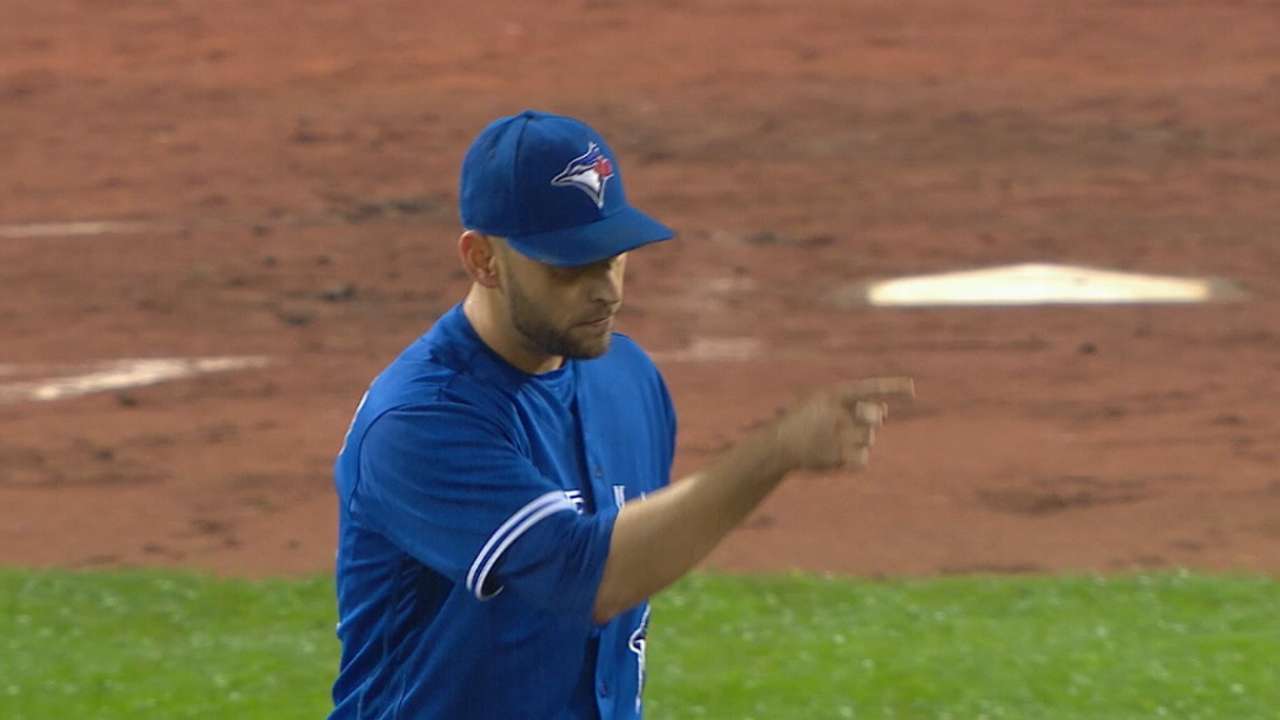 Q. Just wondering if you can tell us how it feels to be back in this ballpark, thinking back to last October and the great game that you had here and whether that entered your mind as you came back here?

MARCO ESTRADA: No, none of that has entered my mind. It's a new year. Different team out there. I'm just happy to be in the playoffs. Doesn't matter who it's against. Doesn't matter where we are, as long as we're still playing, that's all that really matters to us.
We're all very excited to be here or anywhere, we just want to keep playing.
Q. Have you looked back at the two times you faced this team earlier this year and if you took anything away from those games and how you pitched?

MARCO ESTRADA: No. I haven't looked at one thing. I don't really do that sort of stuff. I feel like guys change their approach all the time, and you can kind of see it off their swings as the game goes on. And I kind of try to pay attention to that a little more than going back and seeing what they've done off of me.
It's just something I've changed in the last few years. And it seems to work out. So I'll just keep it that way.
Q. John Gibbons mentioned when you guys went to the six-man rotation that you got out of whack. You're pitching on extra rest again this time. Is there any specific adjustments or things you had to do differently to get ready for tomorrow?

MARCO ESTRADA: No. It was just different. It was a good three or four weeks of having seven to eight days in between starts. I'm not even sure if that's what really affected me. Could have just been a coincidence. I just started struggling during that time. And obviously things didn't go too well.
But kind of seemed to have figured things out lately and I've been doing things much better since we've been back to normal. You add an extra day, it's not going to change anything. So I've done everything I'm supposed to do up to date and I'm ready to go tomorrow.
Q. There's definitely a chance that emotions come into play in this series given the history of these two teams. I'm curious, for you as a pitcher, how do you manage the emotions that may come versus even just keeping a level head?

MARCO ESTRADA: To be honest with you, I don't really think about any of that stuff while I'm out there. I focus on the glove and the sign and that's about it, to be honest with you.
If things happen, I guess they happen. You can't control that stuff. But on my part I'm just focused on throwing strikes, getting early outs and, just like I said, just focused on the glove. I don't really care about all the other things going on. I want to win. Our team wants to win and that's all we're looking forward to is trying to win this game.
Q. Pretty nice little roll now over your last few starts. Are there any particular pitches that are working better for you now than they were earlier in the year?

MARCO ESTRADA: I thought I was doing pretty well earlier in the year. But it's been the same. During that little rough stretch that I had, I wasn't able to locate my changeup. I think that was the biggest thing, to be honest with you. I kept bouncing changeups. Guys weren't even offering at it. To be honest with you, I didn't even see guys flinching at it. That's how bad it was. So ever since I started throwing a better changeup, just back to a normal one I guess for me, it's been much better.
So I just gotta make sure that the pitch is there and I think I'll be okay.
Q. After the celebration last night, I wondered what the mood of the flight down here was like. Did it continue a little bit or did fatigue take its course?

MARCO ESTRADA: Oh, yeah. Guys were a little tired. I don't think we landed until about five in the morning. So obviously we're going to be a little tired from that.
It was a normal flight. Maybe a little quiet. It was a little rowdy at first. We were all very excited, obviously. But the longer we were in the air, the more quiet it got. And it's to be expected. There's a lot of guys -- nine guys that played all game. And obviously they're extremely tired after a game like that. And we went extra innings, of course.
So it's to be expected. But we're all having fun. Just another normal flight.
Q. You'll be facing a different lineup than before. Texas has added Lucroy, Gomez and Beltran. How do you feel about the lineup you'll be facing tomorrow?

MARCO ESTRADA: I feel the same about this lineup that I felt about any other lineup. Nothing changes for me, to be honest with you. I actually don't really pay attention to who's playing that day. I basically find out who is going to pitch, or, I'm sorry, who is going to hit the day of, basically when they step up to the plate.
And I go off of basically what I've done against them in the past. Guys like Lucroy or Gomez, I haven't really faced them. So we'll see what we throw at them. But other than that, everybody seems to be the same. And like I said I don't really pay attention to that stuff. I try to follow swings more often than anything else. Or I guess you look at at-bats that they've had against you in the past and what they've tried to do. And you remember stuff like that.
But other than that, I try to hit the glove. That's about it.