Oct. 5 John Gibbons workout day interview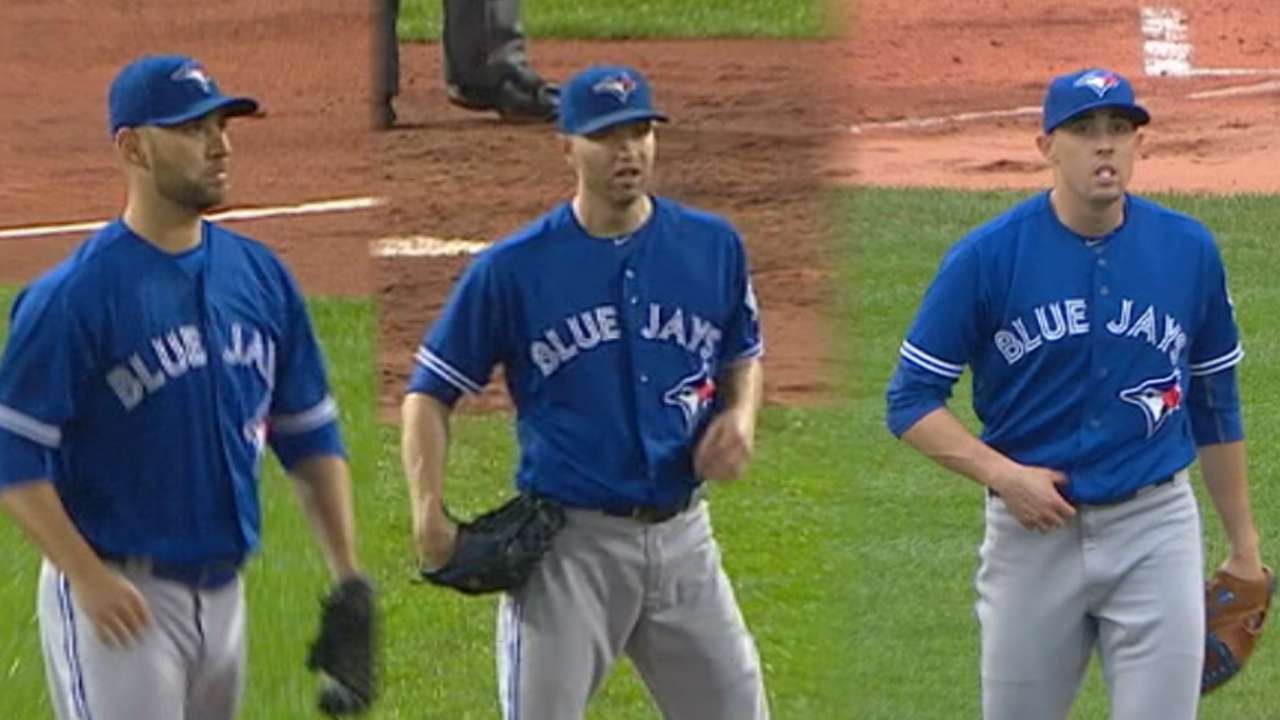 Q: You're well aware there was an issue between these clubs the last time they met. Is that past or is that something you need to address with your team before this series begins?
JOHN GIBBONS: Well, you know, really, games are too important. I wouldn't expect anything. But nobody seems to want to let it go. I'm talking about the media spotlight. It's kind of fun. It gets frowned upon what happens and every time you turn on the TV it's a replay after replay after replay. But too much at stake. Two great ball clubs, two very competitive ball clubs two, emotional ball clubs. But in no way I would expect anything like that.
Q: Since you guys played the Rangers in May they've added some significant offensive pieces I want to get your take on the Rangers overall?
JOHN GIBBONS: Best record in the American League for a reason. I thought they were really arguably the best team at the time, and when you go out and get Lucroy and Beltran -- Beltran was a guy we even talked about. We saw him over the years with the Yankees and what a great hitter he was, a clutch type performer. Of course he ended up here. Jeremy Jeffress is another guy. He used to pitch for us, know him well. Another big arm.
And then Gomez, he looks like he's doing a nice job for them. So they're a very good team and they added to it and it's paid off and ended up with the best record. So it's a really dynamic offense. They've got a lot -- very good balance. The left/right. They've got a lot of team speed and they've got power. So it's tough to shut them down.
Q: What's the latest on Osuna? Do you expect him to be fully available tomorrow?
JOHN GIBBONS: He feels better today. We'll see, not sure what's going to happen tomorrow, but we don't think it's a big deal but it's probably wise to be a little bit cautious this time of year. But he feels better today.
Q: John, Liriano came in did a nice job for you last night. You think going into this series that he can kind of fill a prominent role for you guys in the bullpen in that new spot for him?
JOHN GIBBONS: Actually we expect him to. He's been a great pickup for us. He made some starts. We really like what we saw. Then we flipped him into the bullpen. One was good. One was really good when he struggled his first go around. And of course last night he looked good.
So that was kind of the plan from the get-go. Well, actually, that's wrong. The original plan was Sanchez was probably in the bullpen. He was going to be a starter then decided to leave Sanchez there with the option of putting Liri in the bullpen. He was good with that. After the trade he said, I'm fine with whatever you guys do with me.
Then we started running with the six-man rotation so we kept them all in there, with the thought down the road he may be the guy that ends up there and that's what's happened. So, but, yeah, the first real test was last night and a one-game showdown and he rose to the occasion, and really when we needed it desperately, we're at the end of the game and got some shutdown innings for us and we ended up winning.
He's got the stuff to be a very good reliever. He can be a very good starter if throws the ball over the plate. He can handle both sides, lefty/righty, doesn't matter and he can get strikeouts and ground balls. I would expect he would be very valuable this series, however far this goes.
Q: Can you talk about how you've lined up your rotation for the first few games and why you stuck with that order?
JOHN GIBBONS: Well, it will be -- it will be Estrada, Happ, Sanchez. That's the way we ran them last weekend. Estrada pitched Friday night in Boston. Happ went to -- so if you keep them in line, we feel good about them all. That's a big part of our strength is our starting rotation. And we've managed the last couple of months to keep them all rested.
We did go to that six-man rotation like I talked about earlier. I think really they all benefited from it, maybe except Estrada. Might have thrown him out of whack a little bit, but he was the only guy. But he rebounded from that. We want them all working on close to their normal five days as possible. So Estrada was available last night. If we had used him, of course, things would be different if we won it that way.
So we'll just keep that in line. It's that time of year they're all tired, they're all banged up a little bit like everybody out there. So an extra day here and there can sometimes do wonders, so that's why we'll go that way. And of course Sanchez, he's been the hot topic all year, how many innings he's going to pitch. So naturally we need to buy him an extra day or two. We're definitely going to do that.
Q: Did you set your playoff roster for this?
JOHN GIBBONS: It's not finalized yet. But we have to put Sanchez and Happ back on, so it's going to have to be a couple of corresponding moves.
Q: Something on Bautista, he was involved with an incident here. But he has also had the toe and the knee this year. Is he starting to come out of it after what looks like it's been a tough year to an outsider?
JOHN GIBBONS: It was a big year for him going into his free agent year. He's been one of the marquee players in the game. But he did, he tore a ligament in his toe, ran into a wall in Philadelphia, a freak injury. Then he hung up his cleat in a game on the turf, tweaked his knee. I don't know, maybe six weeks, two months total. That's a lot of time for him to miss, a lot of time for the team missing him.
And he was kind of an up and down year for him at that point, but you could see since he's come back he's gotten better and better. And he's starting to hit his stride.
One thing Jose does, I go back to I've known him a few years now and last year was our first playoff experience. He rises to the occasion. He did that a few times last year in the Postseason. He did it again last night. Home run to put us on the board. Not everybody can do that. Some guys have a knack for doing it. Doesn't mean it's easy or it's always going to happen. But some guys do it. And it would not surprise me one bit he has a big series.