MLB.com Columnist
Mike Petriello
Red Sox-Indians: A position-by-position ALDS look
Red Sox won 4 of 6 matchups between teams this year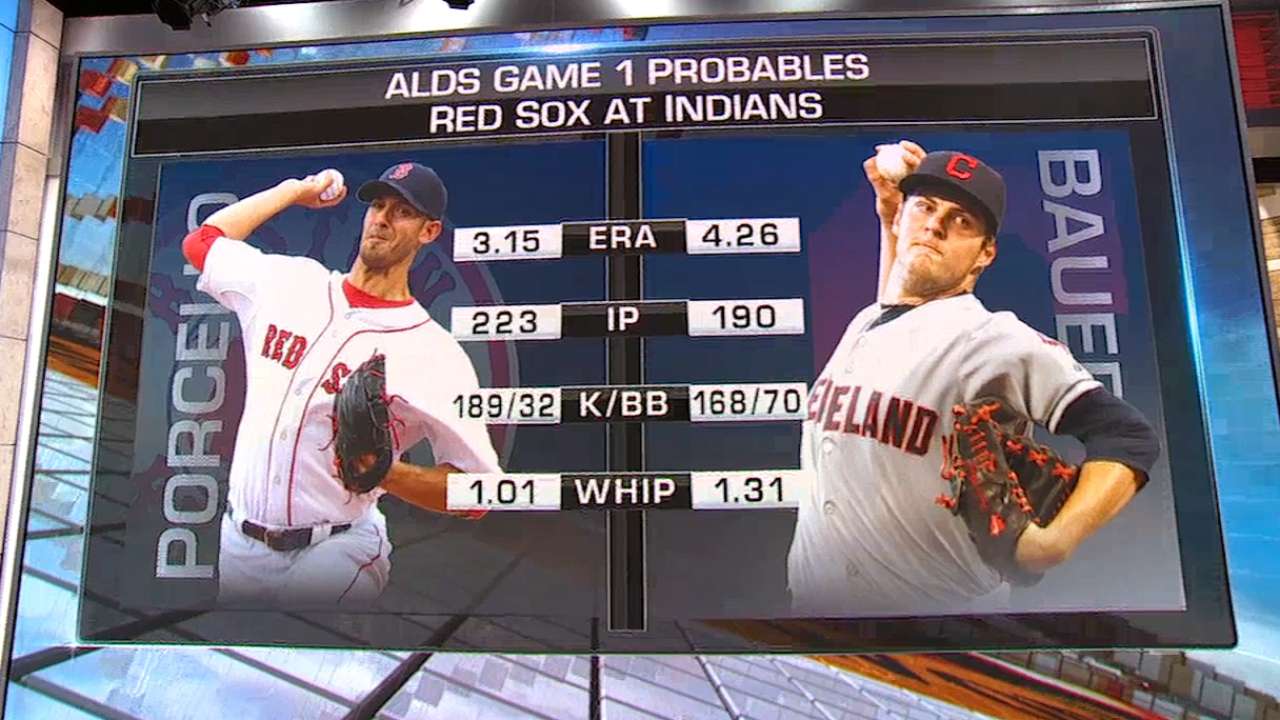 Can a team advance in the postseason without any of its three top elite starters at full strength? That's what the Indians are going to try to prove when they go up against the dangerous Red Sox lineup in the American League Division Series (starting tonight at 8 ET on TBS) without the services of Carlos Carrasco (finger) or Danny Salazar (forearm), and with ace Corey Kluber taking the hill in Game 2 for the first time since straining his quad last Monday.
Still, we've been underestimating Cleveland all year, dating back to this past offseason, when its outfield was deemed unacceptably weak ... before becoming one of the five most productive units in the game. The Red Sox seem to have finally sorted out their bullpen issues and won the most games in the AL in the second half (44), though Cleveland won the second-most (42) in the league.
It's closer than it seems, is the point, and don't forget how much Andrew Miller has meant to that Cleveland bullpen, particularly with manager Terry Francona willing to use him in the biggest spots, regardless of the inning. Let's go position-by-position for strengths and weaknesses.
Catcher
Perhaps the biggest out-of-nowhere story in baseball this year was that of Sandy Leon, who was DFA'd last July, went unclaimed, then put up a .310/.369/.476 (123 wRC+, where 100 is league average) line so impressive that it was basically the same as Jonathan Lucroy. But it was clear that couldn't keep up, and it didn't, as the inevitable regression began with a .286 OBP and .253 slugging percentage after Sept. 1. That's a 44 wRC+ that's roughly even to the 46 wRC+ Cleveland's catchers combined for this year, thanks to a .242 OBP and .316 slugging mark.
Advantage: Push
First Base
Mike Napoli was one of the best signings of the past offseason, as he hit a career-high 34 homers for Cleveland -- though his .335 OBP was well down from when he'd regularly touch .360-.370; the resulting 113 wRC+ placed him 13th in a deep group of first basemen. Still, even that good season can't quite match up to what Hanley Ramirez did, as mid-season mechanical changes helped him elevate the ball and start crushing. Only three players had more second-half homers than Ramirez' 22, to go with a great .284/.354/.593 (146 wRC+) line.
Advantage: Red Sox
Second Base
Dustin Pedroia has been one of baseball's best second basemen for years, he started 151 games at second this year, and he hit .318/.376/.449 (120 wRC+). Jason Kipnis has been one of baseball's best second basemen for years, he started 151 games at second this year, and he hit .275/.343/.469 (117 wRC+). You might prefer Pedroia's superior on-base skills or Kipnis' better power, but these are two of the game's best playing at similarly high levels.
Advantage: Push
Shortstop
How in the world do you choose between two of the game's brightest young shortstop stars? Francisco Lindor (.301/.358/.435, 112 wRC+) and Xander Bogaerts (.294/.356/.446, 113 wRC+) both had very strong seasons. The slight edge here goes to Lindor, because he's more highly-regarded on defense (No. 1 in FanGraphs' "Defense" ranking among shortstops), and because Bogaerts had a very rough second half (.253/.317/.412, 92 wRC+).
Tiny advantage: Indians (but your mileage may vary)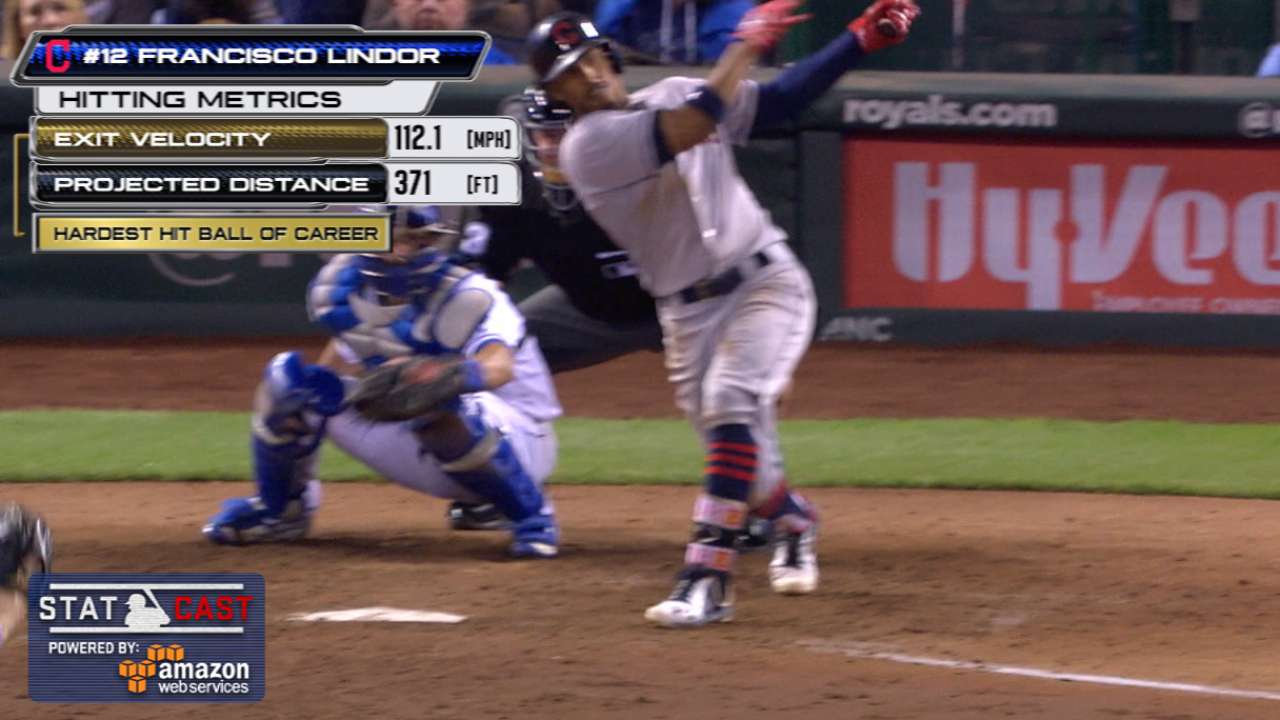 Third Base
Jose Ramirez might be Cleveland's under-the-radar MVP, because he stepped up to cover for the injured Michael Brantley in left early in the year, took over the regular third-base job in July after Juan Uribe was let go, and hit the entire time: .312/.363/.462, 122 wRC+, 22 steals. The Red Sox have tried to mix and match with Travis Shaw and Brock Holt, but overall the Boston hot corner (.238/.304/.381, 78 wRC+) has been the weakest group in baseball.
Big advantage: Indians
Left Field
The Red Sox have settled on a platoon of rookie lefty Andrew Benintendi (.295/.359/.476, 120 wRC+) and veteran righty Chris Young, and that's worked pretty well, though Young's lefty-crushing value (.267/.365/.481 career, and better this year) may be limited against a Cleveland staff that has no prominent lefty outside of Miller. With Ramirez at third and Abraham Almonte ineligible to play in the postseason after being suspened for a positive PED test before this season, Cleveland will counter with Rajai Davis and Coco Crisp, who were both slightly below-average with the bat -- though Davis did steal 43 bags.
Advantage: Red Sox
Center Field
The rocket-armed Jackie Bradley Jr. is responsible for four of the 16 throws tracked by Statcast™ as being 100 mph or more from an outfielder this year, but that's less of an advantage here, because Cleveland's Tyler Naquin had two of them himself. After an AL MVP Award-quality start, Bradley fell off badly in the second half (.233/.315/.412, 90 wRC+), and he was outhit by Naquin (.296/.372/.514, 135 wRC+) on the season. Naquin doesn't start against lefties, though, so we may see Davis here against David Price and Eduardo Rodriguez, and the defensive metrics all preferred Bradley. We'll call this a tie.
Advantage: Push
Right Field
Mookie Betts may very well win the AL MVP Award, and he'll get a considerable amount of first-place votes even if he doesn't win. Betts is an elite defensive outfielder, leading all of baseball in Defensive Runs Saved, and he did it with a .318/.363/.534 (135 wRC+) line that's one of the 10 best in the AL. He even stole 26 bases while being caught only four times. All due respect to Lonnie Chisenhall and Brandon Guyer, but this one isn't close.
Big, big advantage: Red Sox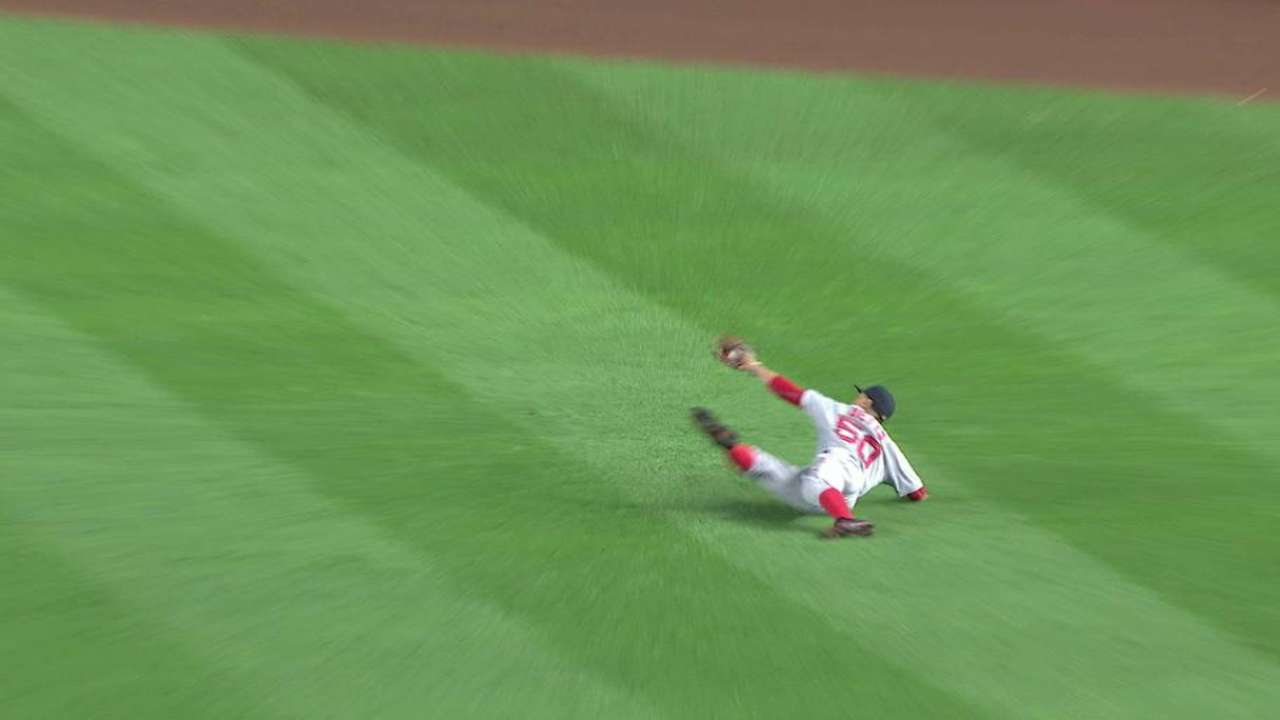 Designated Hitter
It's worth noting here that Carlos Santana is really, really good, putting up a career-best 34 homers with an excellent .259/.366/.498 (132 wRC+) line, even hitting leadoff 85 times. It's just that David Ortiz (.315/.401/.620, 163 wRC+) was the second-best hitter in all of baseball behind only Mike Trout, and as we pointed out above, Cleveland doesn't have any lefty starters to make Papi's life slightly more difficult.
Advantage: Red Sox
Bench

Along with Holt/Shaw, Young and a backup catcher, expect the Red Sox to carry infielder Aaron Hill as well. Cleveland's bench will be determined by how the outfield shakes out in any given game, though it's possible the only backup infielder will be the weak-hitting Michael Martinez. Guyer, at least, has long smashed lefties (career line of .288/.390/.469, 144 wRC+).
Small advantage: Red Sox
Starting Pitchers
If the Indians were at full strength, they'd probably have the best rotation in the AL. They're not, so they don't. So, so much depends on how Kluber's quad reacts, but mostly they need Game 1 starter Trevor Bauer to be more like first-half Bauer (.227/.299/.340 against, 3.30 ERA) and less like second-half Bauer (.264/.342/.449, 5.36). The third and fourth starters would come from a group including Josh Tomlin, Cody Anderson and Mike Clevinger, which is less than ideal. The Red Sox may have the AL Cy Young winner in Rick Porcello starting Game 1, then get to throw Price, who has been better than you think, behind him.
Advantage: Red Sox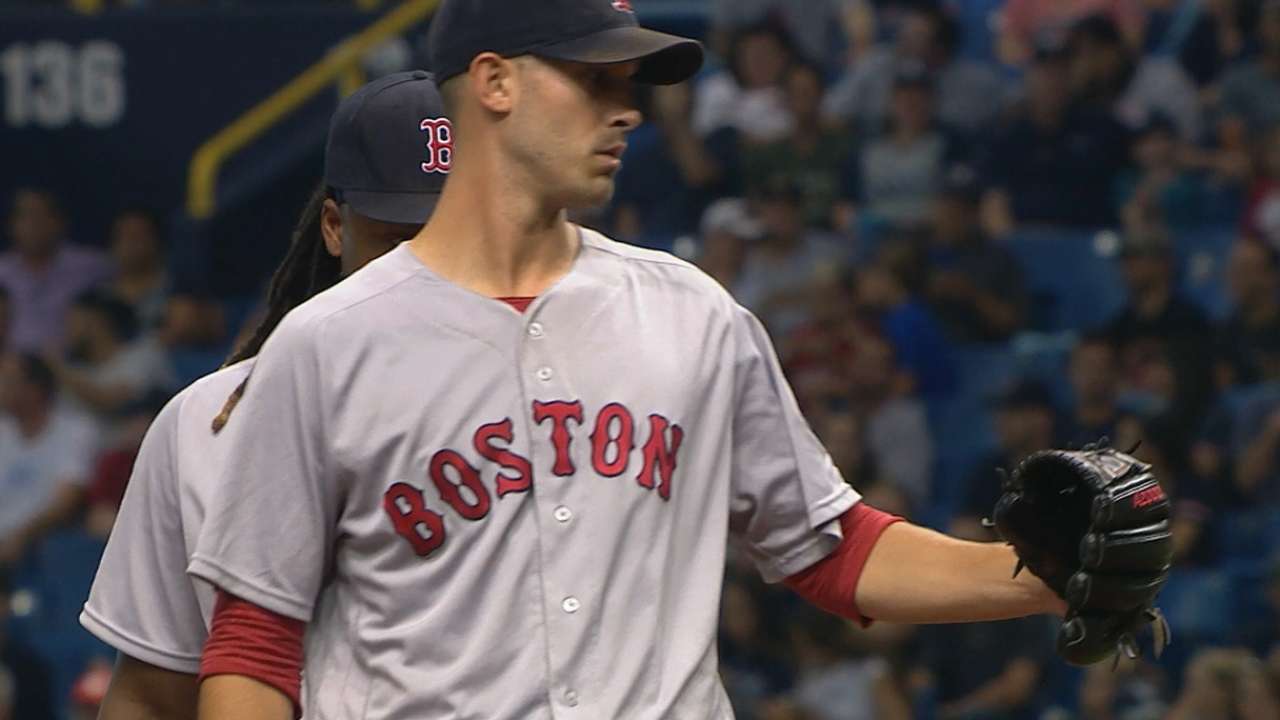 Closer
It's difficult to believe considering that Boston has Craig Kimbrel, but ... this one is a toss-up, and that's not because of Miller. It's partially because Kimbrel has shown a worrisome inability to throw strikes, with a 13.6 percent walk rate that's easily a career high -- an issue that became more pronounced late, walking six in his final three appearances. (His ERA/FIP of 3.40/2.92 are both career highs.) Meanwhile, Cody Allen remains one of the more underrated relievers in the game, striking out 87 in 68 innings and allowing just one run in the season's final six weeks.
Advantage: Push
Relief Pitchers
Miller has a legitimate case to be considered as dominant as Zach Britton, though it doesn't seem like he's talked about that way, and Francona's usage of him has been stellar. You'll also see some quality arms like Dan Otero and Bryan Shaw for a team that will have to rely heavily on their relievers. That said, the Red Sox bullpen has peaked at absolutely the right time, as Boston finally has Kimbrel, Koji Uehara, and Brad Ziegler healthy simultaneously, plus the long-awaited bullpen transition of Joe Kelly has been a success -- he's allowed two runs in 17 2/3 innings, touching triple digits with his fastball. The Red Sox as a unit had a 1.80 ERA after Sept. 1, and they might not even be able to find room for all of their relievers, especially if Drew Pomeranz makes it here.
Small advantage: Red Sox
Mike Petriello is an analyst for MLB.com and the host of the Statcast podcast. He has previously written for ESPN Insider and FanGraphs. This story was not subject to the approval of Major League Baseball or its clubs.