Whom should Cubs root for in NL WC Game?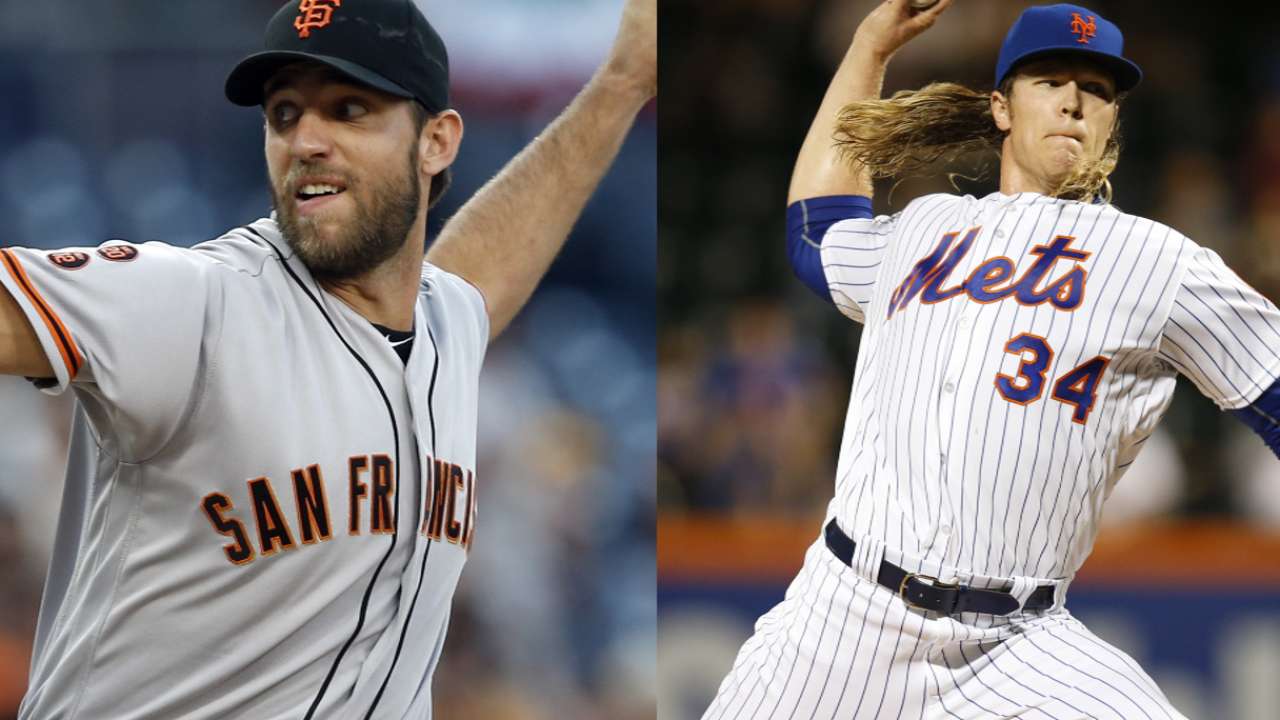 The Cubs erased all uncertainty down the stretch this season, as they soared to 103 wins while locking up the National League Central title in mid-September before clinching the NL's top seed with more than a week to go.
But there's one thing manager Joe Maddon's ballclub won't know until Wednesday night. That's when the Giants and Mets meet at Citi Field in the NL Wild Card Game (ESPN, 8 p.m. ET/7 CT), with the winner advancing to Wrigley Field for Game 1 of the best-of-five NL Division Series on Friday (FS1, 9 p.m. ET/8 CT).
While the Cubs have no control over who their opponent will be, is there an outcome they should want? If the club has an opinion on that, it isn't sharing.
"That has to be organic," Maddon said. "The moment you start wishing for something, be careful what you wish for."
As the Cubs well know, discounting a Wild Card team or putting too much stock in regular-season head-to-head results isn't wise. In 2015, Chicago won the NL Wild Card Game and knocked off NL Central champion St. Louis in the NLDS. But then the Mets, a team the Cubs swept, 7-0, during the regular season, swept them back in the four games of the NL Championship Series.
So with that in mind, here is a deeper look at which of the Cubs' two potential NLDS matchups sets up more favorably for them.
Starting pitching
In last year's NLCS, the Mets started Matt Harvey in Game 1, Jacob deGrom in Game 3 and Steven Matz in Game 4. This year, all three pitchers are out with injuries, leaving the Mets with a depleted staff. Right-hander Noah Syndergaard can be overpowering, but New York will need to use him on Wednesday, which means he would only be able to start once in the NLDS (most likely Game 3).
Unheralded rookies Robert Gsellman and Seth Lugo would suddenly be on the spot in the NLDS. They combined for a 2.66 ERA in their 15 starts down the stretch; however, both remain relatively unproven and both recently surpassed their career highs for innings in a season.
A big bonus for the Giants is that while they will expend Madison Bumgarner in the Wild Card Game, that still leaves co-ace Johnny Cueto (1.78 ERA in September) for Game 1 and a potential Game 4 or 5 in the NLDS. Then there's Jeff Samardzija, who had an inconsistent season but put up a 2.45 ERA in his final 10 starts, soon after reintroducing a curveball to his repertoire.
Offense
When it comes to overall production with the bat this year, there wasn't much difference between the clubs. In terms of weighted runs created-plus (wRC+), a park-adjusted metric where 100 is league average, the Giants finished fourth in the NL at 98, the Mets sixth at 97. New York fared much better after the All-Star break (99 to 93).
However, the teams have different approaches. The Giants finished 13th in the NL in home runs (130) and were the only MLB team not to have a player finish with at least 20. On the other hand, no NL club struck out at a lower rate, had a higher walk-to-strikeout-ratio or made contact more often.
By contrast, the Mets finished second in the NL in homers (218), eighth in lowest strikeout rate and fifth in contact rate. They scored a league-high 51.1 percent of their runs via the long ball and went 10-35 when they didn't hit one, compared with 29-42 for the Giants. Cubs starters Kyle Hendricks, Jake Arrieta and Jon Lester all ranked in the top 13 for lowest homer rate among qualified MLB pitchers, suggesting they may be able to neutralize the Mets' biggest offensive weapon.
Bullpen
Mets relievers ranked in a virtual tie for first in the NL in FIP and were third in strikeout rate and second in strikeout-to-walk ratio, led by an effective closer (Jeurys Familia) and a setup man who has been even more dominant (Addison Reed). The Giants, on the other hand, endured significant bullpen problems down the stretch and had to make a late closer change, from Santiago Casilla to Sergio Romo. Still, Romo looked good in that role, and manager Bruce Bochy has shown a deft touch with his relief corps in previous postseasons.
Defense
Against an offense as potent as the Cubs', extra outs are poison for an opponent. Not only did the Giants make the fewest errors in the Majors (72), but advanced metrics give them a significant edge over the Mets. Ultimate Zone Rating has the Giants second in MLB (42.6) and the Mets 15th (1.2), while Defensive Runs Saved puts San Francisco third (plus-50) and New York 21st (minus-18).
Verdict
It's the postseason, which means any team is dangerous, and the results are unpredictable. Either the Giants or Mets, despite entering the NLDS as significant underdogs, would have a chance to knock off the Cubs. But for Chicago, the club with three championships over the previous five years offers the more troublesome matchup.
Andrew Simon is a reporter for MLB.com. Follow him on Twitter @AndrewSimonMLB. This story was not subject to the approval of Major League Baseball or its clubs.