How they were built: Orioles
Baltimore among four clubs tied for most homegrown players on projected Division Series roster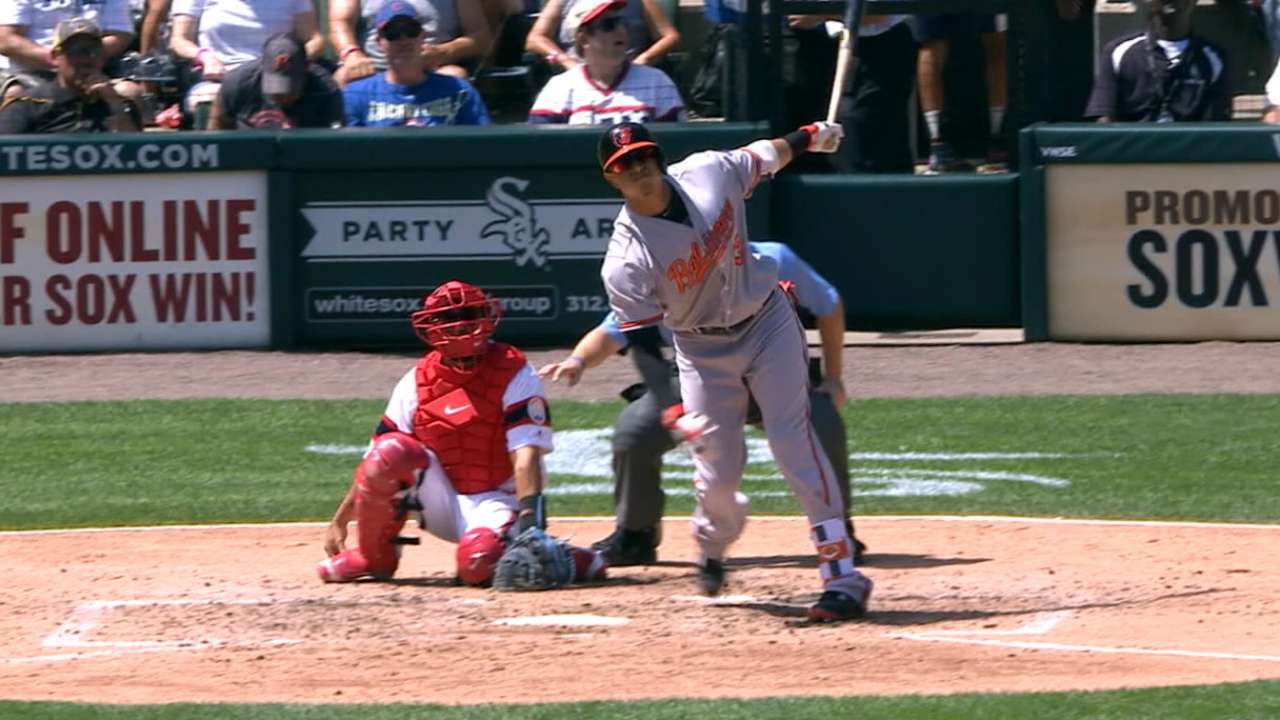 MLBPipeline.com is breaking down how each of the playoff teams was built, looking at the composition of projected Division Series rosters.
For the third time in five years, the Baltimore Orioles are in the postseason. The Orioles got hot at the right time down the stretch, winning their final five road series and seven of their last nine games to claim the second American League Wild Card spot with an 89-73 overall record.
That Baltimore's core position players remained healthy was a major reason that the club finished with a Major League-leading 253 home runs, the most since the Blue Jays went deep 256 times in 2010. The O's had six players finish with at least 20 home runs, with Mark Trumbo leading the way with an MLB-best 47, and all but one of them logged at least 152 games played.
Furthermore, it was the Orioles' robust offense that helped to compensate for a starting rotation that ranked 13th in the AL in both ERA (4.72) and WHIP (1.41). Baltimore's bullpen also was key to the club's success, as it paced the circuit with a 3.40 ERA while holding opposing hitters to a .243 average.
Here's a look at how each player on the O's projected Division Series roster was initially acquired during his current stint with the club:
HOMEGROWN
Player, how acquired, year
Zach Britton, Draft, 2006 (3rd)
Dylan Bundy, Draft, 2011 (1st)
Kevin Gausman, Draft, 2012 (1st)
Mychal Givens, Draft, 2009 (2nd)
Donnie Hart, Draft, 2013 (27th)
Hyun Soo Kim, Int'l sign, 2015
Caleb Joseph, Draft, 2008 (7th)
Manny Machado, Draft, 2010 (1st)
Jonathan Schoop, Int'l sign, 2008
Matt Wieters, Draft, 2007 (1st)
Tied for the most homegrown talent on a projected playoff roster with 10 players, the Orioles' roster is testimony to the club's success in the Draft. That was particularly true of its recent first-round picks, as Machado (2010), Bundy ('11) and Gausman ('12) were all major contributors for the O's this season.
Bundy's comeback and season-long success, first as a reliever and then a starter, also represented a victory for Baltimore's player development staff after the right-hander had missed much of the past three years with myriad injuries.
Both Machado and Schoop enjoyed career seasons at the plate at ages 23 and 24, with the duo combining for 62 home runs, 77 doubles and 178 RBIs. Kim, whom the Orioles signed to a two-year, $7 million deal out of South Korea before the season, was better than expected in his first year in the States, posting an .802 OPS in 95 games, and his pinch-hit go-ahead home run against Blue Jays closer Roberto Osuna on Sept. 30 will be remembered as one of the biggest hits by an Oriole this season.
Zach Britton emerged as baseball's top closer and a viable AL Cy Young Award candidate in 2016, going a perfect 47-for-47 in save opportunities while posting a 0.54 ERA and holding opposing hitters to a paltry .162 average.
TRADES/WAIVERS
Player, year, acquired from
Michael Bourn, 2016, D-backs
Brad Brach, 2013, Padres
Chris Davis, 2011, Rangers
Ryan Flaherty, 2011, Cubs
** J.J. Hardy, 2010, Twins
Adam Jones, 2008, Mariners
Wade Miley, 2016, Mariners
Darren O'Day, 2011, Rangers
* Chris Tillman, 2008, Mariners
Mark Trumbo, 2015, Mariners
* Acquired via Waivers
** Acquired via Rule 5 Draft
The Orioles have done quite well when trading with the Mariners. They landed five-time All-Star Jones and staff win leader Tillman in the same 2008 deal, while Trumbo went on to pace Major Leagues in home runs this season after being traded for the second time since the start of 2015. And even though Miley's performance fluctuated down the stretch, the veteran lefty provided the O's with key rotation depth after being acquired at the Trade Deadline.
After he had earned All-Star honors a year ago, O'Day passed the torch to fellow reliever Brach in 2016. Serving as the Orioles' primary late-inning bridge to Britton, Brach notched 10 wins while appearing in a career-high 71 games, good for a fourth-place tie among AL relievers.
The O's shelled out big bucks to re-sign Davis during the offseason, giving the 30-year-old slugger a seven-year, $161 million deal after he had paced the AL in home runs in two of the previous three years. Though he failed to win another home run title in 2016, the veteran slugger still managed 38 homers in 157 games, the third-highest total of his career.
FREE AGENTS
Player, year
Pedro Alvarez, 2016
Brian Duensing, 2016
Yovani Gallardo, 2016
Tommy Hunter, 2016
Ubaldo Jimenez, 2014
Alvarez was one of the last free agents to sign during the offseason, inking a one-year, $5.75 million pact in March. The deal proved to be a bargain, as Alvarez would go on to post a career-high .829 OPS and bash 22 homers as designated hitter.
The late-season additions of Duensing and Hunter, both of whom inked Minor League deals, were key in stabilizing the bullpen down the stretch.
Jimenez, in the third year of a four-year, $50 million deal, was the Orioles' top starter down the stretch, going 5-2 with a 2.45 ERA over his final seven starts. And although offseason signee Gallardo, the recipient of a two-year, $22 million deal, didn't produce the return the O's might have hoped for, he still gave the club 118 innings and 23 starts.
Mike Rosenbaum is a reporter for MLB.com. Follow him on Twitter at @GoldenSombrero. This story was not subject to the approval of Major League Baseball or its clubs.