Black, Washington to interview for skipper's job
Interim manager Snitker, also in running, supportive of Braves' approach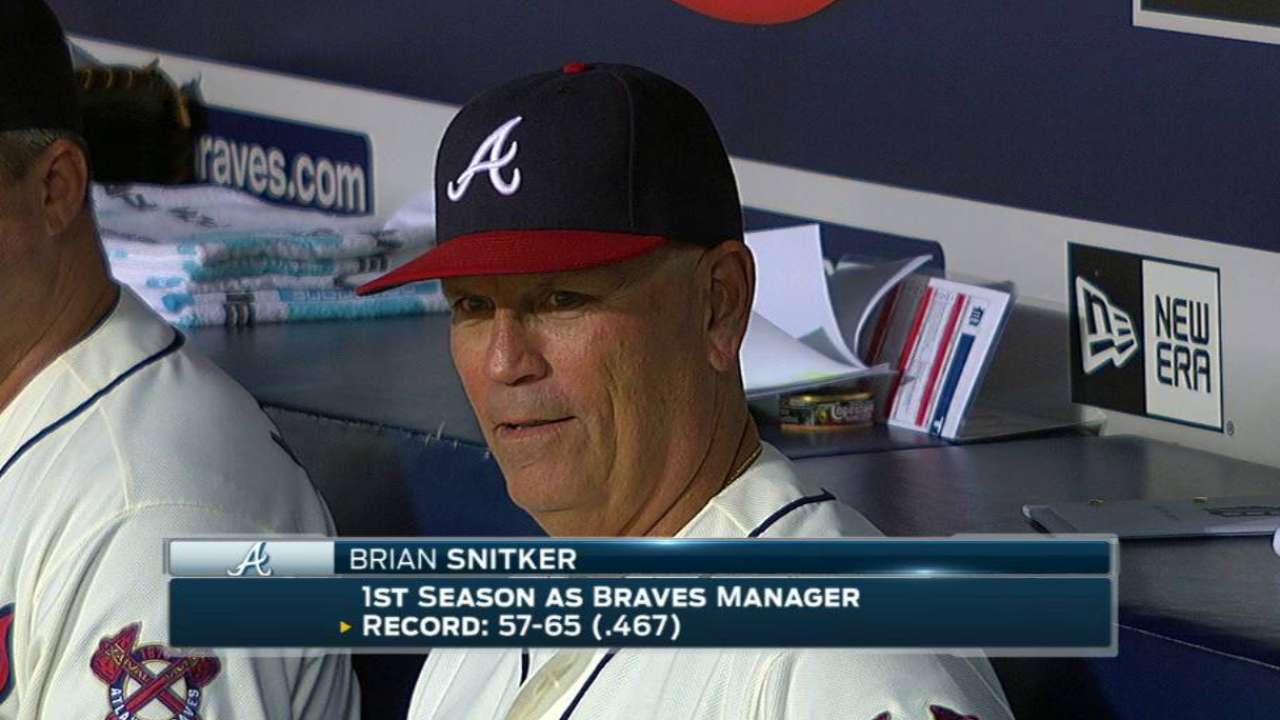 ATLANTA -- Top internal candidate Brian Snitker sat directly next to Braves president of baseball operations John Hart on Monday morning, when Hart revealed that Bud Black and Ron Washington will be interviewed this week for the club's managerial vacancy.
"If I was them, I'd be doing the same thing," Snitker said. "You never know. Somebody might come in here and blow them away with something they've never thought of before. If that is going to make this club and this organization better, then heck, I'm all for it."
Snitker's honest and unselfish response provided another glimpse of why he has become one of the organization's most beloved figures as he has served as a coach or manager at both the Minor League and Major League levels within the Braves organization since 1980, the same year he concluded a four-season stint as a player in their farm system.
After accepting the unenviable challenge to be Atlanta's interim manager when Fredi Gonzalez was dismissed after a 9-28 start, Snitker steadily became a legitimate candidate to maintain the role beyond this season. His candidacy was certainly strengthened as the club managed to avoid a seemingly inevitable 100-loss season by winning 20 of its last 30 games, including 12 of its last 14.
But before simply giving the job to Snitker, the Braves will talk to Black and Washington, both of whom have prior relationships with both Hart and vice chairman John Schuerholz. Hart indicated that he does not expect interviewing to be a long, drawn-out process.
"There's a lot of smart guys out there and a lot of guys with different ideas," Hart said. "It would be shame on us if we didn't take this opportunity to take a look at the landscape and get a feel for what people think about our club and our players. We talked to [Snitker] about this and he said, "I'm a lifelong Brave. I want to get the right guy. If it's me, then great. If it's somebody else, that's great too.'"
Hart acknowledged that it would be difficult to give the job to any of the other internal candidates -- bench coach Terry Pendleton, first-base coach Eddie Perez or third-base coach Bo Porter -- given the way the players responded to the leadership Snitker provided.
"I love Brian and I love the job he did," Hart said. "If he does become the guy, I want it to be because we went through the process. We're not afraid to make an unpopular decision if we feel it's in the best long-term interests of the Braves. If we do come back to Brian, then it will be because he's the guy we wanted and we will have looked around."
Washington was a product of the Royals Academy that Schuerholz helped build during the 1970s and managed the Rangers to consecutive World Series appearances in 2010-11 while Hart was a senior advisor in Texas' front office.
Black played for the Royals while Schuerholz was Kansas City's general manager and for the Indians while Hart was Cleveland's GM. He endured seven losing seasons during his nine-season stint (2007-15) as the Padres' manager, but he has been lauded as a skilled pitching coach and the Braves recognize their future will be influenced by the success of their highly regarded pitching prospects, who could reach Atlanta within the next few seasons.
Of course, the need for Black's pitching pedigree could be negated by the presence of Braves pitching coach Roger McDowell, who has long been lauded as one of the game's best by Tim Hudson and other veteran pitchers who have passed through Atlanta over the past decade.
"If you're a club that is a manager away from being there, I think you would look at a different guy than if you were a club that is growing and building," Hart said. "For me, the manager's job and the front-office job, they're all so intertwined. We want a manager that understands what we're doing with our young players and is going to have the opportunity to break in young players."
Snitker certainly proved his capability to work with a Braves roster that will look quite similar next year and also possibly benefit from the addition of a couple veteran starting pitchers. Still, he will patiently wait over the next few days to learn what role he will play within the organization next year.
"I'm going to be here somewhere," Snitker said. "I'm going to work next year. I'm going to help in some way. If I'm the manager, great. In the beginning, I wasn't sure. In the end, yeah, I'd like to have this opportunity. ... It's a good group of guys. I'd love to be a part of it and I will be in some capacity. I don't plan to go anywhere."
Mark Bowman has covered the Braves for MLB.com since 2001. This story was not subject to the approval of Major League Baseball or its clubs.