Championship-caliber squad KC's aim for '17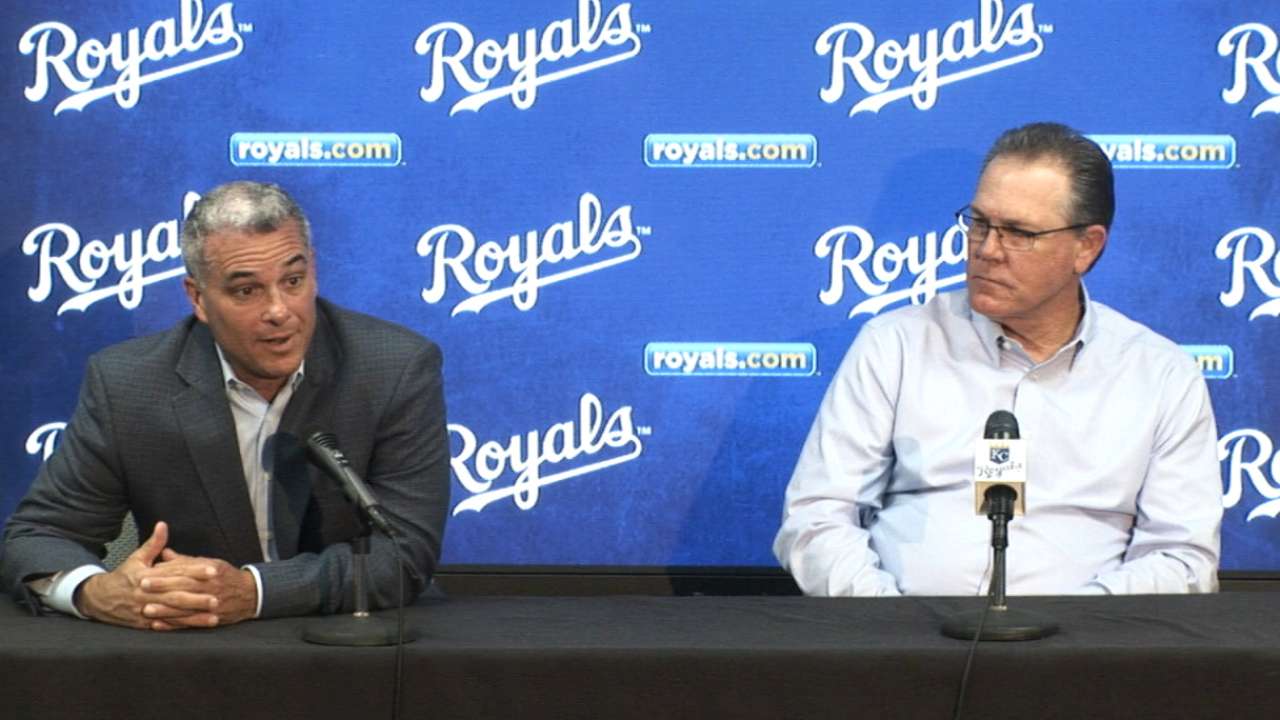 KANSAS CITY -- Royals general manager Dayton Moore and manager Ned Yost held their season-ending news conference at Kauffman Stadium on Monday morning, both expressing disappointment and sadness about the end to the 2016 season.
"Obviously we didn't finish the way we wanted to," Moore said. "When we entered Spring Training, we expected to perform much better. But I think we learned a lot about our players. We've learned a lot about our depth.
"It's disappointing. … Well, I don't know if it's disappointing. It's sad, ending the way it did. We obviously wish we were still playing. We got work to do as every offseason demands. We'll go to work starting [Tuesday] in meetings in Arizona and try to put a championship team on the field for 2017."
Here are the highlights of the questions Moore fielded:
On the bullpen needing to be improved
"Yeah, we've got to do better there," Moore said. "It's an area we definitely have to focus on. I feel pretty good with our starting rotation. We have some depth there. We have some proven pitchers. With Yordano Ventura, we were impressed with what he did in the second half. He continued to show promise. But I would say the bullpen is definitely an area we need to fix."
On last offseason's free-agent signings of Joakim Soria, Alex Gordon and Ian Kennedy -- especially Soria, who had a poor season
"It's not just one player. There's enough blame to go around with an unsuccessful season. I start with myself," said Moore. "I look in the mirror and I'm accountable for the product we put on the field. I do think Joakim Soria is going to come back and have a very good year. There were times he was very good, and there were times he wasn't. You could say that about our entire 25-man roster. … Ian was exceptional. He gave us innings [195 2/3] and gave us chances to win every night. … With Alex, obviously he didn't have the type of season we all expected. But we feel he'll come back and be strong as well."
On Danny Duffy's emergence as an ace
"Danny was exceptional," said Moore. "He's got one of the best arms in all of baseball. And he's left-handed, which makes him more special and separates himself even more. He's becoming the type of pitcher we all expected."
On possibly presenting a qualifying offer to and/or bringing back potential free agent Kendrys Morales, who had 30 home runs
"We do have a little bit of time before we have to make that decision," Moore said. "We'll just try to keep all of our options open."
On the importance of 2017
"It's a discussion we have had constantly for three years. Like we've always tried to do, we'll sign as many as we can to long-term contracts. We won't be able to sign them all. [Eric Hosmer, Mike Moustakas, Wade Davis, Lorenzo Cain, Duffy and Alcides Escobar are among the potential free agents following the '17 season.] That's something we'll have to figure out. I'm accountable for figuring that out."
On third baseman Cheslor Cuthbert going to the instructional league to work on playing second base
"He's going to go there and hopefully provide some versatility. For him, it all depends on how the DH scenario plays out next year. If the DH spot is open, it takes care of itself. But it makes sense for us to see him at other positions with Moose [ Moustakas] coming back."
Jeffrey Flanagan has covered the Royals since 1991, and for MLB.com since 2015. Follow him on Twitter @FlannyMLB. This story was not subject to the approval of Major League Baseball or its clubs.