MLB.com Columnist
Jim Callis
How they were built: Blue Jays
Three different front-office regimes have bolstered Toronto's team with trades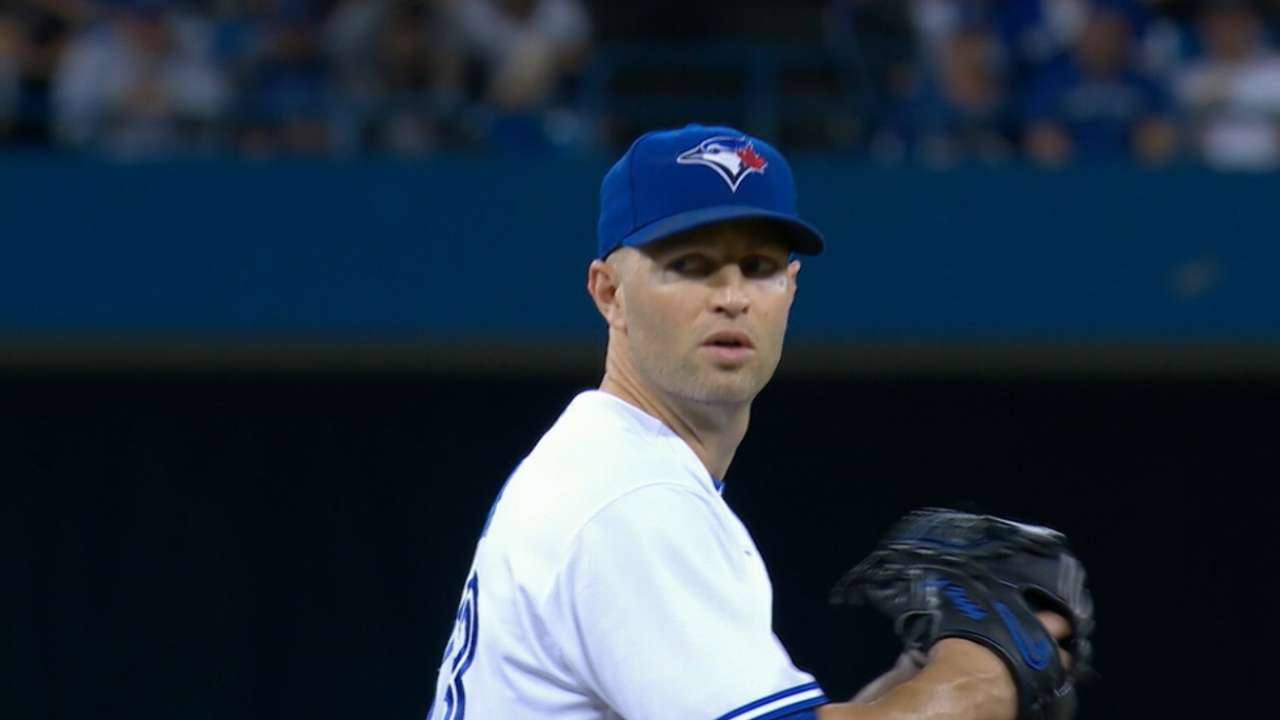 MLBPipeline.com is breaking down how each of the playoff teams was built, looking at the composition of Division Series rosters.
After missing the postseason for 21 consecutive years, the Blue Jays are back in the playoffs for the second straight October. Unlike the other four clubs that reached the postseason in both 2015 and '16 (Cubs, Dodgers, Mets and Rangers), Toronto did so with two front-office administrations.
When the Blue Jays lured Mark Shapiro from the Indians and named him president and CEO last November, Alex Anthopoulos opted to leave the franchise after six years as general manager. Shapiro subsequently brought Ross Atkins over from Cleveland to serve as GM.
Though they didn't have many holes to plug, Shapiro and Atkins have put their stamp on the team. They traded for seven players on Toronto's ALDS playoff roster, including four since the start of the season, and found some bullpen help in the form of an astute Rule 5 Draft pick.
Here's a look at how each player on the Blue Jays' ALDS Division Series roster was initially acquired during his current stint with the club:
HOMEGROWN
Player, how acquired, year
Brett Cecil, Draft, 2007 (supplemental 1st round)
Aaron Loup, Draft, 2009 (9th round)
Ryan Tepera, Draft, 2009 (19th round)
Aaron Sanchez, Draft, 2010 (supplemental 1st round)
Kevin Pillar, Draft, 2011 (33rd round)
Roberto Osuna, Int'l sign, 2011
Marcus Stroman, Draft, 2012 (1st round)
The Blue Jays have just seven homegrown players on their postseason roster, fewer than any other AL playoff club, and ahead of only the Cubs (five) and Nationals (six) in the National League. Anthopoulos did make liberal use of his farm system in a series of midsummer trades that put Toronto over the top in 2015, though Atkins concedes that the club would like to develop more of its own players in the future.
"There are all different ways to make your team better and ultimately it's about results," Atkins said. "But our goal is to scout, sign and develop Blue Jays players from our system. This is no secret to anyone."
The Blue Jays' most significant homegrown players are a pair of premium Draft picks. A projectable California high school pitcher, Aaron Sanchez signed for $775,000 as the 34th overall choice in 2010. After serving mostly as a reliever as a rookie a year ago, he went 14-2 and became an All-Star in his first season as a full-time starter.
Marcus Stroman had the stuff to go near the top of the 2012 Draft, but too many teams focused on his lack of size (5-foot-8) rather than his tremendous arm speed and athleticism. Toronto gratefully snapped him up with the 22nd overall choice and a $1.8 million bonus, and installed him in its rotation 22 months after he signed.
In the year in between Sanchez and Stroman, the Jays scored with a 33rd-round senior sign. Kevin Pillar went undrafted after setting an NCAA Division II record with a 54-game hitting streak in 2010 and had to settle for a $1,000 bonus a year later, but he didn't let that stop him from developing into one of baseball's best defensive center fielders.
The lone homegrown international signee on the playoff roster is Roberto Osuna, whose rights were purchased from the Mexican League's Mexico City Red Devils for $1.5 million in 2011. The Blue Jays groomed him as a starter until he had Tommy John surgery in 2013. After he missed most of 2014, Osuna surprisingly made the Opening Day roster in 2015 and took over as their closer by June.
TRADES/WAIVERS
Player, year, acquired from
Jose Bautista, 2008, Pirates
Edwin Encarnacion, 2009, Reds
+ Justin Smoak, 2014, Mariners
Marco Estrada, 2014, Brewers
Devon Travis, 2014, Tigers
Josh Donaldson, 2014, Athletics
Michael Saunders, 2014, Mariners
Troy Tulowitzki, 2015, Rockies
Darwin Barney, 2015, Dodgers
* Joe Biagini, 2015, Giants
Jason Grilli, 2016, Braves
Melvin Upton, 2016, Padres
Francisco Liriano, 2016, Pirates
Scott Feldman, 2016, Astros
Dioner Navarro, 2016, White Sox
* Acquired via Rule 5 Draft
+ Acquired via waivers
Among this year's playoff clubs, only the Cubs (14) traded for more players than the Blue Jays (13). J.P. Ricciardi, who preceded Anthopoulos as GM, pulled off two deals that continue to pay off. Getting six-time All-Star Jose Bautista from the Pirates straight up for Robinzon Diaz in 2008 was an absolute heist, while grabbing three-time All-Star and 2016 AL RBI leader Encarnacion as one of three youngsters from the Reds for Scott Rolen in 2009 was another prescient move.
Anthopoulos loved to wheel and deal, and his best transaction was getting 2015 AL MVP Award winner Donaldson from the Athletics for four players (the most notable of whom is prospect Franklin Barreto) in November 2014. Earlier that month, he liberated Travis from the Tigers for the low cost of Anthony Gose. Anthopoulos also swung a pair of blockbusters last July that resulted in a division title, giving up top prospects Daniel Norris and Jeff Hoffman as well as four other young arms and Jose Reyes to get Tulowitzki from the Rockies and since-departed David Price from the Tigers.
Shapiro and Atkins traded for five members of the postseason roster, most significantly for Liriano in July. Not only were they able to get someone to bolster their rotation without giving up a prospect -- they parted with young veteran Drew Hutchison -- they actually added two prospects in catcher Reese McGuire and outfielder Harold Ramirez by agreeing to take on all of the remaining $17.4 million remaining on Liriano's contract. It's a rare deal that actually could help a contender in both the short term and the long term.
"Going into the Deadline, our goal was to improve the Major League team without depleting the farm system," Atkins said. "A lot of the trades made the year before made it harder to trade prospects because we didn't have as many as the organization did one year prior.
"With the Liriano deal, we worked with the Pirates for a long time. He was someone we felt had upside, the year of control was interesting, the playoff experience was interesting, the stuff was still interesting even if the strike-throwing was down. The opportunity to add prospects to it came relatively late."
Toronto is just one of three playoff teams with a Rule 5 Draft pick, and the only one that claimed its guy at last year's Winter Meetings. The Jays plucked Biagini from the Giants for the $50,000 Draft price, an investment that already has paid off as he has become one of their most reliable relievers.
FREE AGENTS
Player, year
Russell Martin, 2014
Ezequiel Carrera, 2014
J.A. Happ, 2015
With a middle-of-the-pack payroll, the Blue Jays don't swim into free-agent waters too often. Martin is a rare exception, signing the largest free-agent deal in franchise history (five years, $82 million) in November 2014. The native Canadian earned All-Star honors in his first season of north of the border and has delivered 43 homers in two years with Toronto.
The new regime made just one free-agent move during its first offseason, and it couldn't have turned out much better. Happ, a former Blue Jay who was traded to the Mariners for Michael Saunders in December 2014, came back to Toronto for three years and $36 million. He nearly doubled his career high for victories this year, going 20-4 with a 3.18 ERA.
"I was interviewing while they were negotiating with J.A.," said Atkins, who joined Toronto six days after Happ did. "Mark and [assistant GM] Tony [LaCava] were very opportunistic and made a decision quickly that turned out to be very productive. He has exceeded expectations, but at the same time, if you watch the guy work and go about his job and talk about his job, you're not surprised at all."
Jim Callis is a reporter for MLB.com. Follow @jimcallisMLB on Twitter and listen to him on the weekly Pipeline Podcast. This story was not subject to the approval of Major League Baseball or its clubs.