Before he was postseason-bound: Roberto Osuna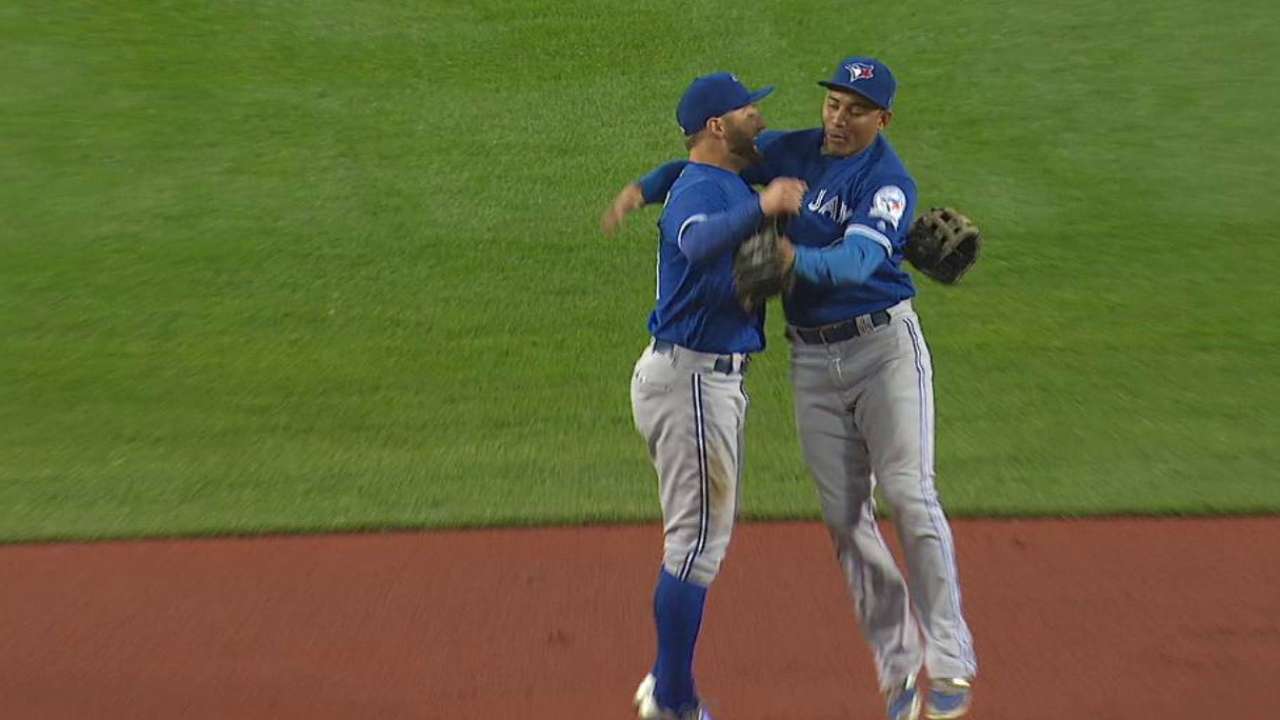 The Blue Jays are headed to the postseason for the second consecutive year after winning an American League Wild Card. As this will be the first time that many fans across the Majors will be focusing on their roster, here's our attempt to learn the origins of closer Roberto Osuna.
Roberto Osuna, RHP
Born: Juan Jose Rios, Sinaloa, Mexico
DOB: 2/7/1995
Minors: Bluefield (Rookie), GCL Blue Jays (Rookie), Vancouver (Class A), Lansing (A), Dunedin (Triple-A)
Path to Toronto: The Blue Jays signed Osuna as a 16-year-old free agent out of Mexico in 2011, and he made his Major League debut in 2015.
Trophy case: Finished fourth in American League Rookie of the Year voting in 2015. Chosen to the 2015 Topps All-Star Rookie Team.
Famous feat(s): Recorded a five-out save to clinch the deciding Game 5 of the 2015 ALDS against the Rangers, striking out four of the five batters he faced. When Osuna made his MLB debut on April 8 of last season, at 20 years, 60 days old, he became the youngest Blue Jays pitcher to appear in a Major League game.
You might not know: On Aug. 17 against the Yankees, Osuna broke the Major League record for most saves before a pitcher's 22nd birthday, with the 47th of his career. He then became the youngest pitcher ever to record 50 career saves on Sept. 4, when he notched his 30th save of the season.
Six degrees of Willie Aikens: The first batter Osuna ever faced in the big leagues was Alex Rodriguez. He struck A-Rod out looking.
"I was waiting for that moment," Osuna said after that game. "When I was in the bullpen, I wanted A-Rod. When I went in and I saw A-Rod over there, I was very comfortable, not nervous or anything like that."
The long road here: When Osuna was 12 years old, he dropped out of school and started to work picking vegetables to help his family, before eventually leaving home and moving to Arizona. When he wasn't working, he was practicing baseball with his father, who had also been a pitcher in the Mexican League.
"I made the decision to leave school, which frankly I didn't like anyway," Osuna told the Associated Press last year. "My father told me that I had the choice of dropping out of school and come work with him in the fields, to earn more money for us."
Family connections: Osuna's uncle, Antonio, pitched in the Majors for 11 seasons from 1995 through 2005 -- six with the Dodgers, two with the White Sox and one each with the Yankees, Padres and Nationals. However, Osuna has said, he has not spoken much with his uncle about his career. He learned baseball from his father. When the Blue Jays signed him for $1.5 million, the first part of the money went to his family.
"I gave my mother a house," he said in an interview with Canada's National Post. "I put my brothers and sister into school. I bought a rental house. And I invested. And I put some money aside for the future."
David Adler is a reporter for MLB.com based in New York. Follow him on Twitter @_dadler. This story was not subject to the approval of Major League Baseball or its clubs.