Before he was postseason-bound: Hunter Pence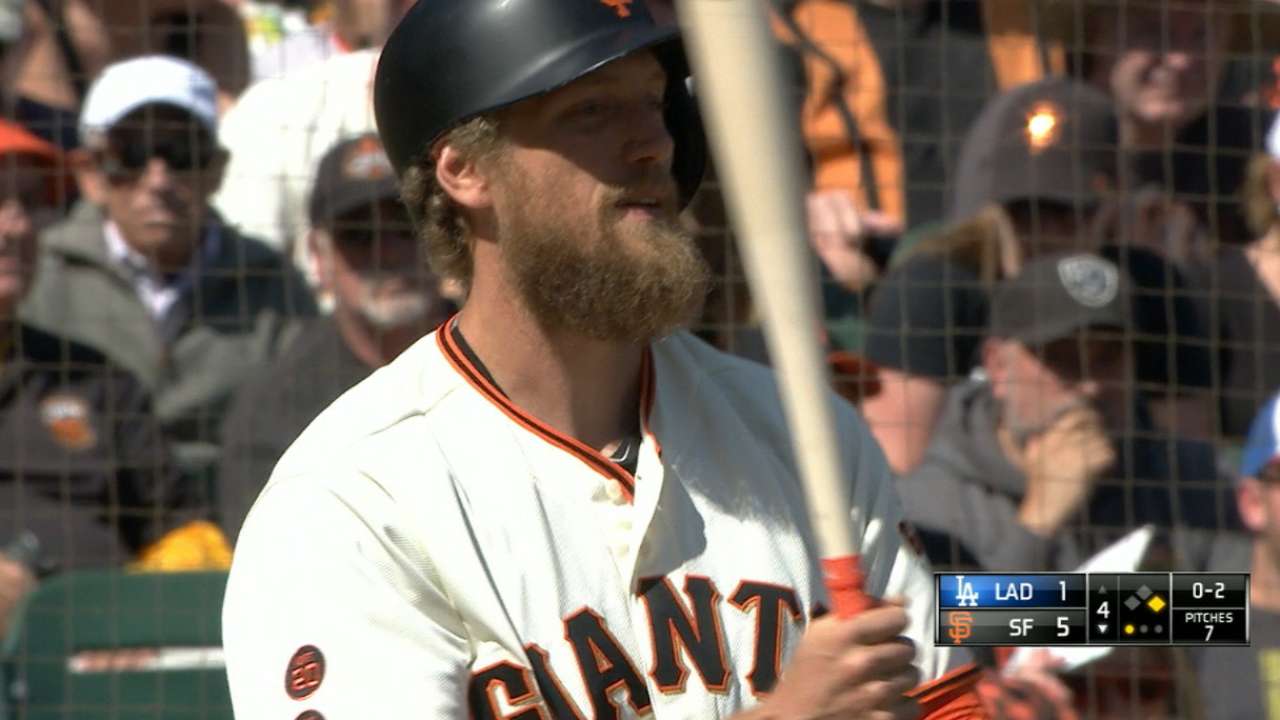 The Giants are headed to the postseason for the fourth time in seven years after winning a National League Wild Card. As this will be the first time that many fans across the Majors will be focusing on their roster, here's our attempt to learn the origins of slugger Hunter Pence.
Hunter Pence, RF
Born: Fort Worth, Texas
DOB: 4/13/83
HS: Arlington (Texas) High School
College: University of Texas at Arlington
Minors: Tri-City, Lexington (Class A), Salem (Class A Advanced), Corpus Christi (Double-A), Round Rock (Triple-A)
Path to San Francisco: The Astros selected Pence in the second round of the 2004 Draft; traded with cash from Houston to Philadelphia in 2011 for Jarred Cosart, Jon Singleton, Josh Zeid and Domingo Santana; traded again in 2012 to the Giants for Tommy Joseph, Seth Rosin and Nate Schierholtz.
Trophy case: Two-time World Series champion (2012, 2014), Three-time All-Star (2009, 2011, 2014), NL Player of the Month (May 2007, Sept. 2013).
Famous feat(s): In 2013, Pence became the first Giants player to hit 20 home runs and steal 20 bases since Barry Bonds in 1998.
You might not know: Pence played in 383 consecutive games from Aug. 1, 2012 to Sept. 28, 2014, the third-longest streak in Giants history.
Six degrees of Willie Aikens: Pence played alongside another playoff-bound star, Ben Zobrist, with the Class A Tri-City ValleyCats in 2004. That team won 50 games and finished as the runner-up in the New York-Pennsylvania League.
Multi-sport athlete: Pence competed in power tumbling from ages 5 to 10, following in his sister Stacy's footsteps. He was the Texas state power-tumbling champion at age 9. Stacy competed in the World Championships in Portugal when she was 18.
Fuller House: Pence makes a cameo appearance in the Netflix series "Fuller House," which is set in San Francisco. His first-season episode -- "A Giant Leap" -- had scenes filmed at AT&T Park during the seventh-inning stretch of a Giants-Dodgers game last season.
Chad Thornburg is a reporter for MLB.com. This story was not subject to the approval of Major League Baseball or its clubs.