O's, Blue Jays mull Wild Card starter choices
The Orioles and Blue Jays will meet in the American League Wild Card Game on Tuesday in Toronto at 8 p.m. on TBS/Sportsnet, but neither team has yet announced who its starting pitcher will be. They are expected to name their starters on Monday.
Baltimore is expected to go with either Ubaldo Jimenez or Chris Tillman. Toronto will likely send either Francisco Liriano or Marcus Stroman to the mound in the contest that will decide which club will advance to face the Texas Rangers in the AL Division Series.
Jimenez has been spectacular for the Orioles over the past five weeks, returning to the starting rotation after a demotion to the bullpen. His last start came against the Blue Jays in Toronto on Thursday, when he tossed 6 2/3 scoreless innings to help lift Baltimore into a tie for the top AL Wild Card spot. After posting a 7.38 ERA in the first half of the season, the 32-year-old right-hander has gone 3-3 with a 2.82 ERA.
In five career postseason starts, all with the Rockies in 2007 and 2009, Jimenez is 0-2 with a 3.54 ERA.
Tillman also made his last start in Toronto, allowing two runs (one earned) over 5 2/3 innings in an eventual Orioles win. Prior to that, he didn't make it out of the second inning in a 5-3 Orioles loss to the Red Sox on Sept. 22. In four starts against the Blue Jays this season, the right-hander is 1-0 with a 3.63 ERA.
Tillman started two games for Baltimore in the 2014 playoffs, posting a 6.75 ERA between one AL Division Series game against the Tigers and an AL Championship Series game against the Royals.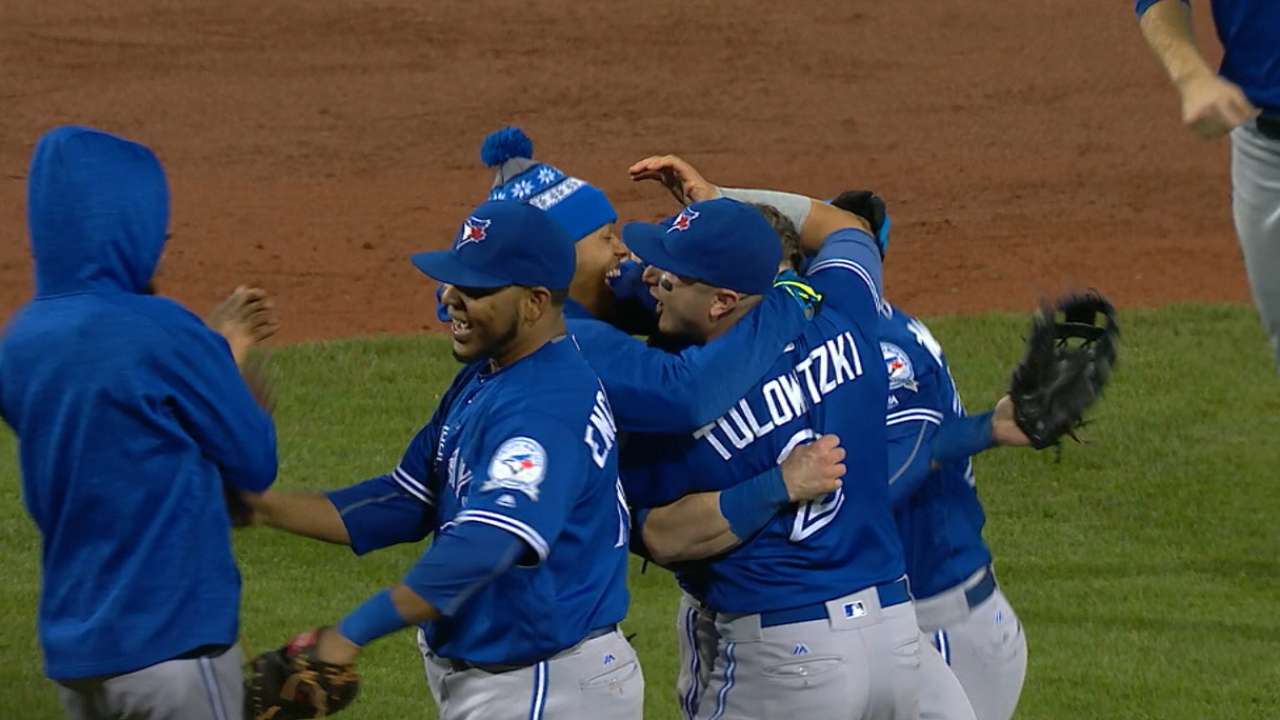 Among the four, Liriano is the only one with experience pitching in a Wild Card Game -- he tossed seven innings while allowing one run to the Reds as a member of the Pirates in 2013. Liriano has pitched well since being traded to Toronto from Pittsburgh, posting a 2.92 ERA in 10 appearances (eight starts).
Stroman, who came into the season as the presumed ace of the Blue Jays' pitching staff, struggled with consistency. He has pitched better since the All-Star break, with a 3.68 ERA in 14 starts. In four starts against Baltimore this year, he was roughed up for 18 runs in 23 innings (7.04 ERA).
In three postseason starts last year, Stroman went 1-0 with a 4.19 ERA (nine earned runs in 19 1/3 innings).
Manny Randhawa is a reporter for MLB.com. Follow him on Twitter at @MannyRsports. This story was not subject to the approval of Major League Baseball or its clubs.