Big Papi primed for one last postseason run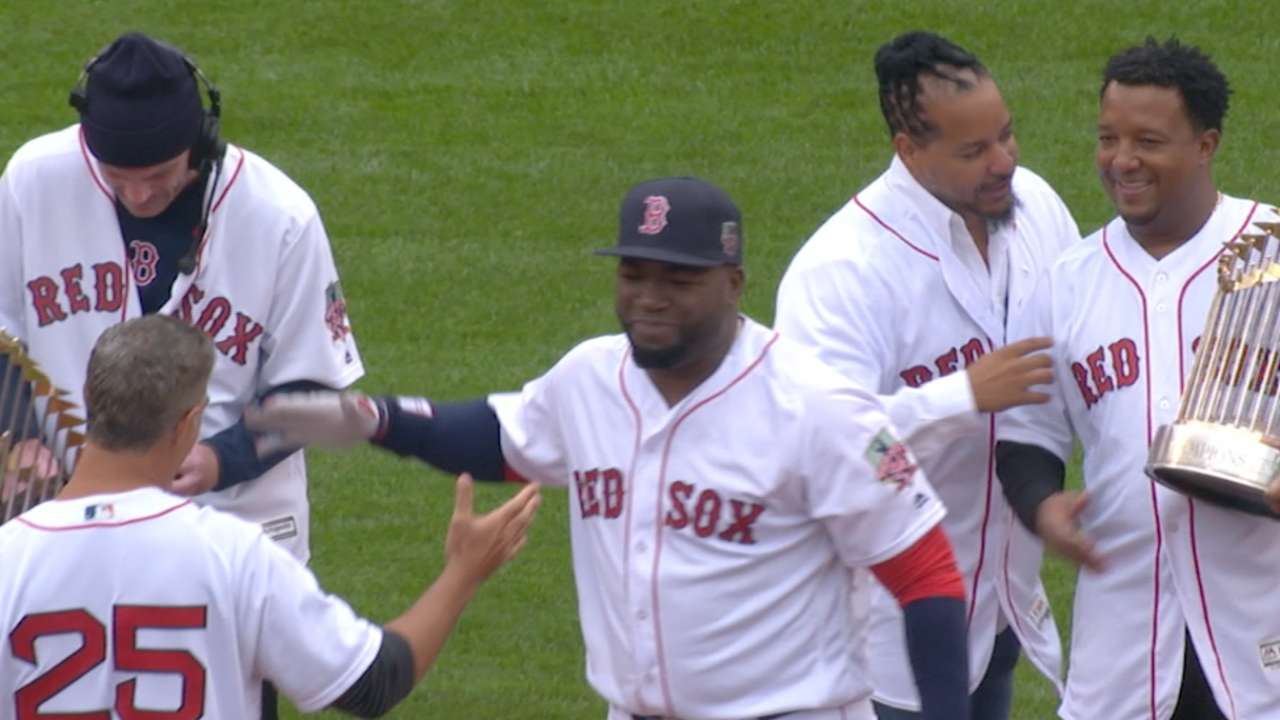 BOSTON -- His final regular season in the books, David Ortiz is now ready to tackle his favorite season -- the one that he built much of his legend on.
The postseason is where Ortiz has helped lift the Red Sox to their first three World Series championships since 1918.
And as far back as when Ortiz announced his pending retirement on his 40th birthday last November, he eyed one last glorious October run.
Though Ortiz is running out of room for the season-long collection of gifts, he still has plenty of room on his fingers for a fourth ring.
The quest starts Thursday, when the Red Sox travel to Cleveland for Game 1 of the American League Division Series (Thursday on TBS, 8 p.m. ET).
"We have a couple of days off, and we already know we're going to start the playoffs with Cleveland, so it's good that everything is already done, so now we can go back to normal and I can go back to my routines once the playoffs kick in," said Ortiz.
In 82 postseason games, Ortiz has 17 homers, 60 RBIs and a .962 OPS.
The OPS is only slightly higher than his career OPS, but that's impressive when you consider the quality of pitching that permeates throughout postseason play.
• Ortiz humbled to go into sunset at top of game
When games and seasons are on the line, Ortiz is at his best.
In 2004, the Red Sox were down 3-0 in the AL Championship Series, and Ortiz went off, belting walk-off hits on back-to-back days at Fenway and then ripping a homer that set the tone for the Game 7 victory at Yankee Stadium.
In '13, the Red Sox were on the verge of going down 2-0 in the ALCS to the Tigers. Down 5-1 in the eighth, the only thing that could save them was a grand slam. Naturally, Ortiz provided it, and the Red Sox went on to win the World Series -- the one in which Big Papi hit .688 to claim the MVP Award.
"He's always had that calmness about him that's allowed him to be the best in those spots, and that's what gives you that expectation like something special is always going to happen," said Red Sox manager John Farrell.
Dustin Pedroia has no doubt that his long-time teammate has a few more big hits left in his bat.
"I've seen him for 10 years and it's pretty special," Pedroia said. "Every time there is a big situation, he's always finding a way to come through. We're going to enjoy the last games we have with him because it's pretty special what he's done."
Ian Browne has covered the Red Sox for MLB.com since 2002. Follow him on Twitter @IanMBrowne and Facebook. This story was not subject to the approval of Major League Baseball or its clubs.