Bauer a constant through Indians' adversity
'He relishes what's ahead of him,' Francona says of ALDS Game 1 starter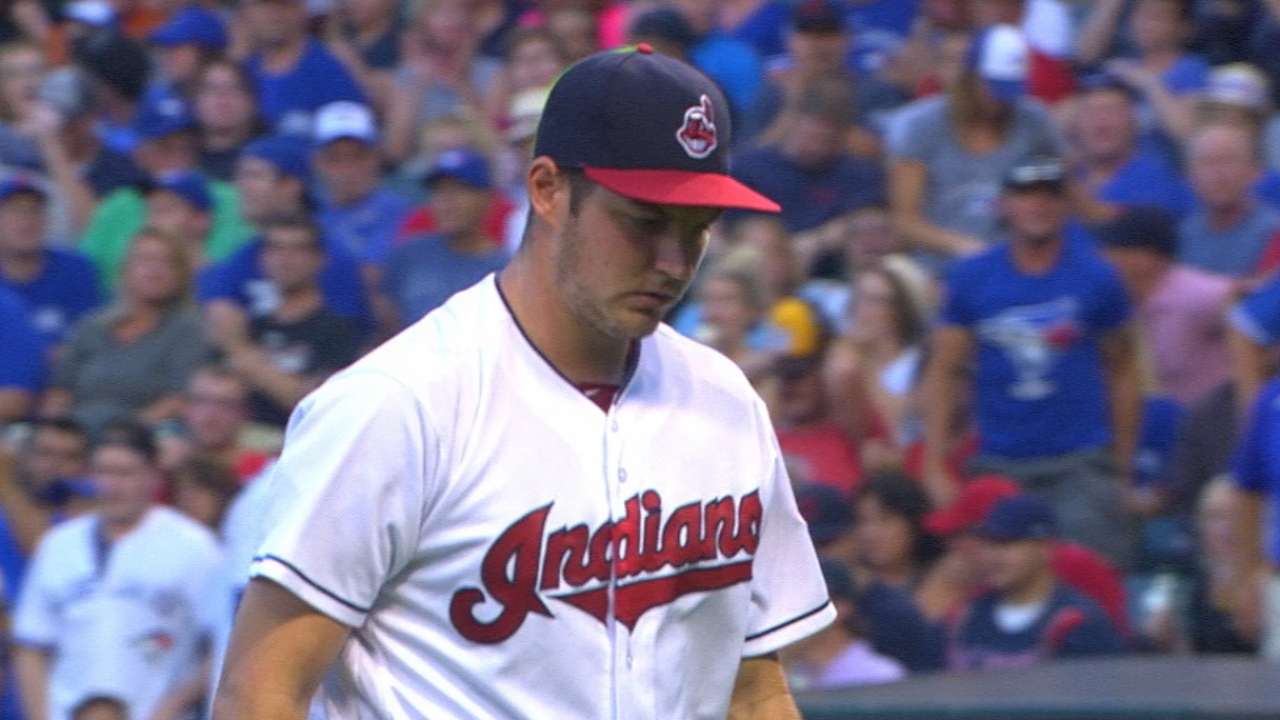 No one was safe. As the party raged on inside Comerica Park's visitors' clubhouse, Trevor Bauer looked for targets. With a camera strapped to his hat, the pitcher made his way through the champagne mist, a bottle in each hand, dodging corks and searching for anyone deserving of dousing.
This Bauer, who showed up during Cleveland's American League Central-clinching celebration, is the one Indians players have grown to enjoy and embrace. The pitcher spent many seasons seemingly in solitude within a crowded clubhouse. Now, he can often be spotted on the top step of the dugout, shouting and pumping his fists, cheering on his teammates. Come Thursday, Bauer will be on the mound at Progressive Field, starting in Game 1 of the American League Division Series against Boston, to be televised on TBS.
• Shop Indians postseason gear
"I think he relishes what's ahead of him," Indians manager Terry Francona said.
Circumstances paved the path for Bauer's Game 1 assignment, but it speaks volumes that the right-hander has earned the trust that goes along with the task at hand. Just six months ago, Bauer began this season as part of the Tribe's Opening Day bullpen. There was a message being sent by Francona and pitching coach Mickey Callaway when they made that decision.
Bauer is a cerebral pitcher who has dedicated his life to researching and honing his craft. For as long as the righty can remember, he has viewed himself as a starter. After another offseason of relentless training, Bauer arrived to Spring Training with the assumption that he would be in the Indians' rotation. Cleveland then gave his job to right-hander Cody Anderson to start the season.
Bauer did not discuss the team's decision for several days at the start of April.
"If anything," Bauer said, "it just made me mad."
Cleveland anticipated as much, but trusted that the benefits would show over time.
"I think he holds starting a little bit more in a different light now and values it a little bit more," Callaway said. "Things aren't always going to go smooth. There's going to be adversity and you have to overcome it and do what the team needs from you. When you focus on the team, it usually takes care of the things that you want to happen for you in your personal roles."
Callaway said the perfect example arose on July 1 in Toronto.
Bauer, who was back in the rotation by the end of April, had thrown an aggressive bullpen session the previous day in preparation for his scheduled July 2 start. That was before the unexpected began to unfold at Rogers Centre. Josh Tomlin logged six innings, but then the game began to drag on with the score caught in a 1-1 deadlock. Francona had burned through seven relievers by the time the 15th inning rolled around.
Working on just three days of rest, Bauer came out of the bullpen and turned in five shutout innings, buying the Indians enough time to pull off a 2-1 victory in 19 frames. Rather than worrying about disrupting his five-day routine, and missing his next start, the pitcher concerned himself only with the game at hand.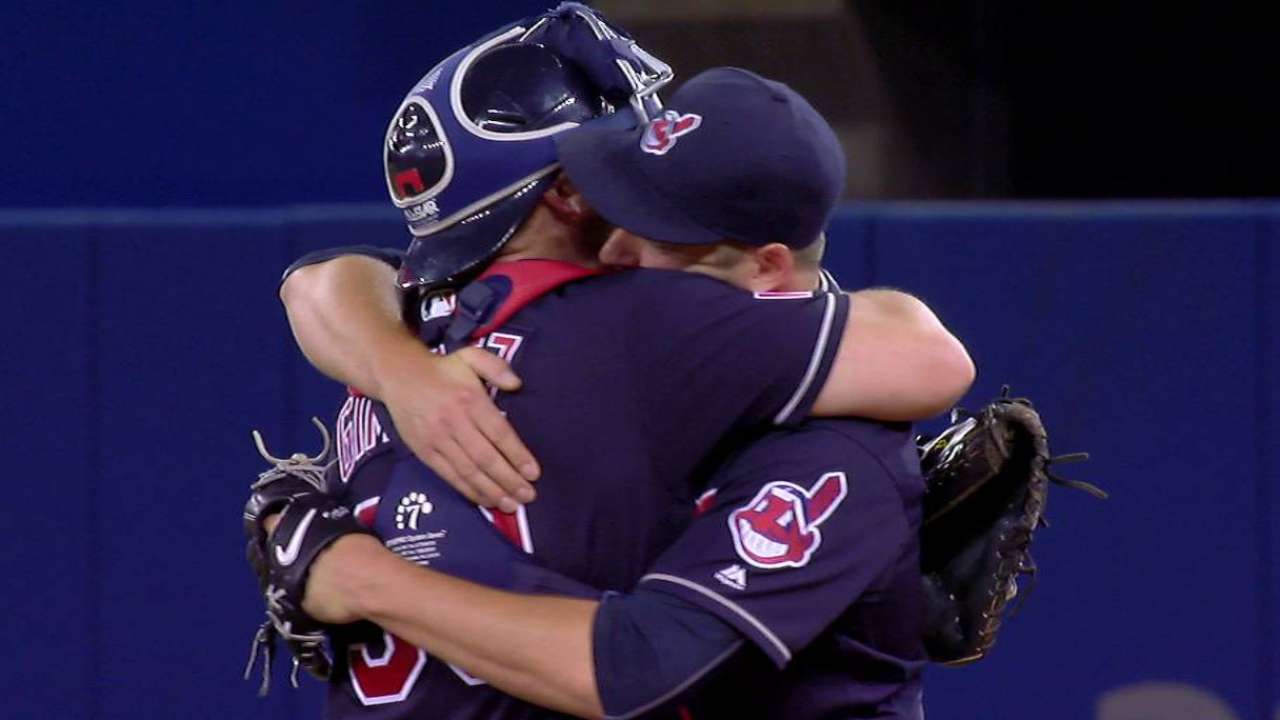 "He just went out and did it and did what the team needed," Callaway said. "I think there's value to that."
That background now directly impacts Cleveland's current situation. As the Game 1 starter against the Red Sox, Bauer would be required to pitch on three-days' rest if a Game 4 in Fenway Park becomes necessary. That Blue Jays game showed that Bauer is capable of handling that type of situation, even on short notice.
An injury to Carlos Carrasco in April opened the door for Bauer's return to the rotation. When Anderson eventually lost his grip on a starting spot, it allowed Bauer to stay. Then, when Carrasco and Danny Salazar sustained injuries in the final month, Bauer was suddenly the Tribe's No. 2 starter. After ace Corey Kluber came down with a mild quadriceps strain in his season finale, Bauer fell in line for Game 1 of the ALDS.
Through all the adversity, Bauer remained a constant. The 25-year-old righty set a career high in wins (12) and innings (190) and ended his season with 168 strikeouts, 70 walks and a 4.26 ERA. He met his goal of increasing his velocity this year and developed one of the better curveballs in the game. Most important, the righty proved his durability and earned the right to remain in the rotation.
"I make certain sacrifices to be able to be healthy and durable and log a lot of innings," Bauer said. "All the research I've done, all the hard work I've put in, and all the smart work that I've put in, it's paying dividends. I'm on the right track in the development path I've set myself on. I'm in a really good spot moving forward. I'm in a really good spot for this year and for future years."
Follow me inside the locker room as we celebrate clinching the 2016 AL Central championship!! https://t.co/BCilnTynZf

— Trevor Bauer (@BauerOutage) September 27, 2016
Bauer is also in a much better spot in the clubhouse, too.
"He's always been a little misunderstood," Indians catcher Chris Gimenez said. "Now that I've really gotten to know him, he's an extreme competitor. And, he's a nut. He's a goofball."
Bauer put that side on display in the division-clinching party.
"That was great," Bauer said with a grin. "It just feels like it's a preview of what there is waiting if we're able to do what we think we can do in October. It'd be nice to have three more of those, make some more videos and find some more people to dump beer on and champagne."
Jordan Bastian has covered the Indians for MLB.com since 2011, and previously covered the Blue Jays from 2006-10. Read his blog, Major League Bastian, follow him on Twitter @MLBastian and listen to his podcast. This story was not subject to the approval of Major League Baseball or its clubs.