MLB.com Columnist
Jonathan Mayo
2017 Draft order: Twins to pick No. 1 overall
Reds, Padres, Rays and Braves follow Minnesota in top five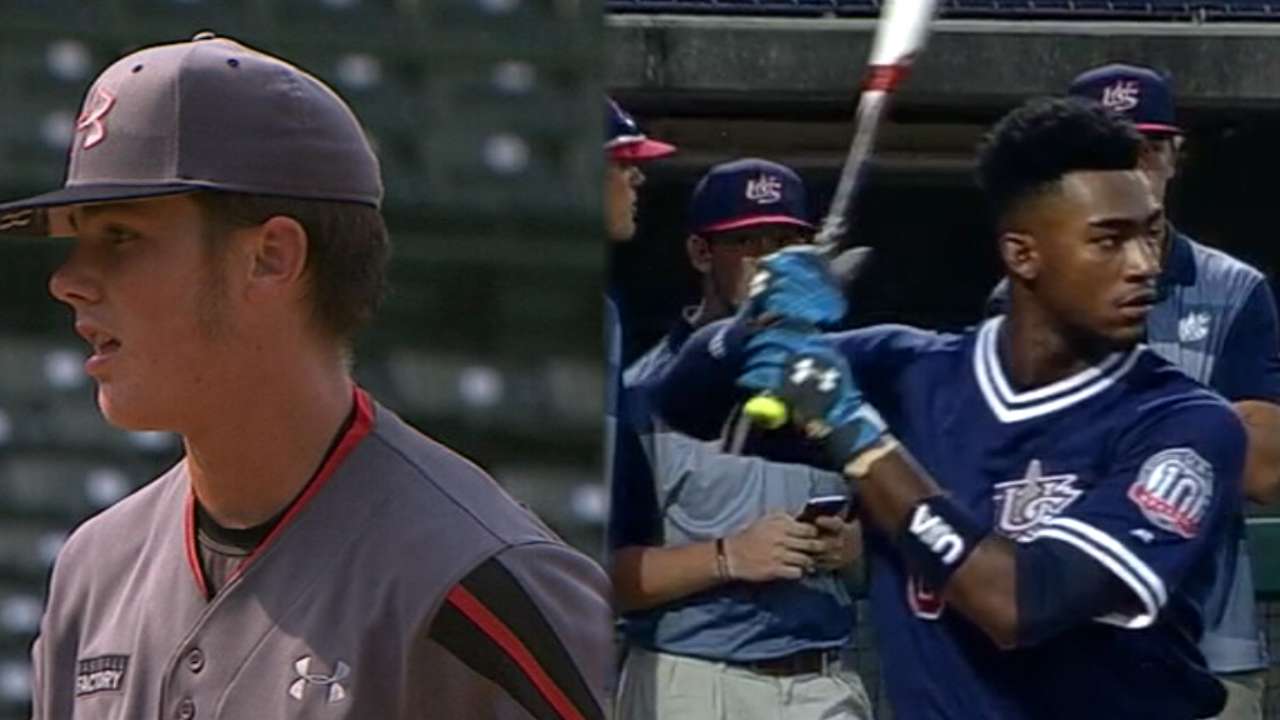 After a 2015 season that exceeded expectations, the Minnesota Twins were hoping to compete for the postseason in 2016. Things couldn't have gone further awry for the Twins, as they finished in the cellar of the American League Central, leading to general manager Terry Ryan being relieved of his duties.
The silver lining for the Twins, of course, is that by finishing with the worst record in baseball, they'll have the No. 1 pick in the 2017 Draft.
Minnesota has had the top pick in the Draft twice previously. The last time was in 2001, when they took a high school catcher from their own backyard by the name of Joe Mauer. Back in 1983, the Twins took Tim Belcher with the first pick, but he didn't sign.
Last June, the Phillies had the top spot and took California high school outfielder Mickey Moniak. He signed for $6.1 million, almost $3 million below the value assigned to the No. 1 pick. They were able to use the money saved there to be more aggressive later in the Draft. While Draft rules will have to be accepted when Major League Baseball and the MLB Players Association collectively bargain a new agreement, it stands to reason that not too much will change in terms of value for the top spot. Should things remain the same, the Twins will receive a pick value north of $9 million for the top overall pick and be able to play the Draft similarly to how the Phillies did in 2016.
Who will be making those decisions remains to be seen. The Twins named Indians assistant general manager Derek Falvey their new head of baseball operations, and the 33-year-old could bring an entirely different approach to the Draft, not to mention new personnel in the scouting department, should he so choose.
It's far too early to name a front-runner for the top of the Draft, and if the last couple of Drafts have been any indication, a clear choice for No. 1 might not appear until very late, if at all, in the game. Hunter Greene, out of Notre Dame High School (Sherman Oaks, Calif.), is likely at the top of most boards right now. A shortstop and a pitcher, there is some debate over where he has more potential. Keep in mind a high school right-handed pitcher has never been taken No. 1 overall.
• Top 25 high school prospects for 2017 Draft
The top college position player is Vanderbilt outfielder Jeren Kendall. Florida right-hander Alex Faedo is thought to be the top college arm, while Jordon Adell, an outfielder from Ballard High in Louisville, Kentucky, might be the top prep hitter at this juncture.
After the Twins, the next four selections go to the Reds, Padres, Rays and Braves. The Reds and Braves are the only teams in the top five who picked that high last June. The Phillies are still in the top 10, picking at No. 8 overall.
First-round Draft order for 2017
Draft order is based on the reverse order of the 2016 regular-season standings, with 2015 records used to break ties. It is subject to change, depending on on how free-agent compensation rules are spelled out in the upcoming Collective Bargaining Agreement.
1. Twins (59-103, .364)
2. Reds (68-94, .420)
3. Padres (68-94, .420)
4. Rays (68-94, .420)
5. Braves (68-93, .422)
6. A's (69-93, .426)
7. D-backs (69-93, .426)
8. Phillies (71-91, .438)
9. Brewers (73-89, .451)
10. Angels (74-88, .457)
11. Rockies (75-87, .463)
12. White Sox (78-84, .481)
13. Pirates (78-83, .484)
14. Marlins (79-82, .491)
15. Royals (81-81, .500)
16. Astros (84-78, .519)
17. Yankees (84-78, .519)
18. Mariners (86-76, .531)
19. Cardinals (86-76, .531)
20. Tigers (86-75, .534)
21. Giants (87-75, .537)
22. Mets (87-75, .537)
23. Orioles (89-73, .549)
24. Blue Jays (89-73, .549)
25. Dodgers (91-71, .562)
26. Red Sox (93-69, .574)
27. Indians (94-67, .584)
28. Nationals (95-67, .586)
29. Rangers (95-67, .586)
30. Cubs (103-58, .640)
Jonathan Mayo is a reporter for MLBPipeline.com. Follow him on Twitter @JonathanMayo and Facebook, and listen to him on the weekly Pipeline Podcast. This story was not subject to the approval of Major League Baseball or its clubs.