Felix vows to return to King status next season
Mariners ace, deflated after club's elimination, goes three frames in loss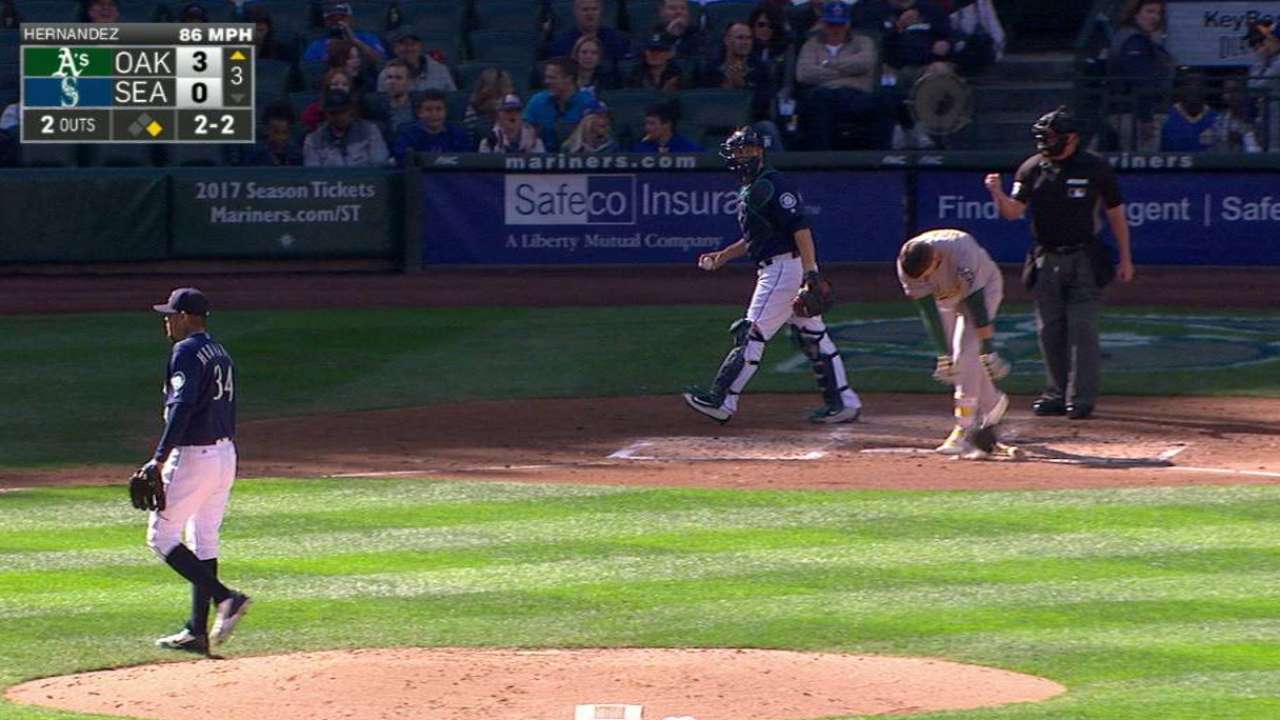 SEATTLE -- This wasn't the season Felix Hernandez wanted and certainly not the ending he envisioned, not when his Mariners had been challenging for a Wild Card berth right up to Saturday's loss to the A's.
Instead of a chance to pitch with the postseason on the line in Sunday's finale, Hernandez threw three innings and allowed a trio of runs in a meaningless 3-2 loss, closing out his season with an 11-8 record and 3.82 ERA.
But the 30-year-old says he plans to work hard this offseason with the hope of pitching a few games in winter ball in Venezuela for the first time since 2003 and then competing for his country in the World Baseball Classic, all in order to get him back on track for what will be his 13th season with the Mariners.
And, yes, he vows to be back on top of his game after this year's struggles.
"I need that a lot," Hernandez said as teammates packed their bags following Sunday's game. "But I'm prepared for that. I'm going to go there and show everybody if they don't believe in me, I'll be King Felix again."
Manager Scott Servais says Hernandez is going to need to make some changes to get back on top of his game.
"It hasn't been a great season for Felix," Servais said. "I talked to him a little after he came out of the game today. But certainly when we missed him the 6-7 weeks he was out, it really hurt, his ability to get deep in games and just the innings and load he takes on.
"But to do that and where he's at in his career, he's going to have to make a few adjustments in the offseason and come into Spring Training in a little better shape and with a little more urgency because we certainly need him at the top of the rotation."
Hernandez said he plans to work on getting his legs stronger this offseason and feels the need to prepare for winter ball will force him to be ready sooner.
A midseason calf injury led to Hernandez only throwing 153 1/3 innings this season, snapping a streak of eight straight 200-inning seasons. He also saw his walks increase, leading to his highest ERA since 2007 and highest WHIP since '08.
"I was disappointed for sure," he said. "I'm the guy that always wants to throw 200 innings and win the most games that I can. But you know what? It happens. I just have to forget about this and get ready for next year."
His biggest disappointment? Missing a chance, once again, to reach the postseason. Which is why Saturday's 10-inning loss left him deflated. After that game, he sat in the Mariners dugout after the rest of his teammates had gone, alone with his thoughts.
"That was tough," he said. "I couldn't be around anybody. I was in my own world. It hurt a lot. But you know what? We learned from this. I'm going to prepare myself for next year. I know we've got a good thing going on right now. And next year we just have to go out and show what we're capable of doing."
Greg Johns has covered the Mariners since 1997, and for MLB.com since 2011. Follow him on Twitter @GregJohnsMLB and listen to his podcast. This story was not subject to the approval of Major League Baseball or its clubs.