Braun sits out finale, ponders uncertain future with Crew
Offseason trade a possibility for outfielder, who finishes with .305 BA, 30 HRs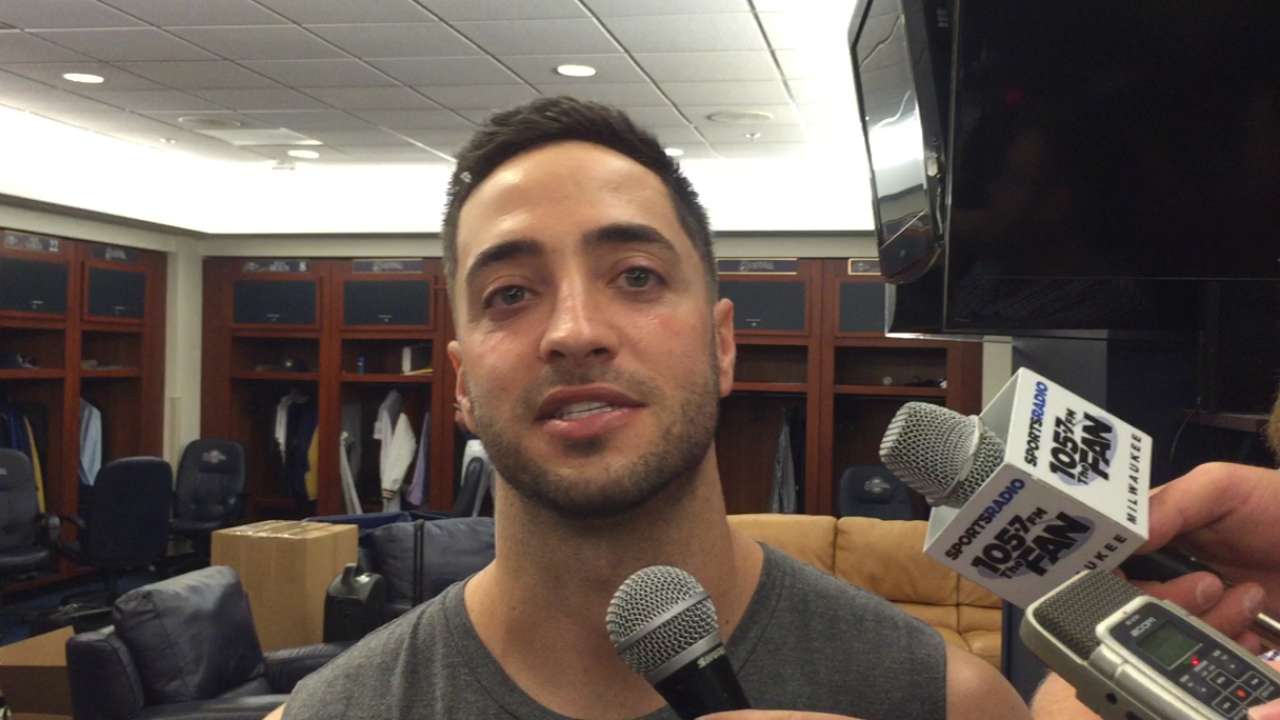 DENVER -- If this was Ryan Braun's last day in a Brewers uniform, it was a quiet ending to one of the most productive tenures in franchise history. Braun, Milwaukee's all-time leader with 285 home runs and the most valuable remaining trade chip for a team in rebuilding mode, mutually decided with manager Craig Counsell to sit out Sunday's season finale against the Rockies. Braun finished his 10th Major League season with some round numbers: 130 starts coming off back surgery, 30 home runs and a .305 batting average.
And, perhaps most importantly: Zero trips to the disabled list.
"I'm perfectly healthy," Braun said. "I actually feel as good as I ever can remember feeling at the end of a season. We talked about [Sunday's plan] for a few days, what we wanted to do. This lets some other guys who've only been here for a month the opportunity to play.
"Sometimes, the last game feels like a Spring Training game, which I dislike. It's one of those days when everyone is trying to get out of here. It's just a different level of competitiveness, which I don't like. So, I was OK either way."
Braun's .903 OPS was ninth best in the National League and his best mark since 2012, when he finished runner-up to Buster Posey in National League MVP balloting. By weighted runs created plus, a measure that compares a player's performance to league average and accounts for ballpark factors, Braun was the league's 11th-best hitter.
That was despite all of the trades around him, including the Aug. 1 deal that sent catcher Jonathan Lucroy, who batted behind Braun, to the Rangers. Braun himself was nearly traded to the Dodgers that month, but the teams ran out of time before a deal could be completed.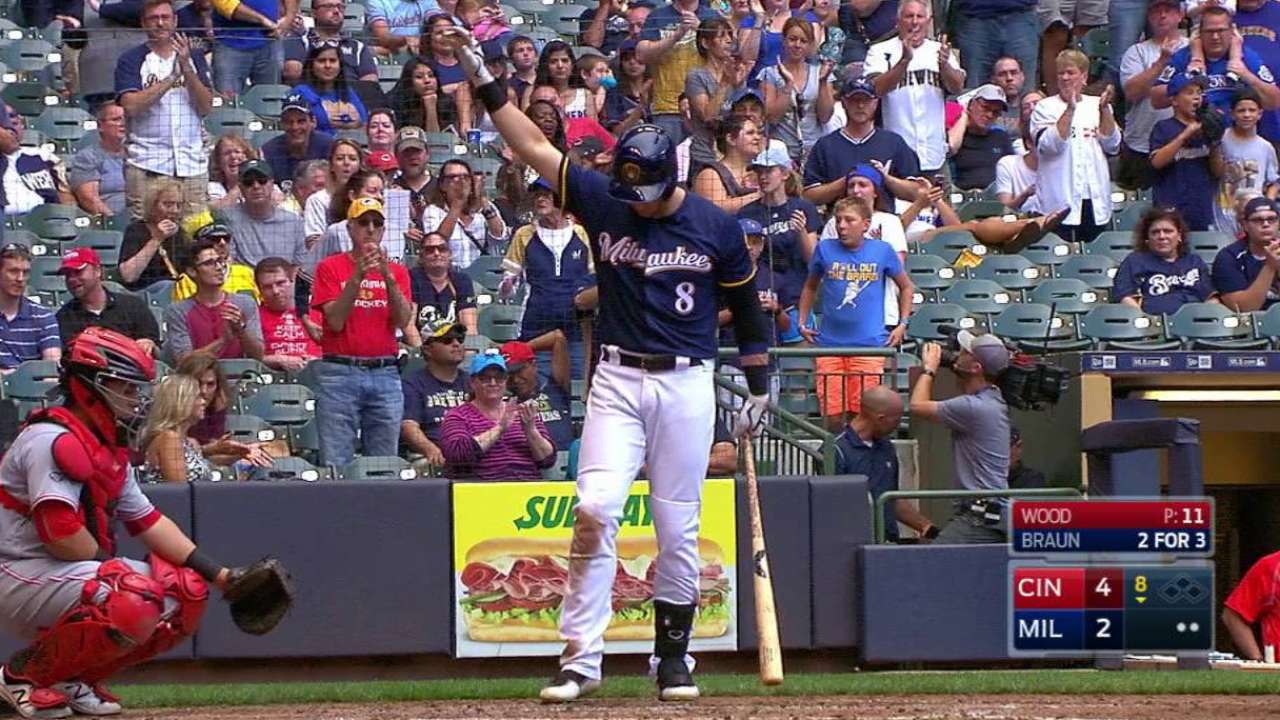 "I think I could be better than I was this year," Braun said. "Those round numbers -- hitting .300 is a really difficult thing to do, hitting 30 homers is a really difficult thing to do. Combining those two things offensively is a really challenging thing for any hitter. So, any time you're able to do both of those things, you've been productive and consistent, so it's been a successful season.
"It's definitely a good year. I don't think it was a great year. But I know I have great years left in me. It was a step in the right direction. I'm looking forward to a lot of good years of baseball ahead of me."
Braun expressed praise for Brewers athletic trainers Dan Wright, Dave Yeager and Kevan Creighton, and to strength and conditioning coordinator Josh Seligman for getting him through the season healthy.
Counsell, too, drew thanks. The two met in Spring Training to devise a plan for Braun's playing time as he recovered from October back surgery, and the plan proved a success.
"From Ryan's perspective, he feels he's going into the offseason in a better space than he's gone in there in maybe four or five years," Counsell said. "That's a really good thing. I think that gets underestimated sometimes: Going into the offseason healthy, what it means to a player. I use [reliever] Tyler Thornburg as a great example. We got him to the offseason healthy last year, and I really believe that's a big reason why we're able to see what we've seen this year.
"I think Ryan is going to get to the same place. We're getting him to the offseason healthy, and that leads to him having a great winter and showing up in position to have another great year."
Braun will turn 33 in November and has at least four years and $76 million left on his contract (the deal has a $15 million mutual option for 2021 with a $4 million buyout). Braun can block trades to all but six clubs -- the Angels, D-backs, Dodgers, Giants, Marlins and Padres -- though he will have the opportunity to amend that six-team list after the season. As of Sunday, he said he had yet to think about it. Early next season, Braun will become a "10-and-5" player (10 years of Major League service, five with his current club), giving Braun blanket no-trade rights.
When the Dodgers deal nearly was consummated, Braun expressed thanks to Brewers owner Mark Attanasio and general manager David Stearns for keeping him apprised of developments. He believes that communication will continue in the offseason.
"I can't foresee any reason that would change," Braun said. "I really have a great relationship with both of those guys."
Braun planned to travel back to Milwaukee on Sunday night to rejoin wife Larisa and the couple's two-year-old daughter and two-week-old son. The family will eventually head home to Los Angeles for the winter.
Has he been thinking about the fact his Brewers career could be closing?
"I've been asked about it enough over the last two months that I've thought about it more than I'd even like to," Braun said with a smile. "It's never something you want to think about. It takes away from being able to stay in the moment and stay focused. The game is so challenging as it is, the less distractions we have, the easier it is to be successful.
"But at the end of every season, there's time for reflection. This year, obviously I was closer -- to my knowledge -- to being traded than I'd ever been before, so I think there will be more reflection on the journey over the last 10 years."
Adam McCalvy has covered the Brewers for MLB.com since 2001. Follow him on Twitter @AdamMcCalvy, like him on Facebook and listen to his podcast. This story was not subject to the approval of Major League Baseball or its clubs.