Gomes' quick rehab has catcher in mix for ALDS roster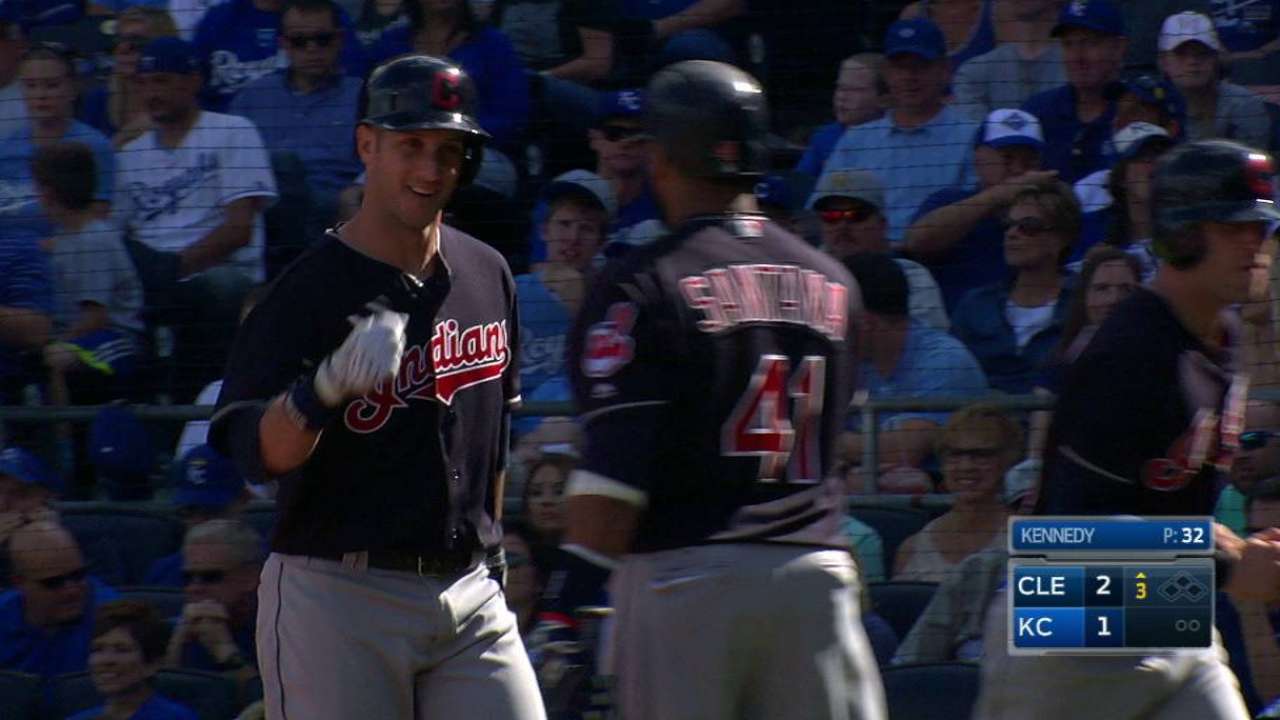 KANSAS CITY -- Yan Gomes shook his head and smiled as he made his way back to the Indians' dugout. The catcher could not believe what had just happened a moment earlier.
Not only did Gomes make an incredible return to the starting lineup for Sunday's 3-2 win over the Royals, but he launched a home run on the first pitch he saw in his first at-bat back. The catcher said he had trouble feeling his legs as he stepped to the plate. Naturally, he was then required to trot around the bases.
"I was kind of numb," Gomes said. "Being pretty honest, I kind of couldn't believe it. It was a moment of, I couldn't believe I was playing, and then I couldn't believe I hit a homer in the first at-bat. It was a pretty exciting moment."
After a shoulder injury in July and a fractured hand last month, Gomes has defied the odds and returned for Cleveland. Once believed to be done until 2017, Gomes is suddenly in the conversation for a roster spot for the American League Division series against the Red Sox, which begins Thursday.
The two-run homer off Royals righty Ian Kennedy certainly issued a statement about how Gomes is feeling right now.
"I was amazed," Indians manager Terry Francona said.
The home run ball, which landed in the bullpen behind the left-field wall, was back in Gomes' possession after the game. As he tucked it into his backpack, the catcher quipped, "I should give it to the trainers."
When Gomes was hit by a pitch on the hand during a Minor League rehab game with Double-A Akron on Sept. 14, the catcher was given a timetable of return of six to eight weeks. Eighteen days later, Gomes was back in the lineup. The catcher sustained a non-displaced fracture and said the medical staff told him that the injury would not get worse. It was more about how much pain he could tolerate.
That convinced Gomes to push for a quick comeback.
"If I'm going to get back to playing, I didn't want to take it slow at all," Gomes said on Sunday morning. "They told me, 'You can't quite hurt it anymore.' So, I just had to push it through and be able to play through some pain."
While Gomes entered each of Friday and Saturday's games against the Royals, he was not permitted to hit. Indians manager Terry Francona said the catcher was given clearance to hit on Saturday, but his lineup spot did not come up, allowing for one more rest day.
"For him to be playing is pretty incredible," Francona said. "I think he kind of willed himself to do it. It's not just luck."
While the 2014 Silver Slugger recipient has labored in the batter's box this season, he has remained strong defensively both in terms of framing, pitch calling and controlling the running game. Gomes is also viewed as one of the core leaders within the Tribe's clubhouse.
In his absence, the Indians leaned on catchers Roberto Perez and Chris Gimenez, and called up Adam Moore from Triple-A Columbus for the final month. Looking ahead to the ALDS, Perez and Gimenez still appear to be the top two options, especially considering Gomes has only just been cleared to hit in games. That said, Francona did not rule out carrying Gomes on the ALDS roster.
"He could be on the roster without hitting," Francona said. "Obviously, you'd have to carry three catchers, but I think it's just a good time [for him to return to the lineup]. He's ready to try to do it. So, that's really what it is."
Gomes is hoping to be included.
"I've thought about it and I obviously want to be in," he said. "But, we haven't discussed that at all yet."
Jordan Bastian has covered the Indians for MLB.com since 2011, and previously covered the Blue Jays from 2006-10. Read his blog, Major League Bastian, follow him on Twitter @MLBastian and listen to his podcast. This story was not subject to the approval of Major League Baseball or its clubs.