MLB.com Columnist
Barry M. Bloom
Gibbons relaxed as season reaches climax
As Blue Jays control own destiny, battle-tested manager taking dramatic finish in stride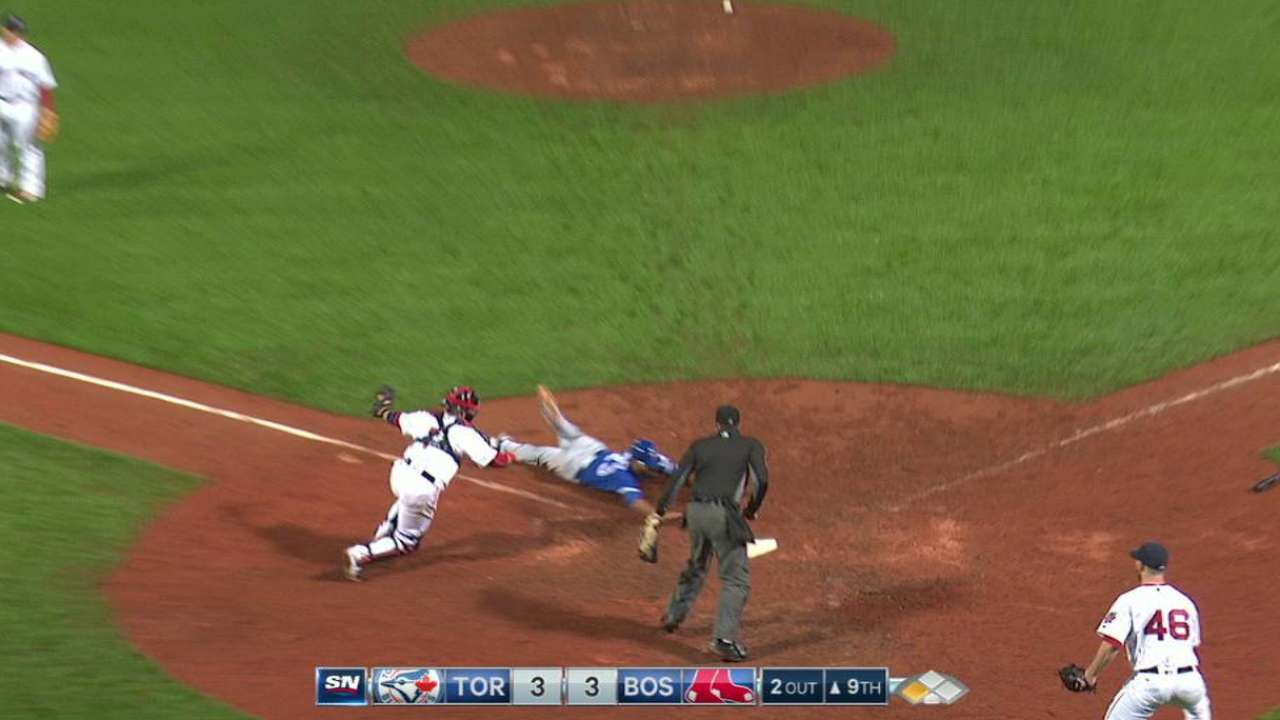 BOSTON -- Judging John Gibbons' relaxed demeanor on Saturday, it might as well have been just another midseason series at Fenway Park for the Blue Jays. Instead, the season is coming down to critical mass with a playoff spot on the line.
Before Toronto's big 4-3 win over the Red Sox, the veteran Toronto manager sat behind his desk joking and guffawing with the media. He didn't seem like he had a care in the world.
"Surprisingly, I feel pretty good," he said. "These jobs wear on you, regardless of the kind of season you're having. It's such a long season, the ups and downs. It eats on me like everybody else. I may not show it. I've been around long enough to know how it works."
The game itself was a long night of ups and downs. The Red Sox tied it in the bottom of the eighth on a Roberto Osuna balk. Then, with the suddenly flappable Craig Kimbrel on the mound, the Blue Jays won the crucial game on a walk, sacrifice bunt, wild pitch and sac fly.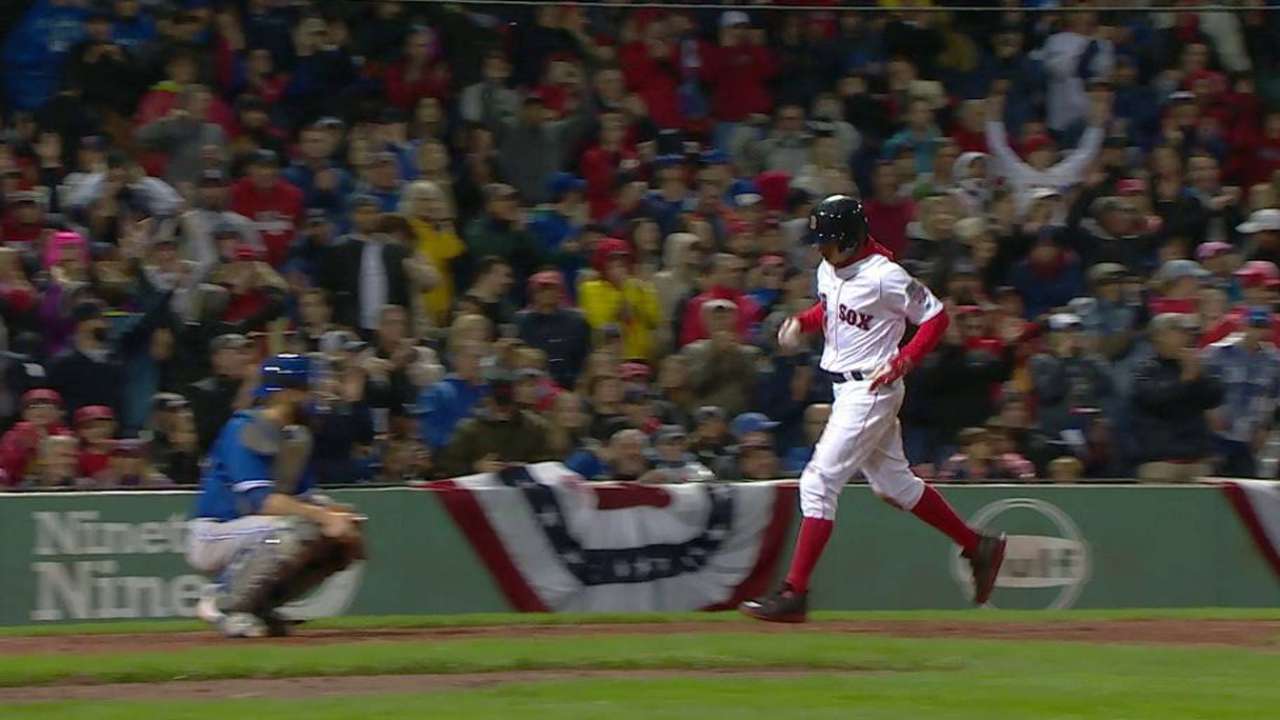 "We had the lead, and when they tied the game on a balk I was wondering about the baseball gods," Gibbons said. "They did a great job in the last inning manufacturing a run."
Toronto's reality is now simple: Win Sunday in the final regular-season game of David Ortiz's career, and they host the American League Wild Card Game on Tuesday (on TBS). Lose, and well, it could be a real mess.
• Tiebreaker scenarios for Wild Card berths
Before the game, Gibbons said he was presented with all the variables and his mind grew hazy.
Afterward?
"I haven't even thought about it to tell you the truth," he said. "I'm not even worried about that. We want to enjoy this one. They're hard to come by. We'll let you guys worry about that."
• Blue Jays clinch tie for Wild Card berth
The day began on an upbeat note for Gibbons. The Mets had just locked up the top National League Wild Card berth and Citi Field advantage in Wednesday's one-game playoff with a win over the Phillies.
"They're on fire, man," Gibbons said. "We could use a little of that magic."
Gibbons is in his second tour as Toronto's manager, but he has a soft spot in his heart for the Mets, the only Major League team for which he played. He caught 17 games for them in 1984 and '86, batting .220 with 11 hits, including a homer and two RBIs.
Otherwise, he played 962 games in the Minor Leagues, mostly in the Mets' system.
He's a National Leaguer at heart, and when told that the Blue Jays' winning run on Saturday night had been scored in true NL style, he quipped:
"Yeah, yeah, maybe we'll end up back in the NL someday, you never know."
Gibbons, now 54, has only managed in the AL and for the Blue Jays. Like Bobby Cox with the Braves, his tenure with the Toronto club had two parts: Portions of five seasons from 2004-08 and the last four full campaigns. His teams have piled up five seasons above .500, including the last three in a row.
Yet, this one has been a big struggle. After the games of Sept. 14, only four games separated the top four teams in the AL East, with the Blue Jays trailing the first-place Red Sox by only two games.
"I can't remember four teams going at it this late," Gibbons said. "It used to be that the Yankees and Red Sox would run off from everybody come June. That's changed."
The Red Sox, who finished the last two seasons in the division basement, ran off 11 wins in a row, mostly over the Yankees and Orioles, to win the division. The Blue Jays, last year's AL East winner by six games, are 9-7 since that date and have 88 wins overall.
And here we are. Win the last one, and the Blue Jays are in.
"The Red Sox scrambled earlier in the season, but everything settled down," Gibbons said. "But they won when they had to, basically against all the teams in the division. That's the key. We've had a tough month. We've hit our struggles, really at the wrong time."
Gibbons, though, appears pretty comfortable in the situation. He has another year to go on his contract as changes have been made in baseball operations above him, what with the retirement last year of Paul Beeston as team president and Mark Shapiro moving over from the Indians to replace him.
Under Beeston, Gibbons had a clause in his contract that would renew his deal for the following season every Jan. 1. For example, on Jan. 1 of this year, Gibbons' contract automatically renewed for 2017.
"That way I'd never be a lame-duck manager," Gibbons said. "That was one of Paul Beeston's deals."
No more. Gibbons asked that the clause be removed. That way, the contract could be renewed earlier or the Blue Jays could sign him to a five-year deal.
"Do you think I want to do this for five more years?" he said with a laugh.
Cox, who managed the Blue Jays for four years between his two Atlanta tenures, lasted 29 years and is now a member of the National Baseball Hall of Fame.
Gibbons will be happy just to get through the current season with a few more wins. If the Blue Jays don't offer him an extension, he'll be on his own in 2017 without a net.
His disposition, though, won't change. Everyone can be certain about that.
Barry M. Bloom is a national reporter for MLB.com and writes an MLBlog, Boomskie on Baseball. Follow @boomskie on Twitter. This story was not subject to the approval of Major League Baseball or its clubs.