Gonzalez doesn't see himself at 1B in 2017
Rockies slugger is happy with outfield play this season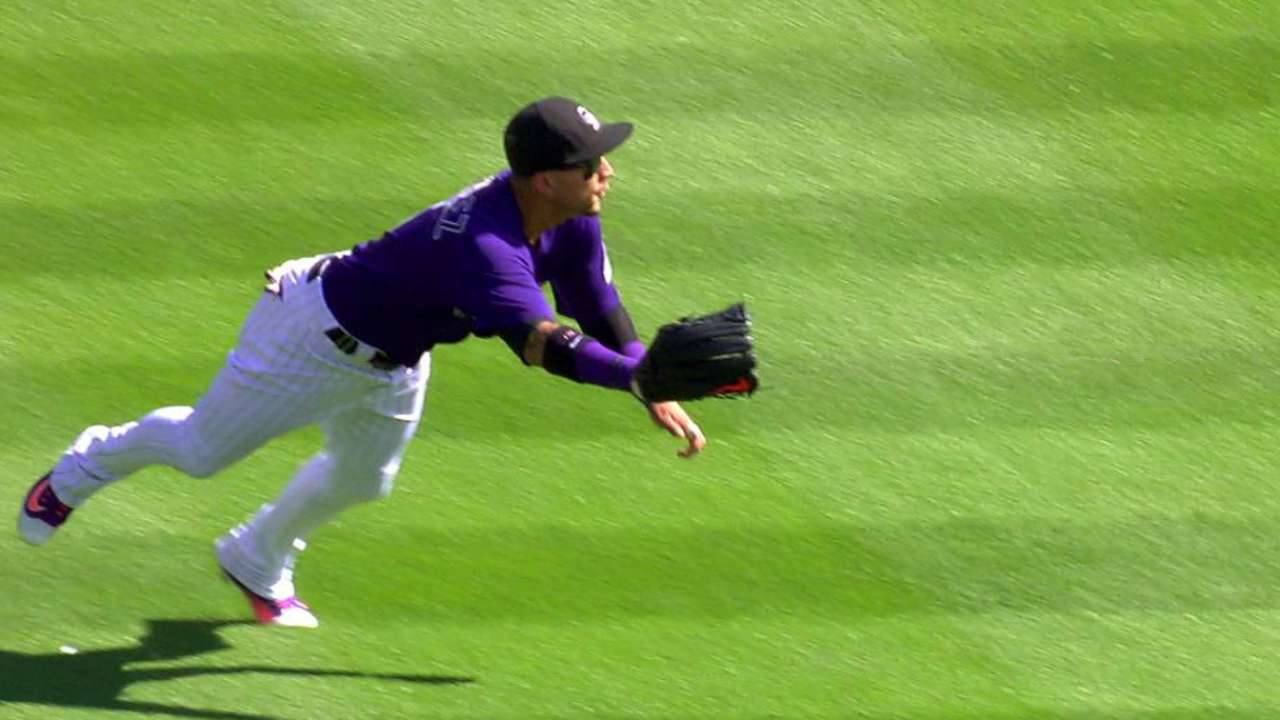 DENVER -- Rockies slugger Carlos Gonzalez felt good enough in right field that he can put off the idea of transitioning to first base.
Last year, in the season after left knee surgery, Gonzalez dealt with knee pain and felt his range was not the same as earlier in his career. So, just in case, the Rockies had Gonzalez practice at first base during Spring Training.
However, Gonzalez never appeared at first base this season, in Spring Training or the regular season. Before early August, when he suffered a left ankle sprain that still gives him trouble, Gonzalez said he felt his old range return. Gonzalez went into Saturday night's game against the Brewers, the next-to-last of the season, third among National League right fielders in defensive runs saved, at six, according to Fangraphs.
"Eventually, I might go to first base, but I don't think we're quite there yet," Gonzalez said. "We talked about it last year, after I was coming back from a major surgery on my knee. I had my good days and my bad days and that was what worried me -- I can't have that. I have to either go hard every day or don't go. But this year, I felt better than ever.
"I can still be a good outfielder. I'm not affecting the team playing right field. I played really well in the outfield, and I'm proud of it."
Anderson has dead arm
Rookie left-hander Tyler Anderson was scratched from Saturday's start with what manager Walt Weiss originally described as "soreness," and Anderson later clarified was dead arm. Fellow rookie Jeff Hoffman started in his place.
"Every pitcher has had it at some point or another," Anderson said. "Usually you get through it, but I think that if the situation were different and we were in the playoffs, I'd go out there. I think it was a good idea to give Hoffman another start. Hopefully he can get a good one and feel good going into the off-season."
Anderson has thrown a career-high 145 innings between Double-A Hartford, Triple-A Albuquerque and Colorado -- 24 2/3 innings more than his previous high. He missed all of 2015 with a stress fracture in his left elbow and a shoulder during his recovery.
"I haven't really had a normal off-season my whole career," Anderson said. "I think part of me was looking forward to that and making sure I had a good off-season with some time to work and try get better and improve, and I got about to where they wanted me to be with innings. Everything kind of came together."
Thomas Harding has covered the Rockies since 2000, and for MLB.com since 2002. Follow him on Twitter @harding_at_mlb, listen to podcasts and like his Facebook page.
Ben Weinrib
contributed. This story was not subject to the approval of Major League Baseball or its clubs.