Giants look to avoid Game 163 with win Sunday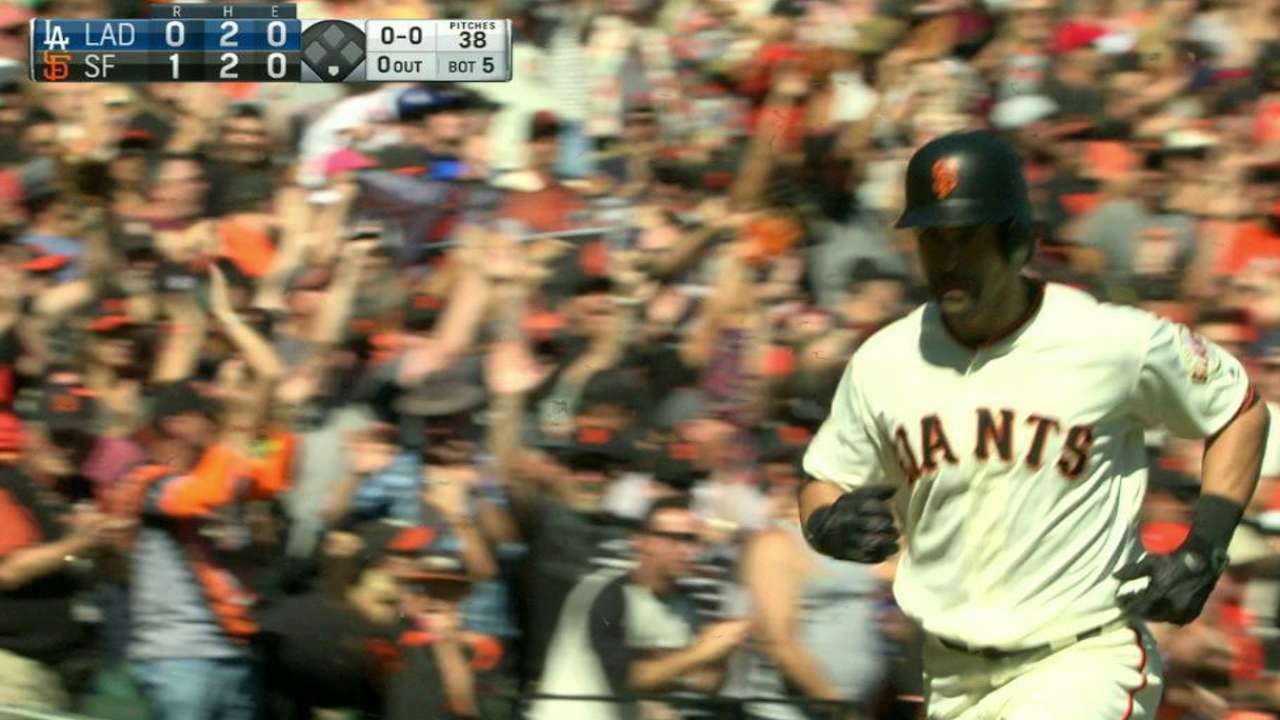 SAN FRANCISCO -- The course of the Giants' season will be determined largely by their fate in Sunday's regular-season finale against the Los Angeles Dodgers.
Followers of either team will suggest this is the way it's supposed to happen.
"Whenever we have that sense of urgency, we know how to come through," Giants left fielder Angel Pagan said after the Giants outlasted the Dodgers, 3-0, on Saturday.
Some might question the level of urgency that'll be felt at AT&T Park on Sunday, since the Dodgers won't completely end San Francisco's season. If the Giants win, they'll travel to New York for the Wild Card Game on Wednesday against the Mets. That victor will advance to the Division Series against the Cubs.
If the Giants lose Sunday and the Cardinals defeat Pittsburgh, San Francisco will visit St. Louis on Monday to determine the winner of the National League's second Wild Card. The survivor of that game will face the Mets.
History has thrown the Giants and Dodgers together in similar situations. The Giants advanced to the World Series in 1951 and 1962 by defeating the Dodgers in best-of-three playoffs. San Francisco halted the Dodgers' bid for a division title in 1982 by beating its archrival in Game 162. Los Angeles landed a crushing counterpunch in 1993, ending the season with a rout of the Giants that ruined their 103-win campaign.
Now comes an opportunity for the longtime antagonists to add a fresh chapter to their spirited history. The NL West champion Dodgers are positioned to inconvenience the Giants by forcing them to take a rushed flight Sunday and begin a postseason with a starting pitcher not named Madison Bumgarner. Jeff Samardzija, who has performed ably in his last 10 starts but isn't a postseason legend like Bumgarner, probably would start Monday's game if there is one.
First, it's up to left-hander Matt Moore, a non-waiver Trade Deadline acquisition, to lead the Giants into Sunday's test. Moore has endured mixed results against the Dodgers, coming one out short of no-hitting them Aug. 25 before being raked for six runs and seven hits in one-plus inning Sept. 21.
"Tomorrow's the most important game," Pagan said after Saturday's contest. "Today's the least important now. We already got this big win.
Asked whether the Giants might struggle to focus during Sunday's game with more than one possibility existing for their next step, Pagan said, "I don't think we have room for that. There's no room to think anything. There's just room to execute and get the job done."
When in doubt, of course, a ballclub won't go wrong with trying to win.
Giants shortstop Brandon Crawford said he and his teammates will approach Sunday "like we've approached every game this past week. We want to win. We have to go out there and play our game.
"We know what's at stake. We all know that we need to win and if we win, we're in. That's the goal every day. We know what's on the line."
Chris Haft has covered the Giants since 2005, and for MLB.com since 2007. Follow him on Twitter at @sfgiantsbeat and listen to his podcast. This story was not subject to the approval of Major League Baseball or its clubs.