Before he was postseason-bound: Chris Tillman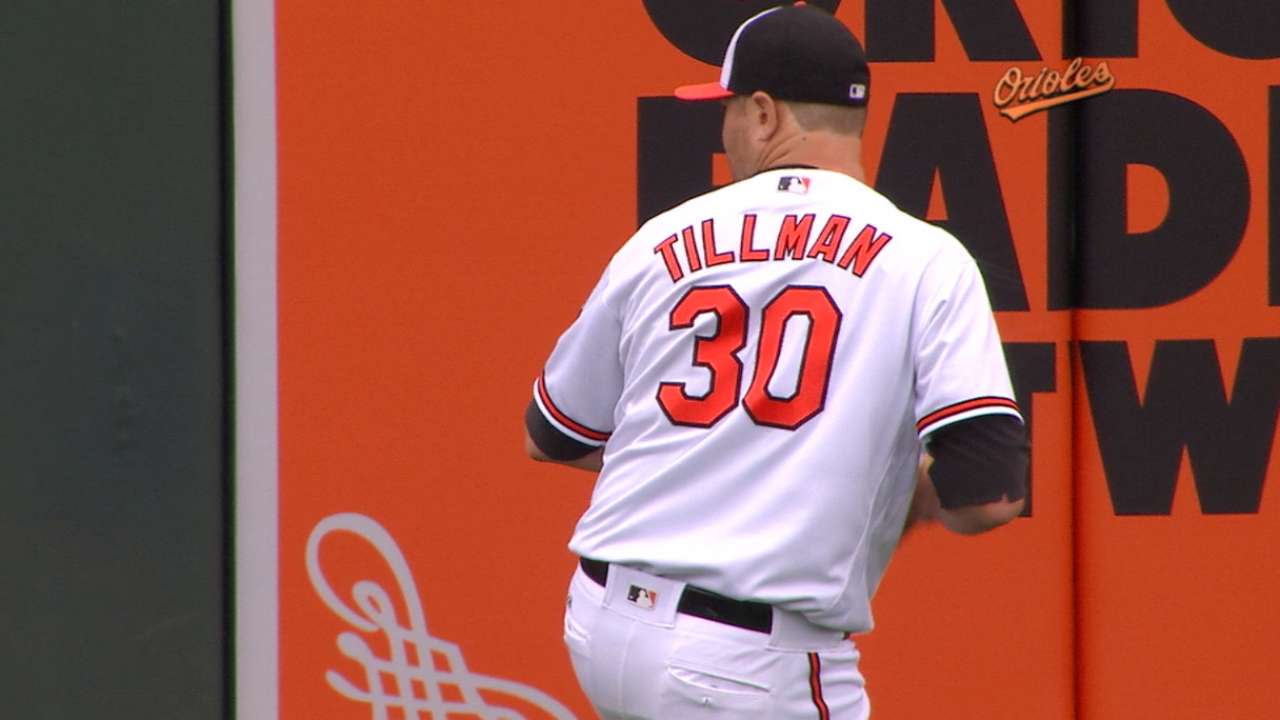 The Orioles are headed to the postseason for the first time since 2014 after winning an American League Wild Card. As this will be the first time that many fans across the Majors will be focusing on their roster, here's our attempt to learn the origins of pitcher Chris Tillman.
Chris Tillman, RHP
Born: Anaheim, Calif.
DOB: 4/15/1988
HS: Fountain Valley (Calif.) High School
College: None
Minors: AZL Mariners (R), Everett (A-), Wisconsin (A), High Desert (A+), Bowie (AA), Norfolk (AAA)
Path to Baltimore: The Mariners drafted Tillman out of high school in the second round in 2006. On Feb. 8, 2008, Tillman -- and Adam Jones, among others -- were sent to the Orioles in a trade for Erik Bedard. Tillman debuted the next season.
Trophy case: 2013 American League All-Star. Mariners Minor League Pitcher of the Year in 2007.
Famous feat(s): Won Game 1 of the 2014 AL Division Series against the Tigers. In 2013, became the first Orioles pitcher since Bedard in 2006 to win 15 games. While in the Minors, Tillman threw a no-hitter for Triple-A Norfolk on April 28, 2010, the Tides' first nine-inning no-hitter since 1992.
You might not know: Before Tillman was drafted, he had committed to Cal State Fullerton. He passed on college to sign with the Mariners, but per the terms of his contract, the team will pay for his education whenever his career is over. Tillman has said he intends to take advantage of that, though he isn't sure what he'll study.
Six degrees of Willie Aikens: When Tillman threw his no-hitter in the Minor Leagues, he was facing the Gwinnett Braves, Atlanta's Triple-A affiliate. In Gwinnett's lineup that day was the Braves' current star first baseman, Freddie Freeman.
Tillman still has the pitching rubber from his no-hitter -- the grounds crew dug it up for him and sent it to him after the season. His mom keeps the rubber in her house.
Growing pains: Tillman, who stands 6-foot-5, grew the last five inches of that over a single summer when he was a freshman in high school. The growth spurt caused Tillman pain in his knees, hips and back.
Tillman remembers how hard it was to adjust to his height -- "I wasn't the same athlete because I had grown so much," he said, and he got hurt more and had trouble running. His mom, Kathy, remembers how "every other week, he would say, 'Mom, I need new shoes.'"
The great outdoors: Tillman is an avid fisherman and hunter. He first really got into fishing in high school, when he would hop golf course fences to fish in the ponds. "Instead of going out partying with all the kids, he would go fishing," his mom said.
Tillman has gone on several long-range tuna fishing trips. His biggest catch? A 210-pound yellowfin tuna, which he says was longer than he is tall. "It's extremely hard. They're very strong. They have endurance," he said. "They don't give up, ever. You're pulling really hard, and they're pulling really hard. It's kind of a chess match."
David Adler is a reporter for MLB.com based in New York. Follow him on Twitter @_dadler. This story was not subject to the approval of Major League Baseball or its clubs.