Trout 1 SB, 1 HR shy of MLB's first 30-30 since '12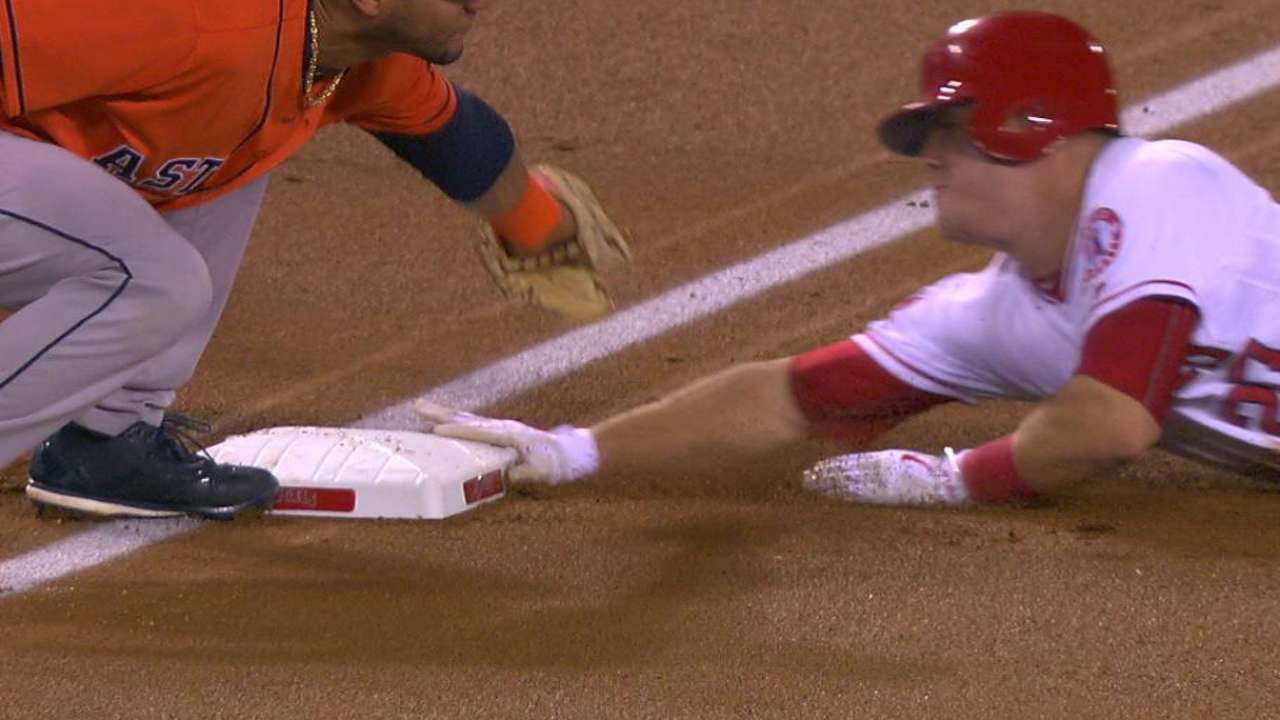 ANAHEIM -- Mike Trout is on the verge of Major League Baseball's first 30-home run, 30-steal season since 2012, when he and Milwaukee's Ryan Braun each accomplished the feat.
Trout stole two bases in the first inning of Friday night's 7-1 win over the Astros, increasing his season total to 29. The American League MVP candidate has 29 homers and 99 RBIs.
With two games remaining, Trout has an opportunity to become the first Angels player with 30 homers, 30 steals and 100 RBIs in a single season. Braun was the last player in baseball with such a season, doing so in '12.
Trout walked in his first plate appearance on Friday, setting the franchise record for a single season with 114. He then stole second and third.
Trout's 29 steals are his most since '13, when he swiped 33 bases. He's been caught stealing seven times for an 80.5 percent success rate this year.
"I think he's doing a great job of picking his spots," Angels manager Mike Scioscia said. "I think he's been a very high-percentage basestealer this year. He's obviously picking his spots and he's getting good jumps and he's on the verge of stealing 30 bases."
Friday was the first time Trout has stolen multiple bases in a game since June 16, 2014, against the Indians. He's stolen two bases in a single inning six times in his career, but had not done so since that same game against the Tribe.
Trout's career high for steals is 49 in '12, his second year in the Majors. He had 33 stolen bases in '13, but missed 30-30 by three homers. Then, though he hit 36 homers in '14 and 41 in '15, his stolen-base totals dipped to 16 and 11, respectively.
For a stretch of 26 seasons, from 1987-2012, MLB produced at least one 30-30 player every season but one in a non-strike year. This is the first multi-season drought since 1984-86.
Austin Laymance is a reporter for MLB.com based in Los Angeles. This story was not subject to the approval of Major League Baseball or its clubs.