Indians show approval as Lindor snaps slump
Shortstop ends 0-for-27 hitless skid, caps night with HR
KANSAS CITY -- The smile arrived shortly before Indians shortstop Francisco Lindor reached second base. When he slowed down and stood on the bag, Lindor could not contain himself any longer.
Her looked to the visitors' dugout, where his teammates slapped the rail, clapped their hands and shouted in his direction. Lindor then raised both arms high in the air, allowing the relief that comes with the end of a long slump to sweep over him. In a 7-2 win over the Royals on Friday night at Kauffman Stadium, Lindor finally looked like himself again.
"To see Frankie have a little life in his bat," manager Terry Francona said, "was really good to see."
Lindor arrived to the ballpark wearing a shirt that had, "Slump Buster," printed across his chest. Perhaps he should have considered donning the lucky threads earlier, because he reached base four times in the victory, roped a double and hit a home run that went down as the hardest-struck ball Lindor has ever hit in his Major League career.
It was the double that lifted the piano off his shoulders.
In the third inning, following a rally that pushed the Tribe to a 3-1 lead, Lindor pulled a pitch from Yordano Ventura off the right-field wall for a two-base hit. That breakthrough ended a drought of no hits in a span of 27 at-bats. The slump admittedly weighed on Lindor's mind over the past week.
"To be honest, yeah, I thought about it," Lindor said. "There were times I was like, 'Wow, am I going to get a hit?' But, the team was always supportive. Nobody ever even mentioned it to me. Everybody was just going along like nothing was happening, and we kept on winning, and everybody kept on doing their job."
The fact that the drought only dropped Lindor's average to .300 is a testament to how valuable he has been for the American League Central champions this season.
"He's been amazingly consistent for us, especially for a young guy in his first full season," Francona said. "And this is his first really tough stretch."
If Lindor is about to heat up at the plate, it would be at the most opportune time. With two games left on the regular-season schedule, Cleveland (92-67) is a half-game back of the Red Sox (93-67), who the Indians will face in the AL Division Series starting on Thursday. Should the Indians wind up a half-game in front of Boston after Sunday, the Tribe will play a makeup game against the Tigers on Monday.
Having an energetic and productive Lindor would be a boost for the Indians, who have thrived with him serving as the anchor of their defense and No. 3 hitter. With Friday's showing, which included a three-run homer off reliever Brian Flynn in the seventh, Lindor is batting .303 with 15 home runs, 75 RBIs and 98 runs scored in 156 games.
Lindor's 6.3 WAR (via Fangraphs) not only leads the Indians, but represents the highest mark for a Cleveland shortstop since 1948.
"Frankie is good," first baseman Carlos Santana said. "He had a little slump. Every player has a slump. It's a long season and he works hard. He works hard and he's confident going into the playoffs."
Lindor's celebration after his slump-busting double may not have sat well with Ventura, who hit the shortstop with a first-pitch fastball in the fifth. After the ball hit Lindor in the right thigh, he smiled and stood face-to-face with catcher Drew Butera before taking his base.
Asked if he felt it was intentional on Ventura's part, Lindor replied, "Next question."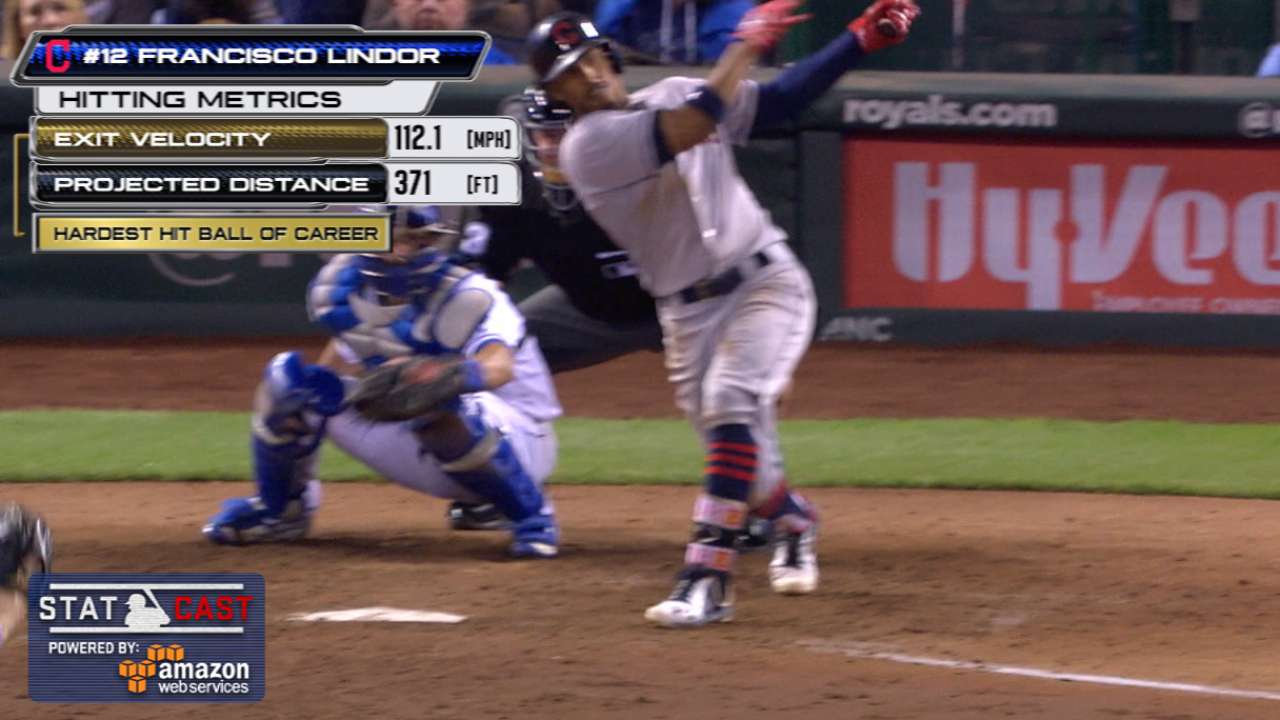 In the seventh, Lindor responded with his homer, which was yanked down the left-field line with a 112-mph exit velocity. According to Statcast™, that was not only the hardest-hit home run of Lindor's career, but the hardest he has ever put a ball in play, period.
"I think Frankie had a little extra motivation in that at-bat," Francona said. "As he should."
Jordan Bastian has covered the Indians for MLB.com since 2011, and previously covered the Blue Jays from 2006-10. Read his blog, Major League Bastian, follow him on Twitter @MLBastian and listen to his podcast. This story was not subject to the approval of Major League Baseball or its clubs.