Before he was postseason-bound: Eduardo Rodriguez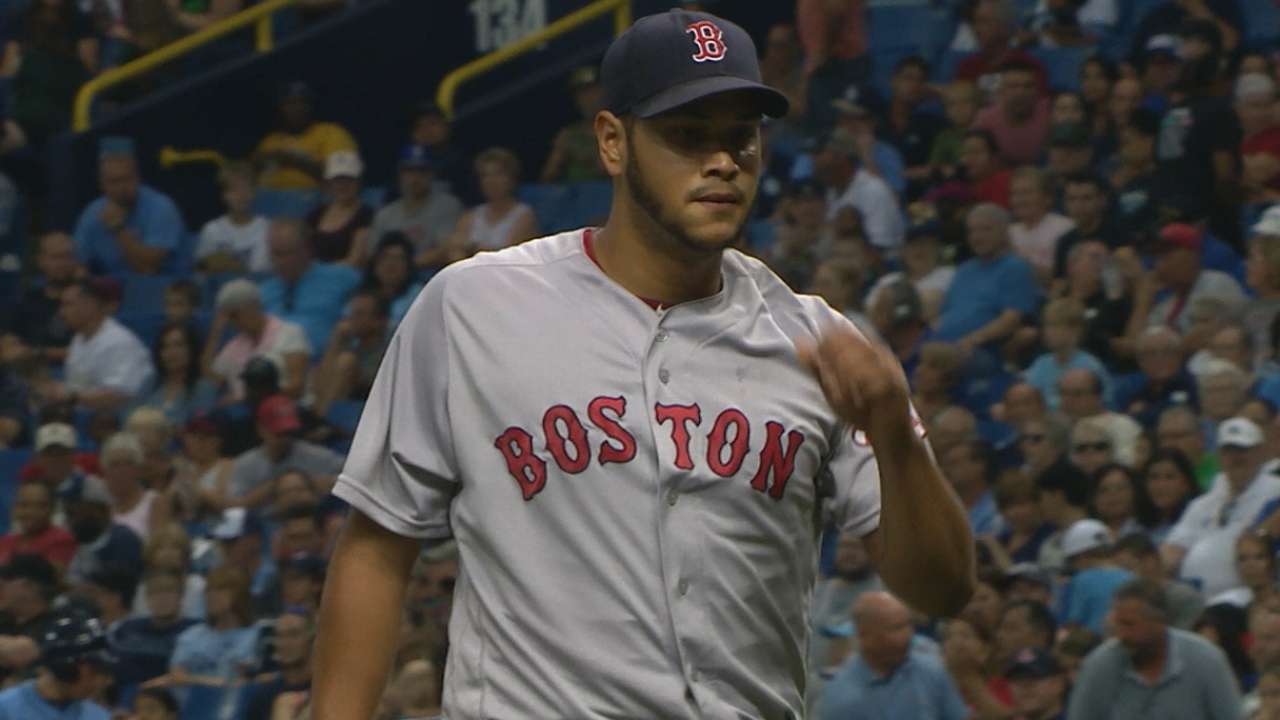 The Red Sox are headed to the postseason for the first time since winning the World Series in 2013, after winning the American League East.As this will be the first time that many fans across the Majors will be focusing on their roster, here's our attempt to learn the origins of starter Eduardo Rodriguez.
Eduardo Rodriguez, LHP
Born: Valencia, Venezuela
DOB: 4/7/93
Minors: Frederick (A+), Bowie (AA), Portland (AA), Pawtucket (AAA)
Path to Boston: Was signed by the Orioles as an amateur free agent in 2010; traded to the Red Sox for Andrew Miller on July 31, 2014.
Famous feat: Rodriguez was the youngest Red Sox pitcher to make his Major League debut on the road since 21-year-old Roger Clemens. He tossed 7 2/3 shutout innings against the Rangers at Globe Life Park on May 28, 2015, allowing just three hits and striking out seven batters.
You might not know: He had a life-changing experience as a child when he was playing with his sister and a cousin, climbing up on a big truck and sliding down, when he fell and fractured his right elbow. He was in a cast for a year, he said. In that time, he learned how to do everything left-handed, after being a natural right-hander.
"It was bad at the time, but when you see where I am now, you have to thank God that happened," he said. "I do everything left-handed now."
Johan's Biggest Fan: Growing up, Rodriguez's baseball idol was two-time Cy Young Award winner Johan Santana. They were together in Spring Training with the Orioles in 2013, and when Rodriguez had to go to Sarasota to rehab his left knee that season, Santana was there, and they spent a month together.
Barca's Biggest Fan: "I want to go one day to Spain to see them play and meet Lionel Messi," Rodriguez said. "Maybe next year, and maybe I will get to see the Classico [the great rivalry between Barca and Real Madrid]. That would be like my first Yankees-Red Sox game."
Car Enthusiast: As a child, he enjoyed being around his cousins when they worked on their cars. If he didn't play baseball, he said, he could imagine being an engineer or mechanic. His first car was a Forerunner in 2007. He's not big on cars now. He prefers motorcycles, but says he doesn't get to ride much now.
Quinn Roberts is a reporter for MLB.com based in Boston. This story was not subject to the approval of Major League Baseball or its clubs.