Before he was postseason-bound: Kenley Jansen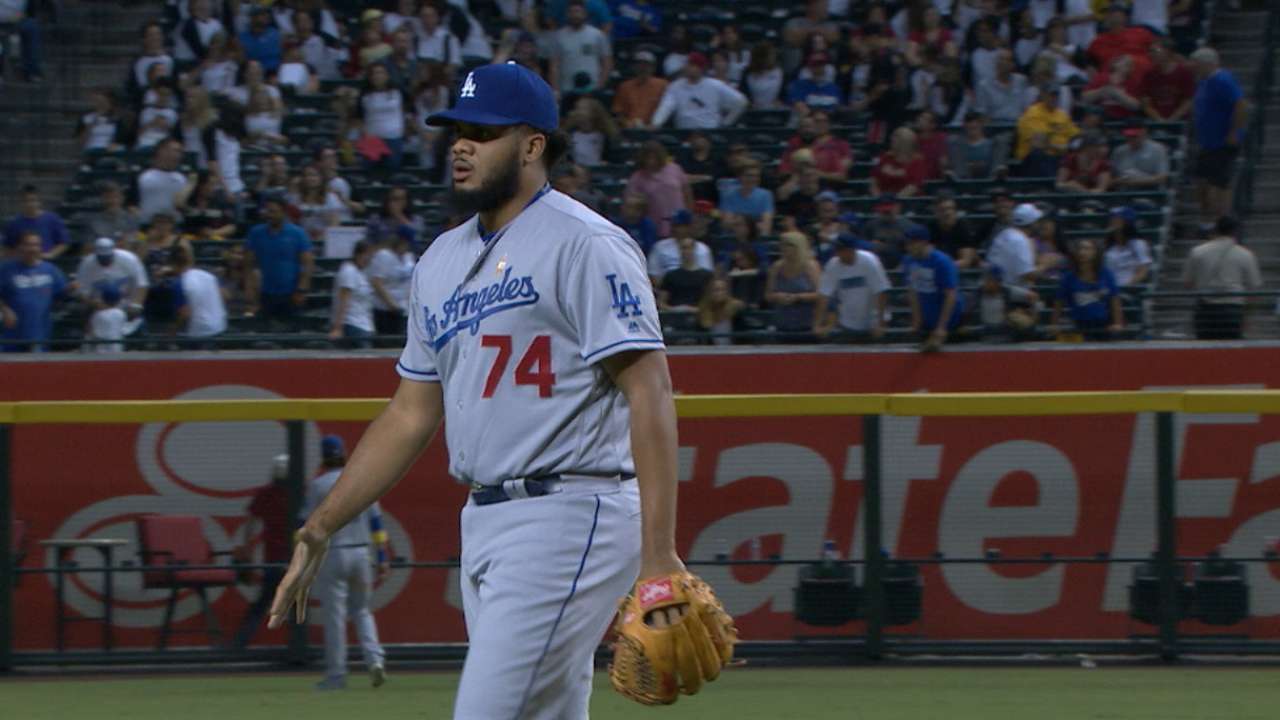 The Dodgers are headed to the postseason for the fourth consecutive year, after winning the National League West. As this will be the first time that many fans across the Majors will be focusing on their roster, here's our attempt to learn the origins of closer Kenley Jansen.
Kenley Jansen, RHP
Born: Willemstad, Curacao
DOB: 9/30/87
Minors: Great Lakes (A), Inland Empire (A+), Chattanooga (AA)
Path to Los Angeles: Was signed by the Dodgers as an amateur free agent in 2004. Made his big league debut on July 24, '10.
Trophy case: Selected to his first All-Star Game in 2016, Baseball America 2009 Minor League second-team as a relief pitcher
Famous feat(s): Jansen became the Dodgers' career saves leader in June when he nailed down career save No. 162 to pass Eric Gagne. It also made him the first Dodgers reliever to string five consecutive seasons with at least 20 saves.
"I remember him growing up," Jansen said after that game. "He's got to be in the top five of history. I just feel great. It's a tremendous honor to pass a guy like that. That guy was awesome."
You might not know: Jansen was originally signed as catcher and hit nine home runs with Great Lakes in 2008. The Dodgers converted him to a relief pitcher the following season and he was in the Majors just one year later.
Six degrees of Willie Aikens: While playing for Team Netherlands in the 2009 World Baseball Classic, he went 1-for-13 with a walk in five games and his only hit was a single off Team USA's Roy Oswalt, who pitched 13 seasons in the Majors.
Heart condition: Jansen underwent a three-hour heart procedure in 2012 to deal with an irregular heartbeat and remove abnormal tissue from his heart. He missed time in 2011 and '12 due to the issue, but has had no issues since. The ablation heart surgery was performed by Dr. Koonlawee Nademanee at White Memorial Hospital. Jansen previously was treated for an irregular heartbeat at the same facility in '11 and then returned several weeks later to visit young patients.
Curacao Connection: He is one of 14 players in MLB history to come from Curacao, including five-time All Star and former outfielder Andruw Jones and current Angels shortstop Andrelton Simmons. Jansen resides in Curacao, Netherlands Antilles, and wears the No. 74 because that is his house number in Curacao.
Austin Laymance is a reporter for MLB.com based in Los Angeles. This story was not subject to the approval of Major League Baseball or its clubs.