Before he was postseason-bound: Adrian Gonzalez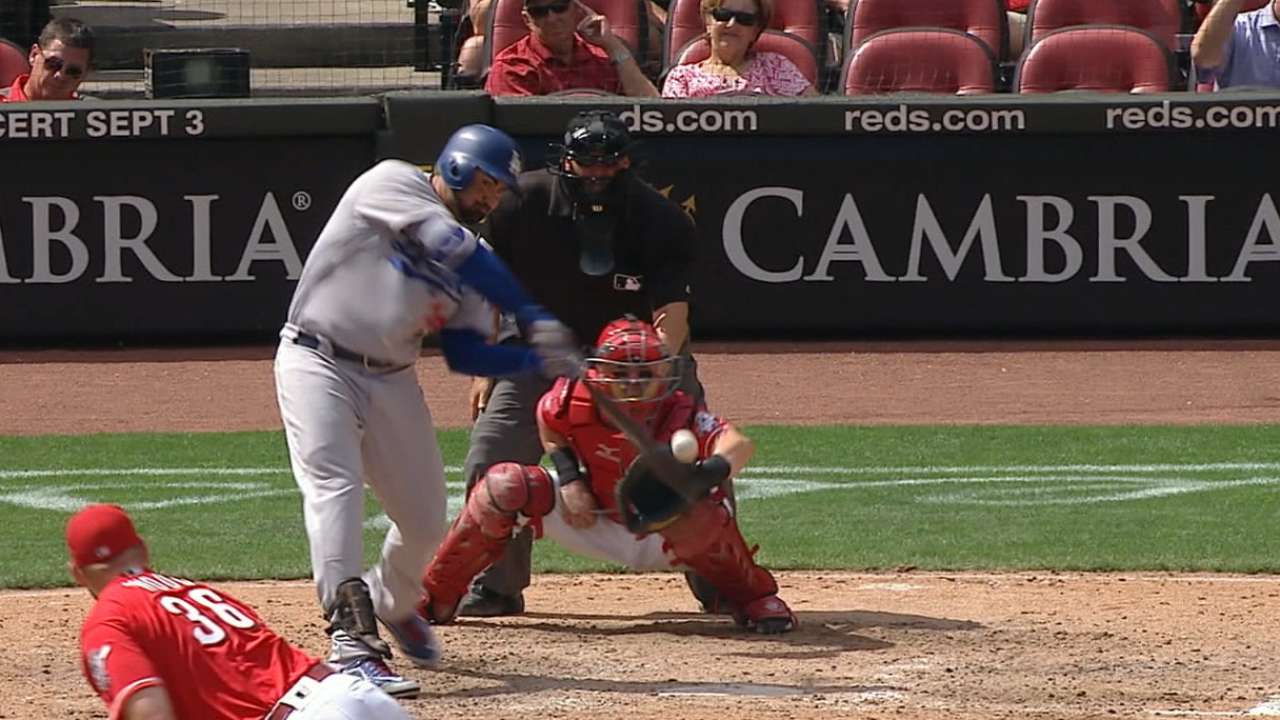 The Dodgers are headed to the postseason for the fourth consecutive year, after winning the National League West. As this will be the first time that many fans across the Majors will be focusing on their roster, here's our attempt to learn the origins of slugger Adrian Gonzalez.
Adrian Gonzalez, 1B
Born: San Diego
DOB: 5/8/82
HS: Eastlake (Calif.) High School
Minors: GCL Marlins (R), Utica (A-), Kane County (A), Portland (AA), Frisco (AA), Carolina (AA), Albuquerque (AAA), Oklahoma (AAA)
Path to Los Angeles: Was selected by the Marlins with the first overall pick in the 2000 Draft. He was traded to the Rangers during the '03 season, dealt to the Padres after the '05 season, traded to the Red Sox after the '10 season and the centerpiece of an August '12 blockbuster deal that brought him to the Dodgers.
Trophy case: Four-time Gold Glove Award winner (2008-09, '11, '14), two-time Silver Slugger ('11, '14), AL Player of the Month in June '11 and NL Player of the Month in April '15.
Famous feat(s): When the Marlins selected him with the No. 1 overall pick in the 2000 Draft, Gonzalez was the first position player to be drafted first overall since Alex Rodriguez in 1993.
"It kind of crept up on everybody, myself included," said Gonzalez, who played football through his junior year of high school as a strong-armed quarterback before deciding to focus on baseball as a senior.
You might not know: Though he was born in San Diego, Gonzalez lived in Mexico until he was 8. He's appeared for the Mexican team in the World Baseball Classic in 2006, '09 and '13.
"The Classic has been a great experience," Gonzalez said. "Playing for Mexico with my brother [Edgar] and beating the U.S. in 2006 and in '13, that was awesome. Edgar and I also played together in the 2009 Caribbean Series. It was a great time whenever we played together. He's out of the game now, but we're still close as ever."
Six degrees of Willie Aikens: Gonzalez's favorite player growing up had been future Hall of Famer Tony Gwynn. Gonzalez still has an autograph and photo he had taken with Gwynn, in the old brown Padres uniform, at Jack Murphy Stadium when he was a youngster. Gonzalez later was a teammate of Tony Gwynn Jr. with the Padres in 2009-10.
Family man: Gonzalez was raised in a close family and his two older brothers, David Jr. and Edgar, were big influences in his baseball career as well as his father, David Sr., who was a right-handed baseman for the Mexican national team. Edgar was Adrian's teammate both with the Padres in 2008-09 and for Team Mexico in the WBC. Adrian now has a family of his own with wife, Betsy, and their daughters, Brianna Belle and Alessandra Mia. "Family's No. 1 here on Earth for me," he said.
Best is yet to come: Gonzalez says he can't identify and day in baseball as his best, instead preferring to think it hasn't come yet. "That will be when we win the World Series," he said.
Austin Laymance is a reporter for MLB.com based in Los Angeles. This story was not subject to the approval of Major League Baseball or its clubs.