Before he was postseason-bound: Jake Arrieta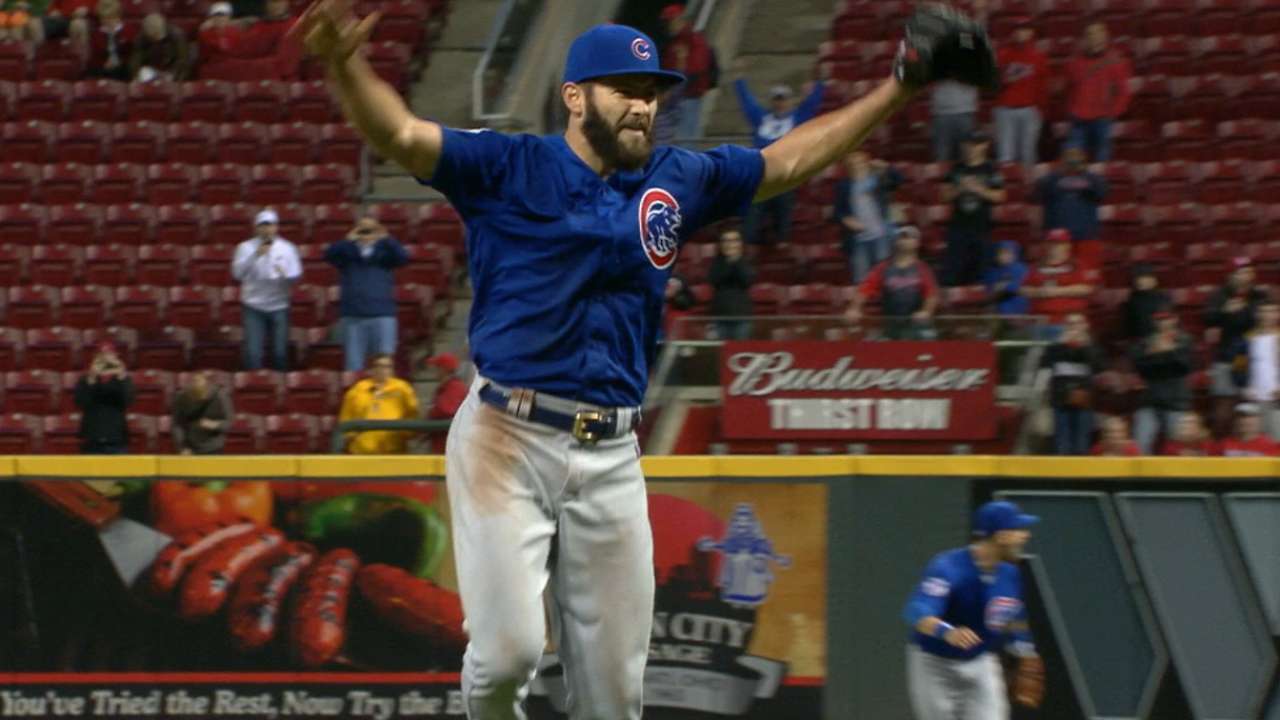 The Cubs are headed to the Postseason for the second consecutive year, after winning the National League Central. As this will be the first time that many fans across the Majors will be focusing on their roster, here's our attempt to learn the origins of ace Jake Arrieta.
Jake Arrieta, RHP
Born: Farmington, Mo.
DOB: 3/6/86
HS: Plano East (Texas) High School
College: Texas Christian University
Minors: Frederick (A+), Bowie (AA), Norfolk (AAA)
Path to Chicago: Was selected by the Orioles in the fifth round of the 2007 Draft; traded to the Cubs with Pedro Strop to the Orioles for Steve Clevenger and Scott Feldman on July 2, 2013.
Trophy case: 2015 NL Cy Young Award winner, 2016 All-Star, three-time NL Pitcher of the Month, four-time NL Player of the Week.
Famous feat(s): He threw his first career no-hitter on Aug. 30, 2015, against the Dodgers, striking out 12 on 116 pitches to become the first Cub to throw a no-no since Carlos Zambrano in 2008. He added a second no-no this year, on April 21 against the Reds in Cincinnati.
You might not know: Arrieta is one of three players on the Cubs, along with Dexter Fowler and Trevor Cahill, to win a bronze medal with Team USA in the 2008 Beijing Olympics. Nationals ace Stephen Strasburg was also on that team.
Six degrees of Willie Aikens: He was teammates with Cardinals second baseman Matt Carpenter at TCU. Carpenter was a groomsman at Arrieta's wedding and has nothing but respect for his buddy's repertoire.
"His ability to throw at 91 [mph], 92 and then 95 with his sinker -- it's just really hard to do that," Carpenter said. "You don't know what side he's going with. You can't sit on one. If you sit on one, he goes to the other. It's not a very comfortable at-bat for lefties or righties."
Offseason hobby: Arrieta took up woodworking a few years ago. "I've built quite a few things now and I'm starting to get more into it, and the more knowledge you gain of it, you just want to keep going because it's such a detailed type of hobby and there's so many little things you have to know well in order to build something efficiently. It's pretty therapeutic, too."
First car: "It was a beauty -- it was a '92 Geo Storm hatchback, banana yellow, six speed. My dad drove it for several years, for a lot of years, and he thought it was awesome and loved it. I enjoyed it. Having a car at 16 was great, and I was thankful for that. I don't know if it compared to my next one -- that was a '98 Ford Ranger Sport single cab, and my teammates in college called me Bowser. I was a pretty big guy driving this tiny Ford Ranger. I had a period of about two months in college where I couldn't get it out of second gear. It'd be squealing, and I'd be going about 18 mph trying to get there as quick as I could to shut the thing off."
David Adler is a reporter for MLB.com based in New York. Follow him on Twitter @_dadler. This story was not subject to the approval of Major League Baseball or its clubs.