Will Royals employ Moylan for 2017 season?
Yost pleased with right-hander's steady work out of 'pen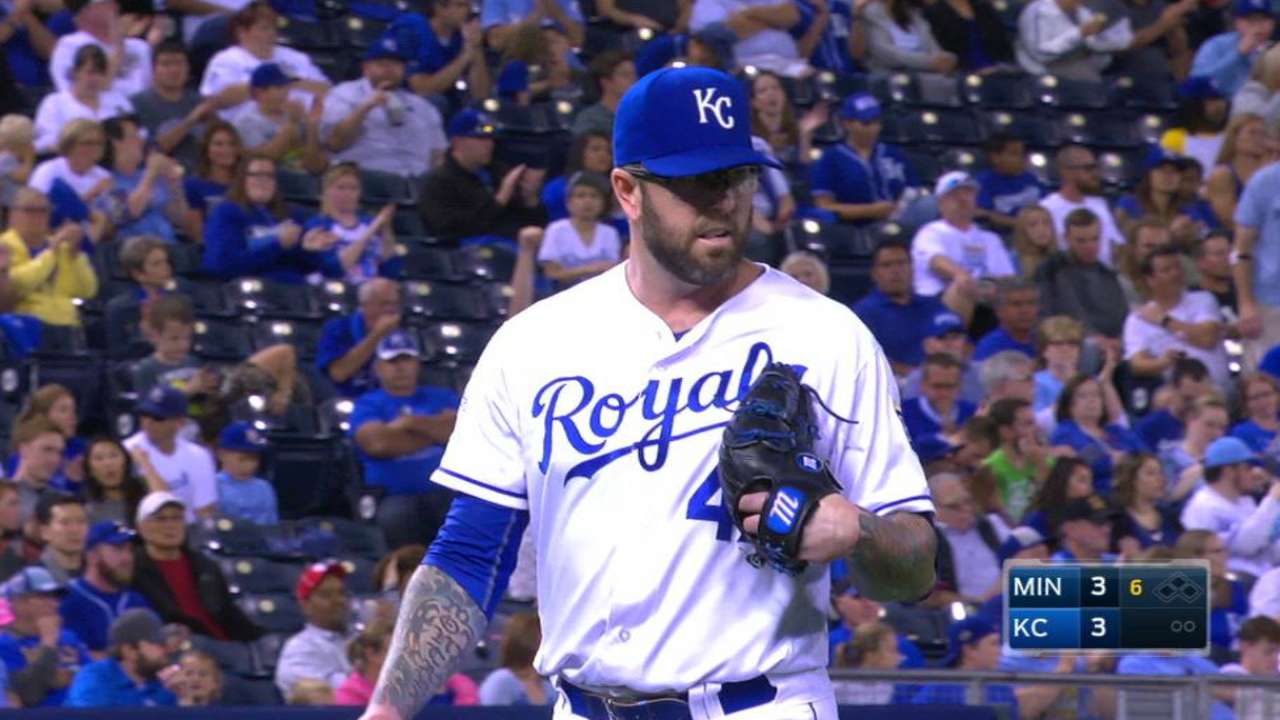 KANSAS CITY -- One of the pleasant surprises for Royals manager Ned Yost in 2016 has been the emergence of right-hander Peter Moylan.
When closer Wade Davis went on the disabled list in August, and when Luke Hochevar was lost for the season at about the same time, Yost searched for reliable alternatives in the bullpen.
Yost found Moylan, the 37-year-old Australian with the side-winding delivery.
After appearing in 21 games in May, June and July, Moylan became Yost's bullpen workhorse, appearing in 29 games over the last eight weeks and posting a 2.25 ERA.
"We've been taking the whip to him," Yost said, shaking his head.
And going into Thursday's game against the Twins, Moylan had appeared in five straight games. The franchise record is six by Ted Abernathy in 1970.
Moylan's 50 appearances are his most since 2010. He has a 3.43 ERA.
"He's doing great," Yost said. "He's been a real nice addition. We signed him right before Spring Training. But he's been a big part of our 'pen."
The question becomes what to do with Moylan in 2017. Moylan signed a one-year Minor League deal in January with $750,000 paid at the Major League level. He was called up in May and thus will make most of that salary.
Moylan has indicated a desire to come back with the Royals.
Yost would not be opposed to that happening.
"Yeah," Yost said. "He's a great teammate. Great in the clubhouse. Great in the bullpen. Great on the field."
Yost talks often about knowing what he can get from bullpen arms.
"I don't think it's about guys you can count on as much as understanding what you're going to get," Yost said. "Yeah, you count on them to come in and do a job, but do you know what you're going to get?
"Absolutely [with Moylan]. He'll come in and throw strikes. Veteran guy. Been through it all. He doesn't panic."
Jeffrey Flanagan has covered the Royals since 1991, and for MLB.com since 2015. Follow him on Twitter @FlannyMLB. This story was not subject to the approval of Major League Baseball or its clubs.