Teixeira has no second thoughts on retiring
NEW YORK -- There are no second thoughts for Mark Teixeira as he rides out the final regular-season homestand of his career. When the Yankees' season ends after Sunday's game No. 162, he will be at peace, knowing that the aches have become too much to manage for another year.
"No, my body's definitely telling me it's time," Teixeira said.
Teixeira was not in the Yankees' starting lineup on Thursday, one day after he hit the first regular-season walk-off home run of his career, a grand slam off Joe Kelly that lifted New York to a 5-3 victory over the Red Sox.
Manager Joe Girardi said that he plans to play Teixeira on Friday against the Orioles, but beyond that, the 36-year-old's final games are something of a balancing act with the persistent neck spasms that Teixeira has been receiving treatment on.
"The thing that I worry the most about on a daily basis is his neck," Girardi said. "I know his [right] knee is an issue, I understand that, but it's more his neck. When you see that he doesn't have the range of motion, it's kind of hard to put him in there -- even though you want to put him in there."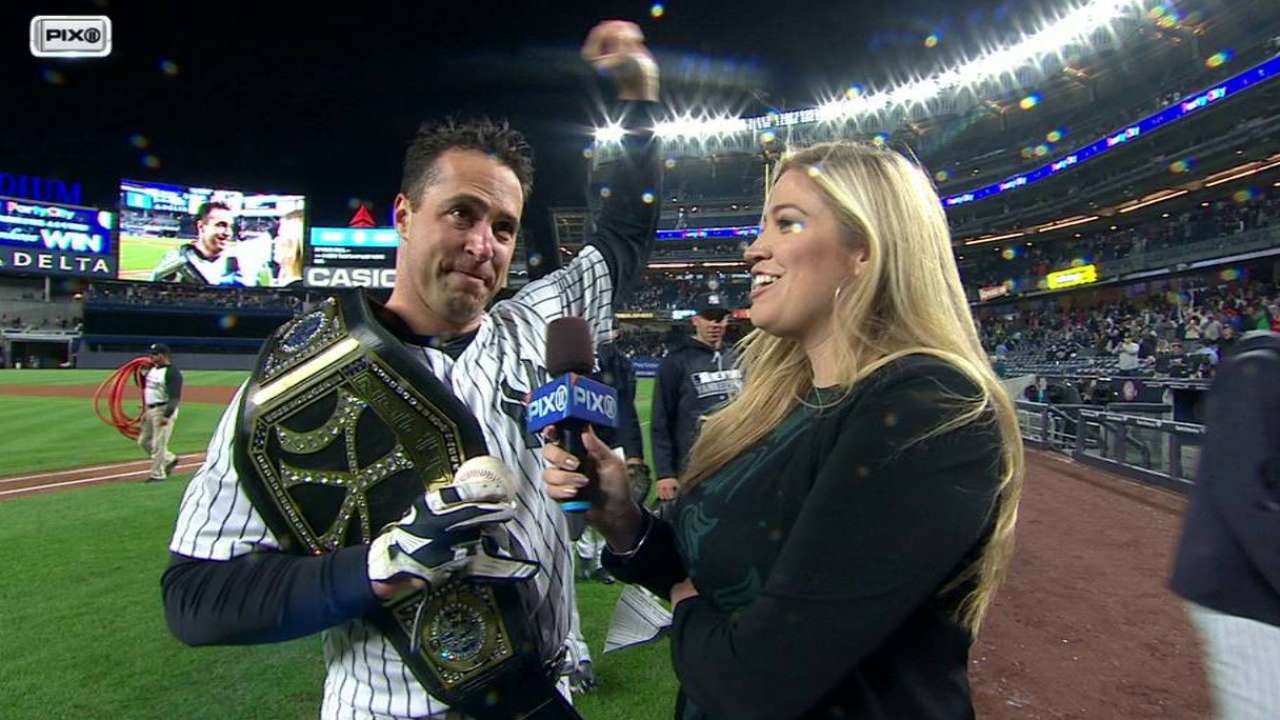 The Yankees will hold a pregame ceremony on Sunday to honor Teixeira, who signed an eight-year, $180 million contract prior to the 2009 season and helped the franchise secure its 27th World Series championship.
The fifth switch-hitter in history to reach 400 home runs, Teixeira has hit 206 of his 409 career homers while wearing a Yankees uniform.
"This guy was a huge part of our order, and if not derailed by the injuries, I think he still would have been," Girardi said. "I think he would have kept playing. I don't think you would have seen what he's went through from an offensive standpoint if he hadn't gotten hurt between the [right] wrist, the knee, the neck.
"And you can see on some days he feels pretty good and looks pretty good. Just physically, it's hard for him, but he meant a ton to our lineup. From an offensive standpoint to a defensive standpoint, his heads-up play, knowing how to play the game, he'll be missed."
Bryan Hoch has covered the Yankees for MLB.com since 2007. Follow him on Twitter @bryanhoch, on Facebook and read his MLBlog, Bombers Beat. This story was not subject to the approval of Major League Baseball or its clubs.