Inbox: How will market for Braun shake out?
Beat reporter Adam McCalvy answers fans' questions as season winds down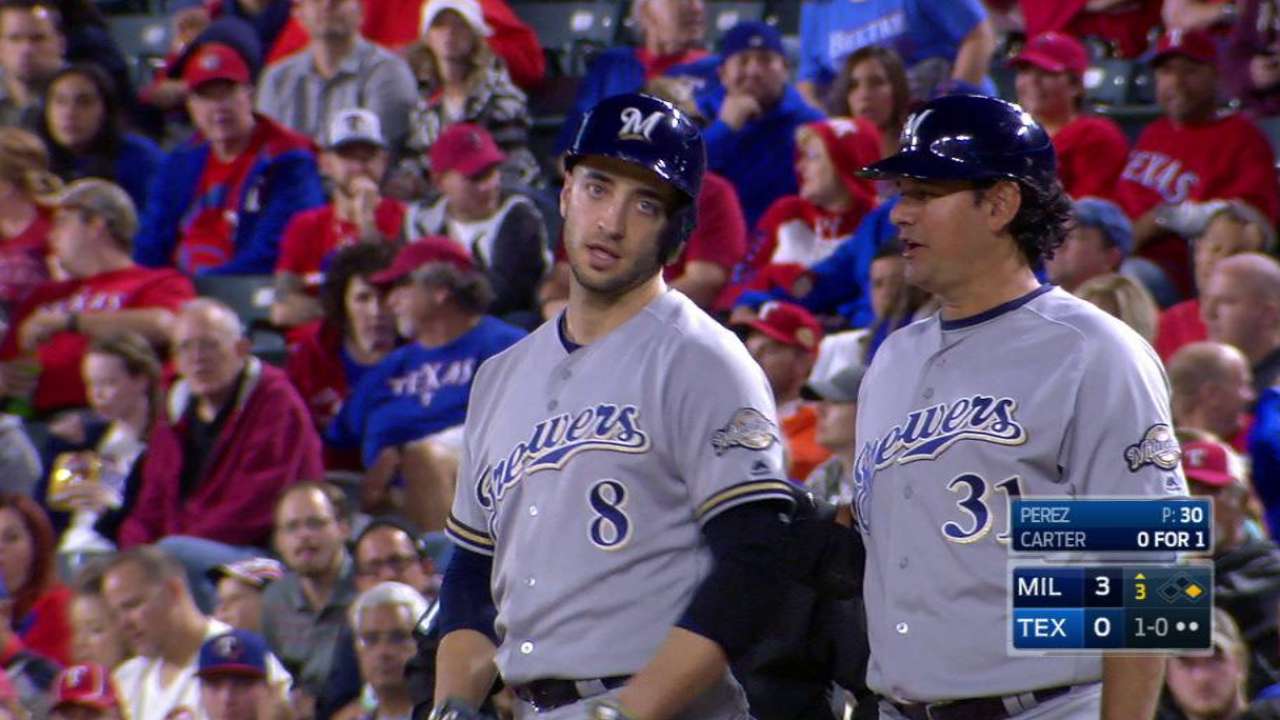 DENVER -- The Brewers are rounding third and heading for home, ready to scatter on Sunday night, after their season finale at Coors Field. But while players take an offseason hiatus, we'll still be here, covering the news and rumors throughout the Hot Stove season.
That means it's time to check the Inbox, beginning with the question that figures to dominate the Brewers' offseason:
@AdamMcCalvy what the percent of Ryan Braun playing in milwaukee in 2017

— Eugene Mannarino (@steelmann58) September 29, 2016
Ask yourself this question, Eugene: Will Ryan Braun's value ever be higher? He will be 33 years old in November. He is three games away from navigating a full, healthy season following back surgery, and he's now two full years removed from his right thumb issue. He hit 30 home runs, even though the Brewers traded away essentially all of the established hitters around him, and he's 10th in the National League with a weighted runs created plus of 134.
• Submit a question to the Brewers Inbox
Braun has four years left on his contract at between $16 million and $19 million per year, which arguably makes him a bargain. He drew serious interest from the Braves, Dodgers and other teams at the Trade Deadline, so there is clearly a market out there. Meanwhile, Brewers general manager David Stearns has been aggressive in trading established assets for prospects. There's no halfway in this rebuild.
And here's one more factor: Next April, Braun will secure the coveted status that comes with accruing 10 years of Major League service, including five with the same team, earning veto power over any trade. Until then, the Brewers can trade Braun to the Angels, D-backs, Dodgers, Giants, Marlins or Padres without his approval.
Add it all up, the percentages favor Braun wearing a different uniform by Opening Day.
@AdamMcCalvy any chance David Stearns will increase payroll this offseason?

— Erik (@wisconsin888) September 29, 2016
It's possible, if the Brewers keep Braun and their notable arbitration-eligible players. That's a long list this offseason: Chase Anderson, Chris Carter, Scooter Gennett, Martin Maldonado, Kirk Nieuwenhuis, Wily Peralta, Tyler Thornburg and Carlos Torres. Anderson and Thornburg are among the first-time eligibles, and they will both see their salary rise significantly. Ditto Gennett, if the Brewers keep him. Carter will cost a lot more after playing for a bargain $3 million this season, including his incentives. The only free agents are Blaine Boyer and Chris Capuano, so there are not any big salaries coming off the books.
So, yes, the payroll could rise modestly -- if Braun stays.
@AdamMcCalvy is lewis brinson the opening day starter in center field next season?

— phil brown (@philbro22382851) September 29, 2016
I would bet against that, given Keon Broxton's second-half surge after he dropped his hands and started hitting, and the fact Lewis Brinson has played all of 31 games above the Double-A level. Brinson will be added to the 40-man roster in November, however, so his option clock will start.
@AdamMcCalvy who do you think from Brewers they could trade this winter that could help us continue to get top tier prospects?

— Jason Mortensen (@jmort82) September 29, 2016
I don't think they'll trade Jonathan Villar, as some have suggested, while his value is so high. So here's how I would rank their top trade chips:
1. Braun
2. Thornburg
3. Junior Guerra
4. Gennett
5. Anderson
Am I missing anyone? I'm curious to hear your thoughts.
@AdamMcCalvy Will there be a lot of calls on Scooter this offseason?

— Dadbauer (@dadbauer) September 29, 2016
I would suspect yes; incoming calls and outgoing. Stearns and manager Craig Counsell love versatility, and Gennett doesn't have it. There's also the matter of finding a spot for Villar, who is way more comfortable at second base than at third. After setting a career high with 14 home runs and increasing his on-base percentage, there should be a market for a left-handed bat like Gennett's.
@AdamMcCalvy what should us fans do in Denver for the final series of the year?

— Tim Reitberger (@Timmy1310) September 29, 2016
In no particular order after No. 1:
1. Hydrate
2. Cherry Cricket
3. Watch the Badgers at Swanky's
4. Hike the Flatirons
5. Sit in the Mile High seats
Enjoy.
Adam McCalvy has covered the Brewers for MLB.com since 2001. Follow him on Twitter @AdamMcCalvy, like him on Facebook and listen to his podcast. This story was not subject to the approval of Major League Baseball or its clubs.