Fulmer frustrated he couldn't give Tigers more
Rookie not worried about qualifying for ERA title, but hoped to post better start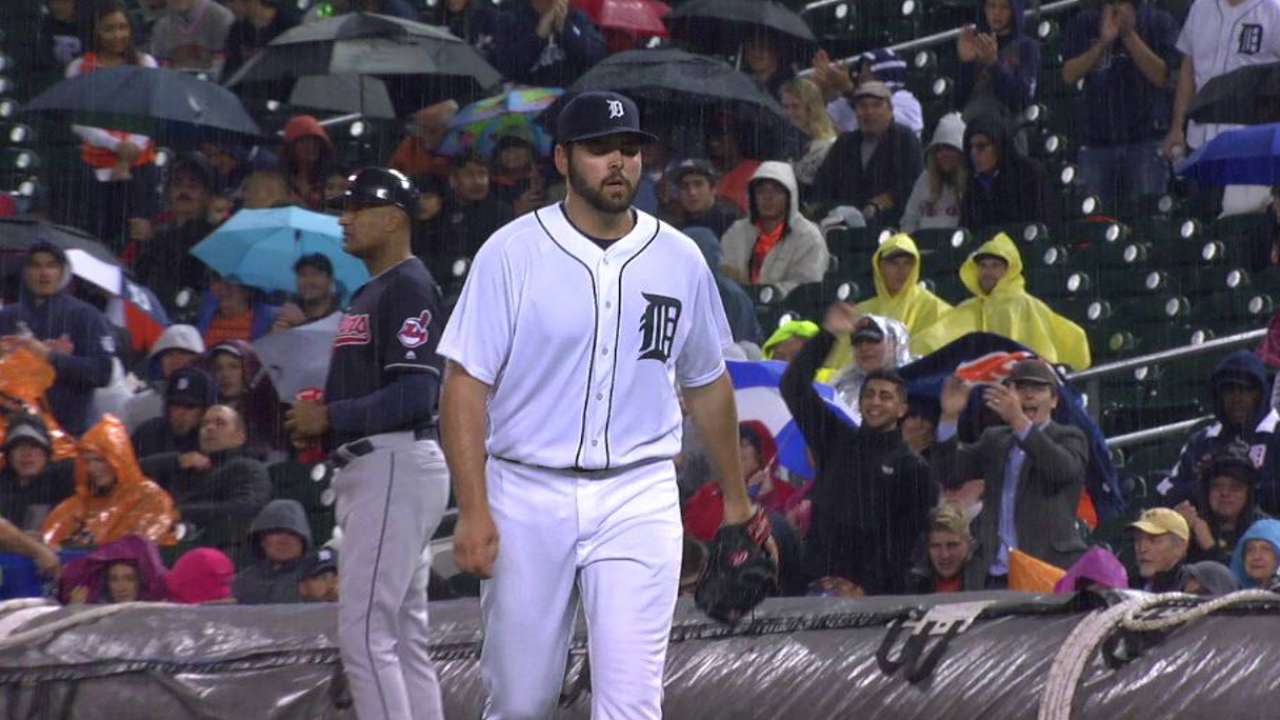 DETROIT -- Michael Fulmer rarely if ever shows signs of frustration while he's pitching. It probably helps that his rookie season has left little reason to be frustrated.
Yet, as he walked into the Tigers' dugout in the fourth inning Wednesday night, having been chased from his final scheduled regular-season start, he saved his flash of emotion, slamming his glove on the bench.
It wasn't about the innings he needed for an American League ERA title, something no rookie has won since Tigers legend Mark Fidrych took it 40 years ago.
"I was more worried about a win," said Fulmer, who has a 3.06 ERA after allowing three runs over 3 1/3 innings. "I'd rather pitch in the postseason than get a personal achievement, honestly. Seriously, it might be a once-in-a-lifetime chance. You never know. So I'm wanting that feeling, and this team's wanting that feeling. Hopefully we can get it done."
The Tigers beat the Indians, 6-3, on Wednesday, not so much because of Fulmer, but also not in spite of him. The right-hander who has played such a major role in keeping Detroit in the postseason picture had a rather inconsequential outing, though not for lack of effort.
Fulmer avoided potential disaster by pitching out of a bases-loaded, no-out jam in the third inning, overcoming a leadoff double to Jason Kipnis and back-to-back walks to Francisco Lindor and Carlos Santana by getting a first-pitch popout from Jose Ramirez, another pop-up behind first base from Lonnie Chisenhall, then a Coco Crisp groundout. As soon as Fulmer finished the inning, the downpour began, putting his outing on hold.
As long as the delay didn't last over an hour, manager Brad Ausmus said he was willing to bring Fulmer back out. After 45 minutes, Fulmer went back out to the bullpen to warm up. Rather than just warming his arm, he tried to work on his offspeed pitch.
"I threw quite a bit of changeups in the bullpen," he said. "I didn't really have it the first couple innings. I threw extra changeups along with fastballs just to get the arm going again."
His arm, Fulmer said, felt better after the rain delay than before. His fastball velocity was down a tick from normal his first couple innings but picked up a bit, starting with his bases-loaded escape. His slider had a little more bite.
If Fulmer wasn't pitching in a must-win scenario for the team, he might have had enough to work through his issues. With every win vital as Detroit looks to secure a Wild Card spot, however, Ausmus couldn't risk it.
"He warmed up in the bullpen, seemed fine, from all accounts," Ausmus said. "I just think he was a little off with his command, compared to some of his other outings this season."
Said Fulmer: "They were just taking pitches. I thought I made some quality pitches, especially the slider in, and they weren't biting at it. So I have to make an adjustment of throwing it for strikes or doing something different and changing my attack. But give them credit for taking good pitches like that."
Jason Beck has covered the Tigers for MLB.com since 2002. Read Beck's Blog, follow him on Twitter @beckjason and listen to his podcast. This story was not subject to the approval of Major League Baseball or its clubs.