Arrieta off, but NLDS foe 'will be in trouble'
Cubs righty allows seven runs to Pirates, vows to be ready for postseason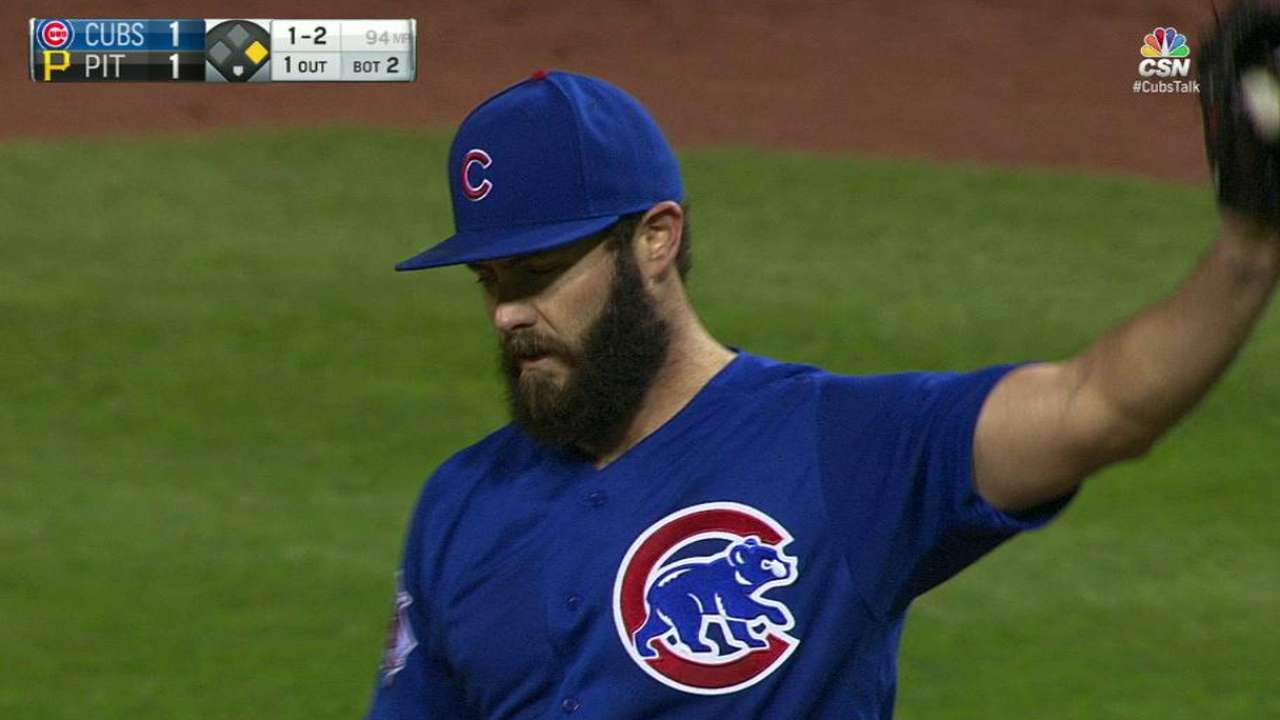 PITTSBURGH -- Cubs manager Joe Maddon thought Jake Arrieta pitched well on Wednesday night, but the right-hander wasn't happy with his final regular-season start, which felt more like a Cactus League game than a tune-up for the postseason.
The Pirates totaled seven runs on 10 hits over five innings off Arrieta, sending the Cubs to an 8-4 loss. Arrieta finished the regular season 18-8 with a 3.10 ERA, and he just missed posting a sub-3.00 ERA in three straight seasons. The last Cubs pitcher to do that was Bill Hands from 1967-69. Arrieta had a 2.53 ERA in 2014 and a 1.77 ERA during his National League Cy Young Award-winning season in '15.
"It was kind of weird," Maddon said of Arrieta's outing. "I thought he had a great delivery, he was throwing strikes, his stuff looked good but he looked out of sorts. That was probably the best strike-throwing I've seen out of him for a bit. ... He wasn't that bad today."
Arrieta wasn't happy with some of the calls early in the game, which also may have thrown him off.
"The feeling of the game from the first pitch just wasn't there," Arrieta said. "I didn't throw well, there's no way around it. Three-run homer, gave up more in the fifth. I could've stopped it there and it got away from me. They had some bloop hits there, some center-cut strikes they took advantage of."
Catcher Miguel Montero could sense the right-hander wasn't right.
"He got a little upset in the first inning, and I don't know if that took him away from throwing a good game," Montero said. "I really thought he had good stuff going on. I don't know what happened. Did it feel like Spring Training? I do believe that, and that's not a good feeling for a pitcher or a player, knowing you're going to play four innings, five innings.
"[These games are] still important for us," Montero said. "I don't want to go out there and not care about winning or losing. I want to win, regardless."
The Cubs clinched the NL Central on Sept. 15, and they have spent the remaining regular-season games trying to find a balance between keeping players sharp and giving them rest. Before Wednesday's game, Maddon said they could have Arrieta pitch a couple innings Sunday so he could finish with 200 innings. Arrieta didn't want to do that.
"I want to pitch on a schedule, I don't want to throw an inning in a game," he said. "I'm not trying to do anything different. Let's just prepare like we normally do and go out and win games."
There are a lot of big league pitchers who would like to have the year Arrieta did.
"My season was good," he said. "I would've liked to be better. We are where we are because of our starters. Our offense has been spectacular. Jon [Lester] and Kyle [Hendricks] and [John] Lackey and [Jason] Hammel, we've all pitched well throughout the year. We need to keep the mindset to prepare for the next game. Even though we have it locked up, we're trying to win some games."
In his prior start, Arrieta threw seven shutout innings against the Cardinals, and Maddon said he felt the right-hander was "peaking at the right time." Don't think Arrieta won't be ready for whoever the Cubs face in the NL Division Series, which starts Oct. 7 at Wrigley Field.
"I'll just throw my sides and prepare, and whoever I face will be in trouble," Arrieta said.
Carrie Muskat has covered the Cubs since 1987, and for MLB.com since 2001. She writes a blog, Muskat Ramblings. You can follow her on Twitter @CarrieMuskat and listen to her podcast. This story was not subject to the approval of Major League Baseball or its clubs.