MLB.com Columnist
Mike Bauman
Mechanics jump-start Gomez in Arlington
With help of Rangers' staff, veteran outfielder makes adjustments at plate to revive career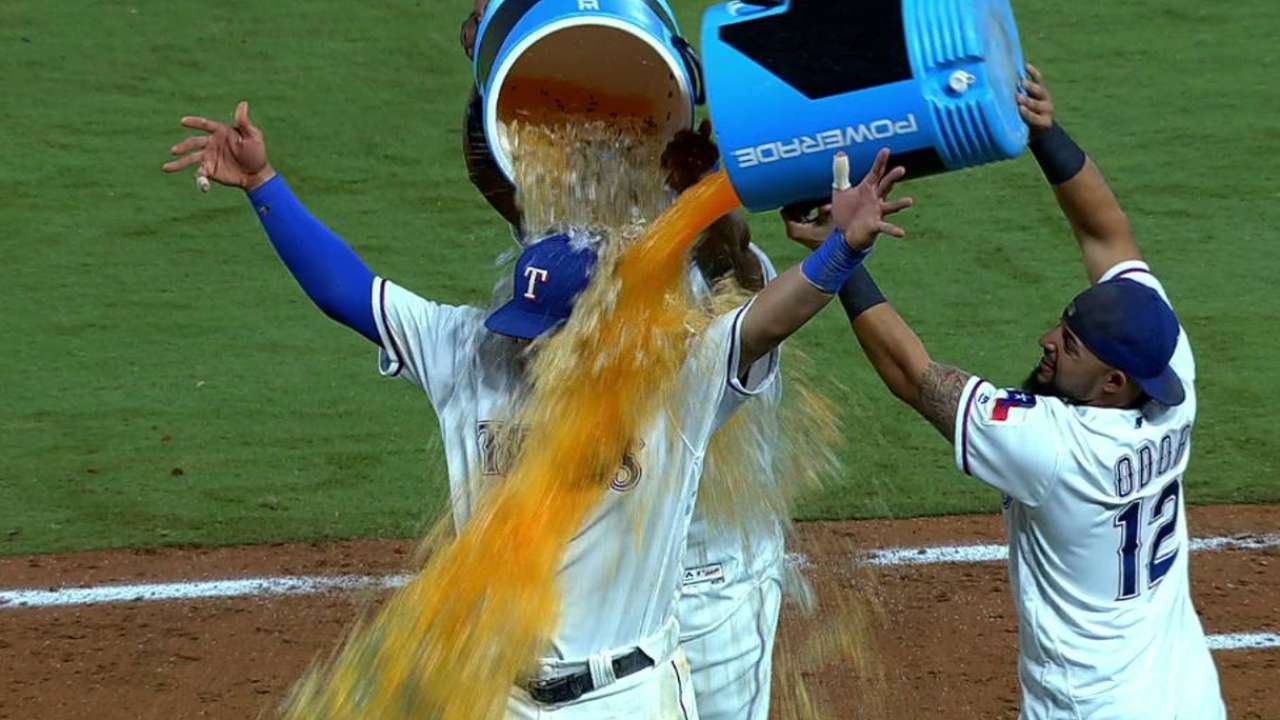 ARLINGTON -- Carlos Gomez is back, which means that the amount of excitement in Major League Baseball has increased.
Released by the Astros on Aug. 18, after a truly substandard performance, Gomez has revived his career with the Rangers.
A few mechanical changes at the plate have changed the game for Gomez. His right side is now more stable at the plate, and he has changed the position of his hands, allowing him to get to the ball quicker.
Instead of a slash line of .210/.272/.322 that he had with Houston, Gomez was hitting .274/.353/.519 in his first 30 games with Texas. The past two nights, against the Brewers, another former Gomez team, he was a dominant force.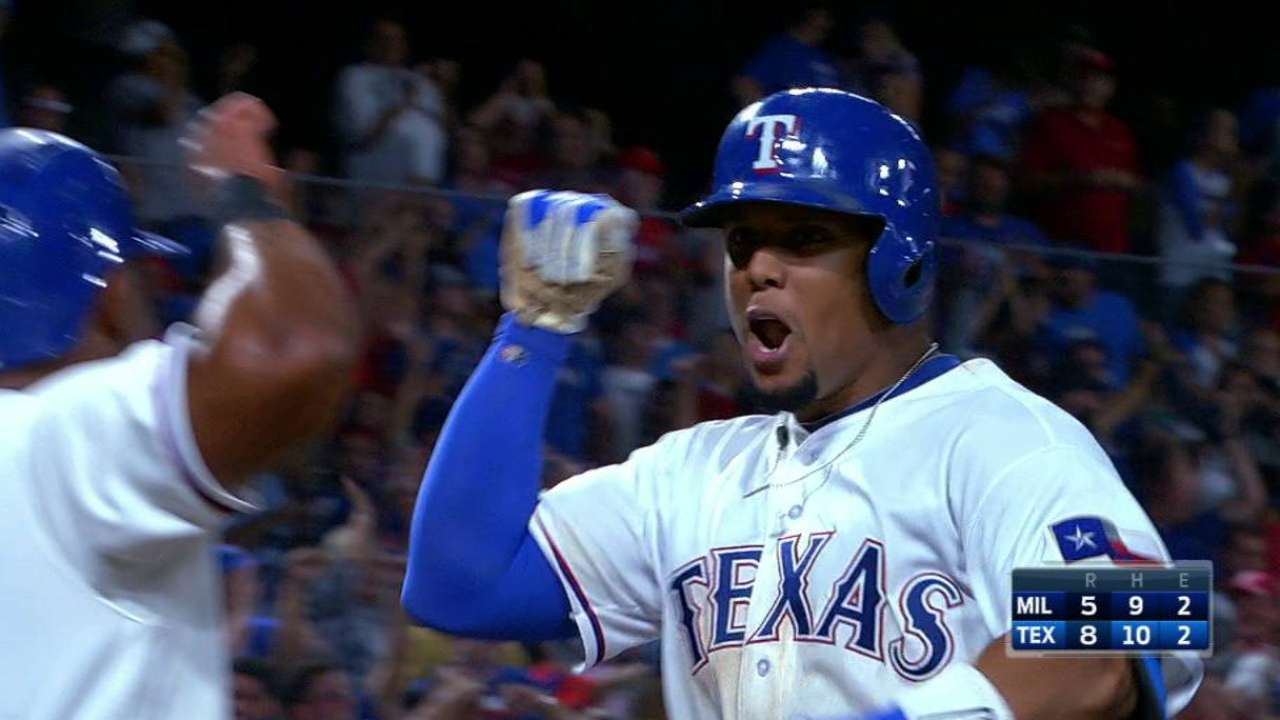 On Tuesday night, Gomez hit a 444-foot three-run homer that tied a game the Rangers eventually won. On Wednesday night, in the eighth inning, he hit another three-run homer that broke a tie and gave Texas an 8-5 victory. He finished with three hits and a walk.
For Gomez, the adjusted hitting approach has been nothing less than a revelation.
"Every day I come here and put in the work," Gomez said. "Before, I feel that for 10 years I was blind. I learned something that I never did. I always felt a hole in my chest like I can do better. So every day we come here and do some work. You know, be on time, try to use my hands more.
"The people sometimes don't know. They see me swing, they say, 'Oh, he swings out of his shoes.' It's because I wasn't ready to hit. When I'm not ready to hit the ball, it's going to beat me, so the body tries to react and I have to pull myself. It's not because I'm trying to swing hard. I'm trying to be on time.
"Right now, I've learned how to do it consistently and not worry about what count I hit. Do this and you'll always be on time and you can recognize any kind of pitch. We've been doing this and I've been hitting the ball solid, everywhere."
For the Rangers' coaching staff, the change was a little less miraculous, and more, as manager Jeff Banister put it -- getting Gomez at the plate "to something close to what he was as a Brewer. We've kind of hit the rewind button and pulled him back in."
Gomez was an All-Star as a Brewer in both 2013 and '14. He is 30 now. It is too soon for his game to disappear.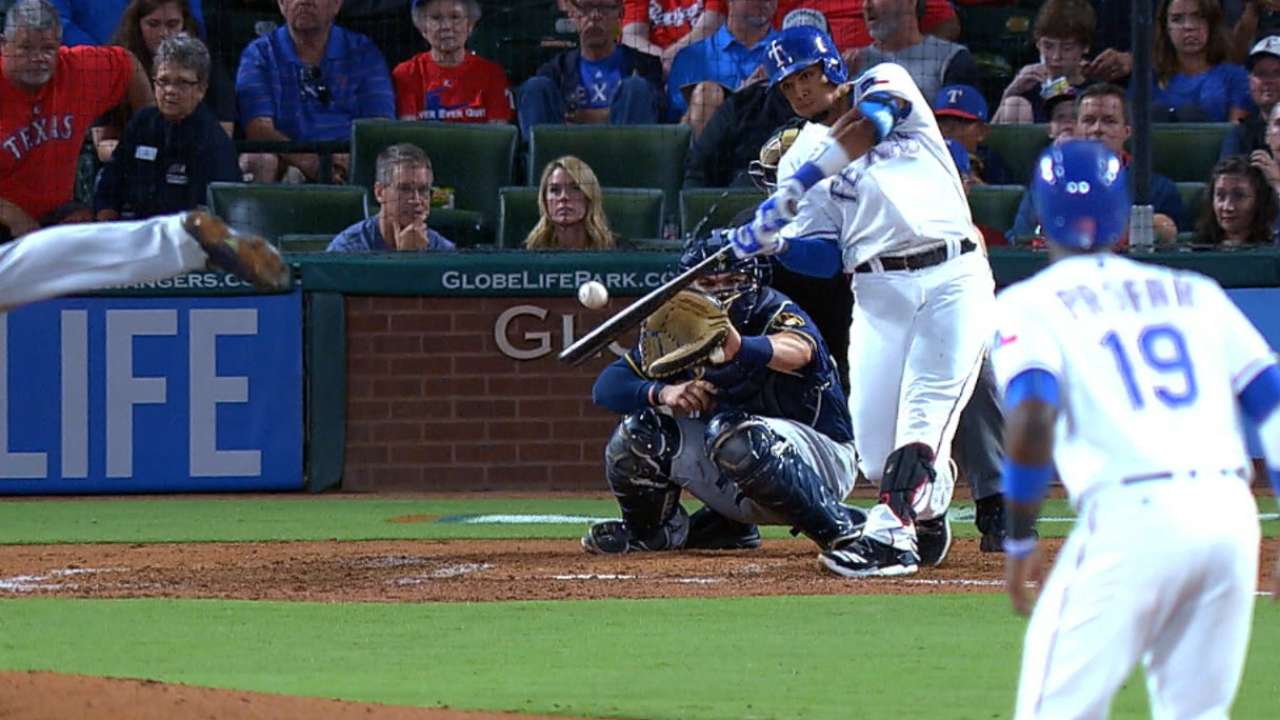 "When he was at Houston, he was more out front [at the plate]," Banister said. "It was a big, strong swing, almost full-throttle. It's still a strong swing, full-throttle, but the idea is staying on the back side, allowing the hands to get the barrel to the baseball and then complete the swing. Before, you'd see his head and his body go so far forward, he never allowed the barrel to get to extension before he had to make contact with the baseball. What he's doing now is he's creating time for himself, allowing the ball to travel."
Before Gomez was signed by Texas, Rangers hitting coach Anthony Iapoce and assistant hitting coach Justin Mashore formulated a plan for getting Gomez back to being a productive hitter. It worked, but Gomez buying into it was an essential component for its success.
"Before we got him, this was a guy who was -- I don't want to say broken -- but very frustrated and challenged and needed a lifeline," Banister said. "I think it was an easier sell because of where he was. Every other club passed on him and he was released.
"I think he's a professional. He's vulnerable in the sense that he's allowed us to help him. I think we probably caught a perfect storm with it."
For Gomez, the changed approach at the plate has opened up major possibilities.
"I can't imagine what I can do in 162 games with the feeling that I have right now," he said. "I've never been Carlos Gomez. I was just ability. I just went to the plate and tried to see the white thing and swing at. I think it's a big difference. I know when I come here, they give me a lot of confidence. I come from being released and they give me the starting job in left field and it means a lot for me.
"It's only 30 games that I've been playing here and I have some sensation that I never had. So I just come to plate with that confidence. If you miss with that pitch, I'm going to hit it out of here. Before, I just swing. Not like the preparation where you wait for the ball and throw your hands."
The Rangers, Banister said, chose to believe in Gomez.
"I'm a big believer in believing in the person, the human being he is," the manager said.
That belief was apparently very well-placed. Gomez is back, contributing in a large way, playing with impact and exuberance, for the team with the best record in the American League.
Mike Bauman is a national columnist for MLB.com. This story was not subject to the approval of Major League Baseball or its clubs.