Before he was postseason-bound: Max Scherzer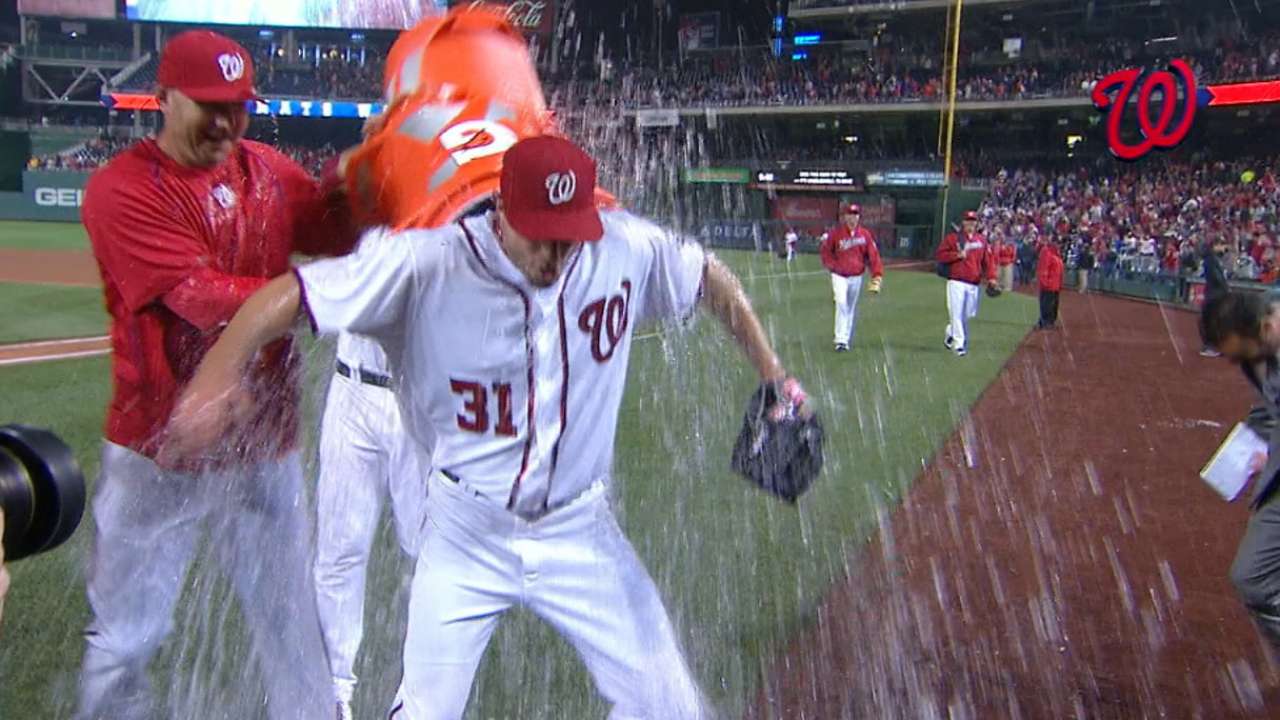 The Nationals are headed to the postseason for the third time in five seasons, after winning the National League East. As this will be the first time that many fans across the Majors will be focusing on their roster, here's our attempt to learn the origins of ace Max Scherzer.
Max Scherzer, RHP
Born: St. Louis
DOB: 7/27/1984
HS: Parkway Central (Mo.) HS
College: Missouri
Minors: Visalia (A+), Mobile (AA), Tucson (AAA)
Path to Washington: Scherzer was drafted by the D-backs in 2006 and pitched his first two Major League seasons in Arizona before being traded to the Tigers in a December 2009 three-team deal also involving the Yankees. After five seasons in Detroit, Scherzer signed a seven-year, $210 million contract with the Nationals before the 2015 season.
Trophy case: 2013 American League Cy Young, four-time All-Star (2013-16), two-time National League Pitcher of the Month (May and June 2015), MLB wins leader in 2013, AL wins leader in '14, NL Wins leader in '16, led MLB in complete games and shutouts in 2015, led MLB in strikeouts this season.
Famous feat(s): Scherzer has thrown two no-hitters, both with the Nationals, on June 20, 2015, against the Pirates and Oct. 3 ,2015, against the Mets. He is one of 31 pitchers in Major League history to throw multiple no-hitters. This season, Scherzer tied the MLB record for strikeouts in a nine-inning game, with 20 against the Tigers on May 11.
You might not know: In 2006, after the D-backs drafted Scherzer No. 11 overall, he and the club had difficulty working out a contract. So Scherzer made his professional baseball debut in independent ball -- he pitched three games for the Fort Worth Cats in the American Association before he finally signed with Arizona. He is the only one of the Cats' 40 players that season to ever appear in the Major Leagues.
Six degrees of Willie Aikens: As a 23-year-old in 2008, his debut season in Arizona, Scherzer was teammates with 44-year-old Randy Johnson, who was in the second-to-last year of his Hall of Fame career. Interestingly, Johnson and Scherzer are the only two pitchers in Major League history to strike out 20 batters in a game and throw a no-hitter -- and both pitchers threw two no-nos.
Eyes of the Tiger: Scherzer has heterochromia iridum -- that is, he has two different-colored eyes. Scherzer's left eye is brown, and his right eye is blue. On July 9 this season, Scherzer was pitching against the Mets at Citi Field, and was facing a big spot in the seventh inning. Manager Dusty Baker went to the mound and asked him which eye he was looking out of.
"The [freaking] brown one," Scherzer answered his skipper. Why that eye? "That's the pitching eye," he told reporters after the game.
Life off the mound: Scherzer loves to scuba dive -- he says it's one of the safe enough recreational activities he can do as a professional athlete -- and he and his wife, Erica, often do so on vacation. Like the Cubs' Kris Bryant, Scherzer has gone swimming with sharks: "We dive with sharks. We dive with everything," he said. "I did an unbelievable shark dive in Fiji, with like 15 bull sharks swimming around." In 2010, he also wanted to dive the Great Barrier Reef while visiting a friend in Sydney -- but he didn't realize the reef was more than 1,000 miles away.
David Adler is a reporter for MLB.com based in New York. Follow him on Twitter @_dadler. This story was not subject to the approval of Major League Baseball or its clubs.