Angels rock A's to complete sweep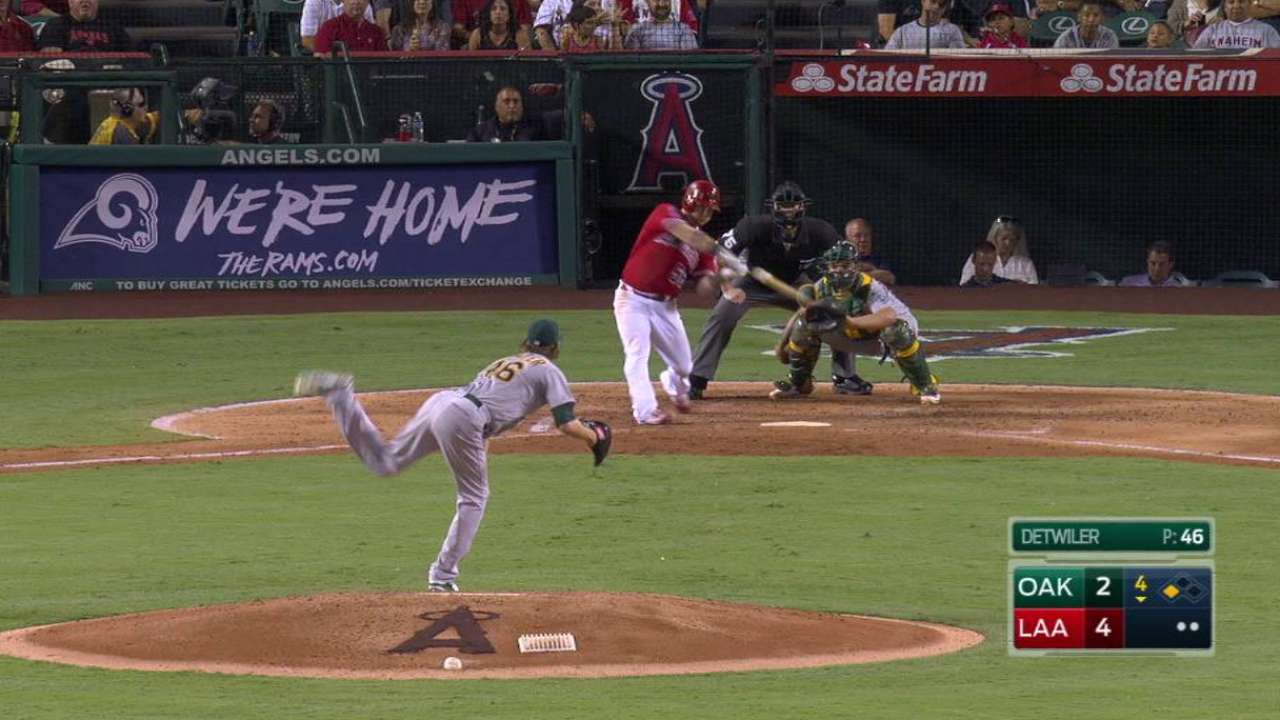 ANAHEIM -- The Angels used an eight-run fourth inning to whip up an 8-6 victory over the A's on Wednesday night, polishing off a three-game sweep that secures them a fourth-place finish in the American League West.
The A's will finish last in the division for a second consecutive season, after falling to 67-91 with four games to play.
The Angels pounced in the fourth, as they did Tuesday with a seven-run onslaught, and struck left-hander Ross Detwiler for eight runs, seven of them earned. The inning featured 14 batters and eight hits, including a two-run home run off the bat of Kole Calhoun. Shane Robinson collected one of four Angels doubles in the inning, bringing in two runs.
It's the first time the Angels have had consecutive games with innings where they scored seven or more runs since May 12-13, 1997. The Angels have now won seven of their last eight.
Oakland's Khris Davis launched his 41st home run, a solo shot in the sixth, for his 100th RBI, and Marcus Semien cut into the Angels' lead in the eighth with a three-run homer, his 27th of the season. The A's were also able to witness the return of Sonny Gray, who had been sidelined by a forearm injury since Aug. 6. The right-hander went one inning as planned, working around a leadoff base hit and striking out one.
"That's our guy," A's manager Bob Melvin said. "Granted, he had a bit of a tough season this year and had to deal with a couple injuries and just a bit of an off-year for him, but just for us to know as a team he went out there and was healthy and looked like the old Sonny, psychologically that's good for the ball club."
MOMENTS THAT MATTERED
That had to hurt: Mike Trout was forced to leave in the eighth inning after taking a 96 mph fastball from John Axford off his left shoulder blade. The MVP candidate was clearly in pain after being struck, but seemed to make an attempt to stay in the game as he talked with a trainer. He eventually left after a minute of discussion, with Ji-Man Choi pinch running for him.
Trout sported a sizable welt on his shoulder after the game, but said he still wants to play in the Angels' final series of the season against the Astros. He will get a scan of the shoulder during an off-day on Thursday. More >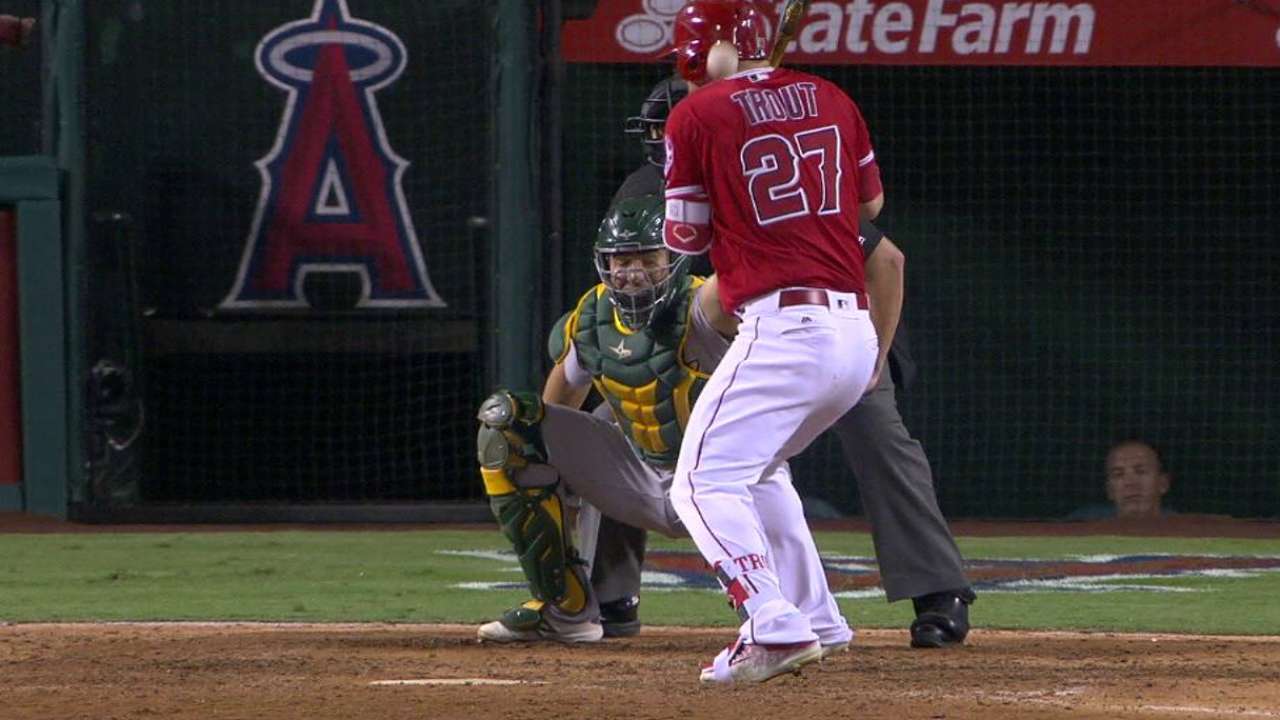 Sonny returns: Gray, though limited in action Wednesday, can now enter the offseason knowing he's fully healthy. That's a big relief for the A's, who can only hope the right-hander's prolonged struggles this year were nothing more than an anomaly. Gray, who just a year ago finished third in American League Cy Young voting, exits the 2016 campaign with just five wins and a 5.69 ERA, having totaled 117 innings while enduring two separate disabled list stints.
"It felt like everything was coming out very good," Gray said. "This whole process, I've gotten to kind of hone in on my mechanics a little bit and watch and compare this and that, so coming back, I was able to try to get back to my normal mechanics. It definitely felt better, stronger." More >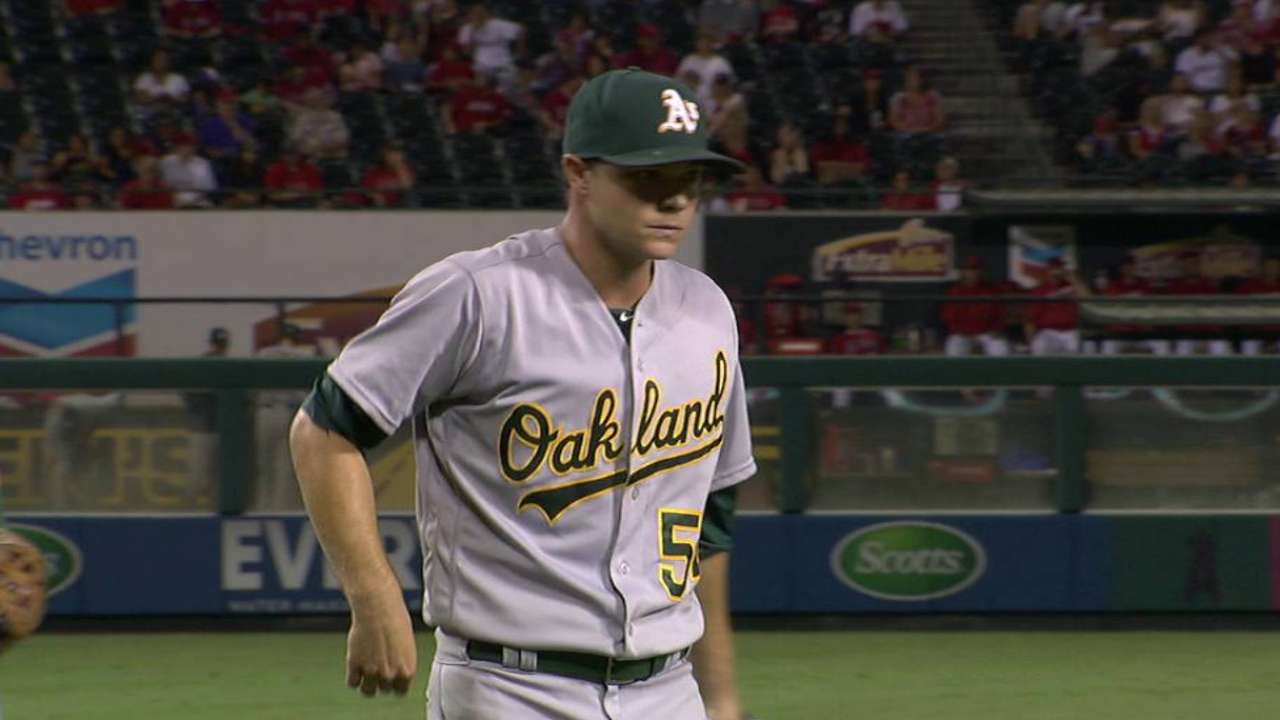 Walking tall: Alex Meyer still hasn't lasted six innings into a game in his MLB career, but he continued to show the strikeout stuff that could make him a future standout for the Angels. The right-hander struck out five in four innings while allowing two runs and got three of those strikeouts with men in scoring position.
"I think, first and foremost, his delivery is getting more consistent, he's able to repeat it, and his arm angle is definitely where I know he's working towards," Angels manager Mike Scioscia said. "Hopefully he'll continue to improve with the consistency, but there's no doubt the stuff is there. Tonight he just missed with some pitches and those guys squared some up. He had to work hard to get through four innings." More >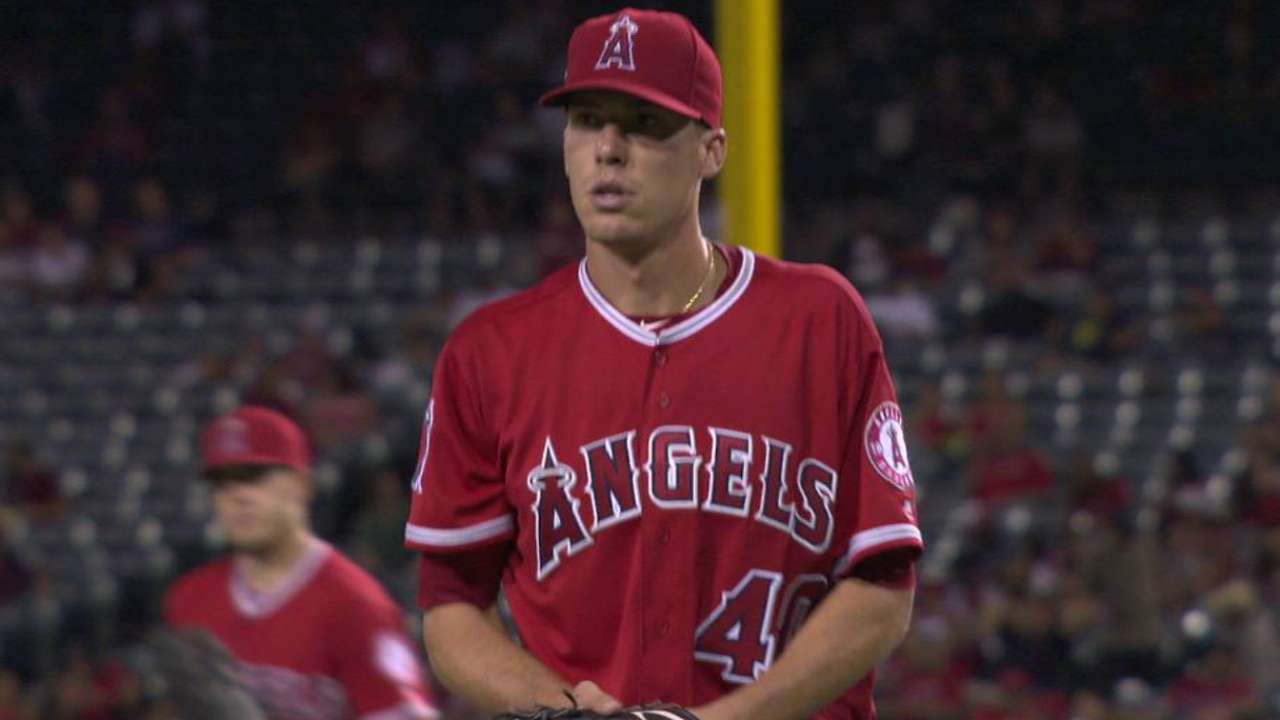 Healy a hit: A's rookie third baseman Ryon Healy, playing just 50 miles from where he attended high school in Encino, Calif., put on yet another show for his many friends and family members in attendance, tallying two hits -- both doubles -- and an RBI to finish the series 6-for-11. Healy's average sits at .313 through 68 games, including .365 over his last 40 contests.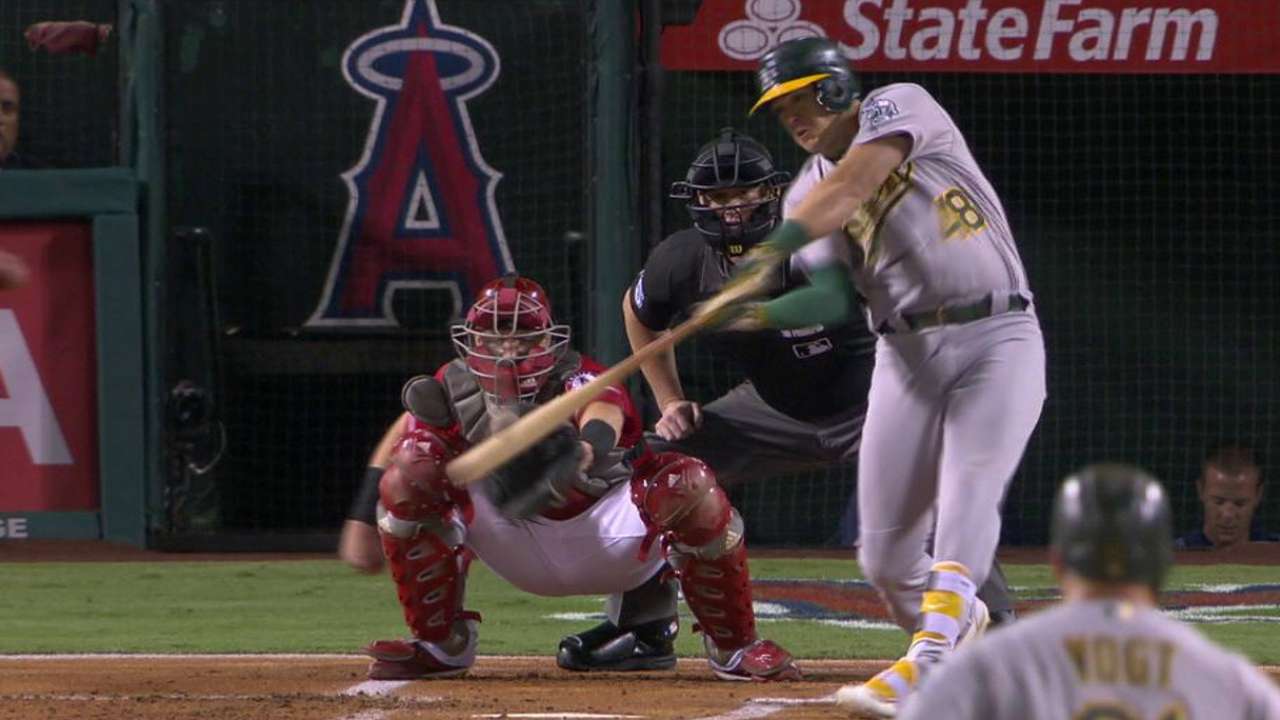 WHAT'S NEXT
A's: The A's head north to close out their season with a four-game series in Seattle, where the Mariners are clinging to postseason hopes. Right-hander Kendall Graveman (10-11, 4.19 ERA) gets the start in Friday's 7:10 p.m. PT opener at Safeco Field. He's 1-3 with a 5.40 ERA in seven career appearances (five starts) against Seattle.
Angels: Daniel Wright will make the final start of his rookie season as the Angels open their last series of the season at home against the Astros on Friday at 7:05 p.m. PT. Since being picked up off waivers in early September, Wright holds a 6.53 ERA across four starts.
Watch every out-of-market regular-season game live on MLB.TV.
Jack Baer is a reporter for MLB.com based in Los Angeles.

Jane Lee has covered the A's for MLB.com since 2010.

This story was not subject to the approval of Major League Baseball or its clubs.