Pomeranz to test sore arm on Thursday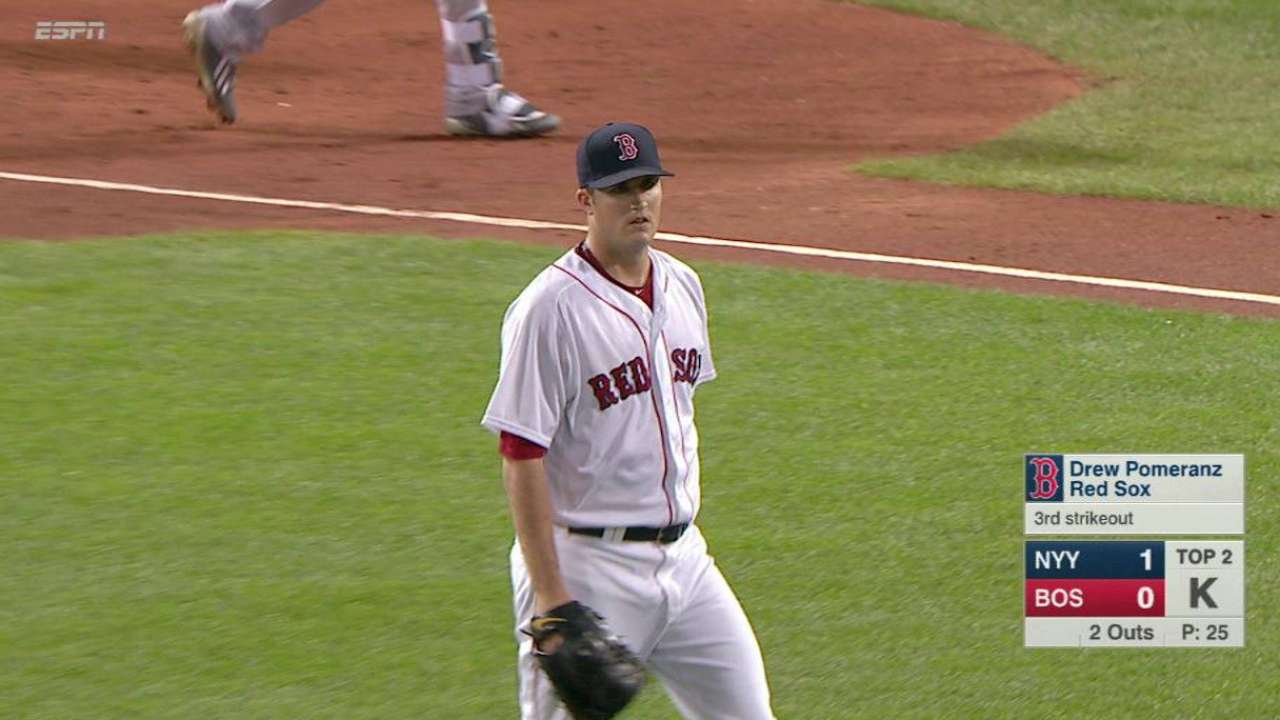 NEW YORK -- The Red Sox will get a better read on Drew Pomeranz's availability for the rest of the season when he throws a bullpen session prior to Thursday's game at Yankee Stadium.
The left-hander, who has shown signs of fatigue down the stretch, was scratched from starting Thursday's game. At this point, he is being looked at only as a reliever for the rest of 2016.
"It's all right. We sat down and kind of talked about the rest of the year," said Pomeranz. "I've had some soreness here late in the year. I've thrown more innings than I have, ever. So we sat down and talked about the best course of action the rest of the way out. We talked about maybe trying to get ready for a spot in the bullpen. I don't know how everything was playing out, but that's what we decided on, so we decided to not make this last start."
Under an ideal scenario, the Red Sox could get Pomeranz a relief outing in one of the final three regular-season games at Fenway Park to gauge how much he might be able to help in the bullpen in the postseason.
But that's all dependent on how his left forearm feels in the coming days.
"It's just soreness," said Pomeranz. "I don't know what specifically. Just some soreness in there probably from not recovering this time of year in a spot I've never been in before. We just kind of sat down and said that was the best thing to do is not make this last start and maybe slide into the bullpen."
The bullpen session is expected to be 30-35 pitches.
Pomeranz's health has become a bigger topic since Sept. 15, when it was announced that Padres general manager A.J. Preller was suspended for 30 days for not disclosing medical information prior to the trade that sent the left-hander to Boston.
"I really can't comment on that because I had nothing to do with any of that stuff that happens," said Pomeranz. "I don't know what the two teams talked about. I don't know who got mad over what. I'm just the guy who got traded from one place to another. So I really don't know much of what happened."
While it would be an adjustment for many starters to move to the bullpen at this juncture of the season, Pomeranz has made 58 relief appearances in his career.
"One of the things I've had is the benefit of doing pretty much anything, so I'm pretty much comfortable in any situation," Pomeranz said. "If that's where they see me going, and they see me helping there, obviously that's where I want to be. But I don't know if it's a sure thing so we're just going to see how it feels."
Ian Browne has covered the Red Sox for MLB.com since 2002. Follow him on Twitter @IanMBrowne and Facebook. This story was not subject to the approval of Major League Baseball or its clubs.