MLB's no-repeat streak reaches sweet 16
Reigning World Series champion Royals eliminated to extend record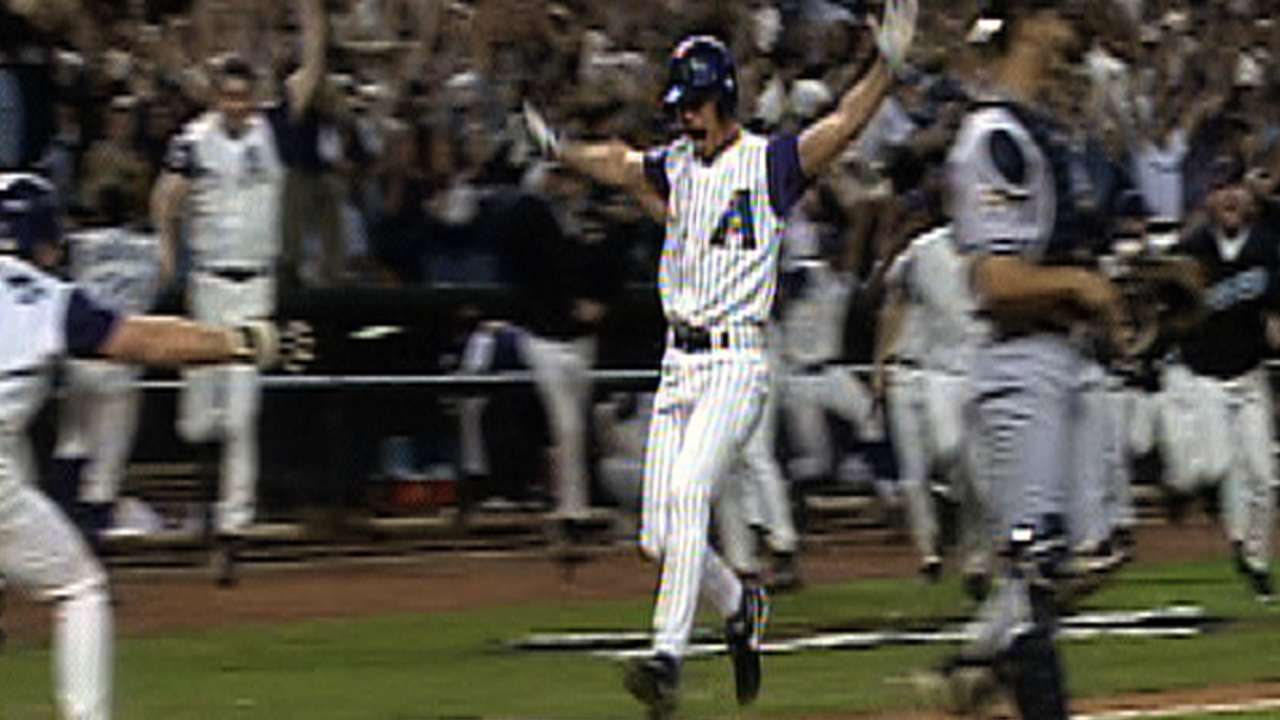 With the Royals' elimination from the American League Wild Card race on Wednesday, Major League Baseball's record for consecutive years without a repeat champion officially increased to 16 -- one behind the National Hockey League for the longest among North American professional sports -- as an overall era of competitive balance takes unprecedented hold.
You're 16, you're beautiful and you're mine.
Ringo Starr could be describing this modern tradition of presenting the gleaming World Series Trophy from Tiffany & Co. to a different team every autumn. It will happen yet again in late October or early November, now that a reigning champ has been dethroned again.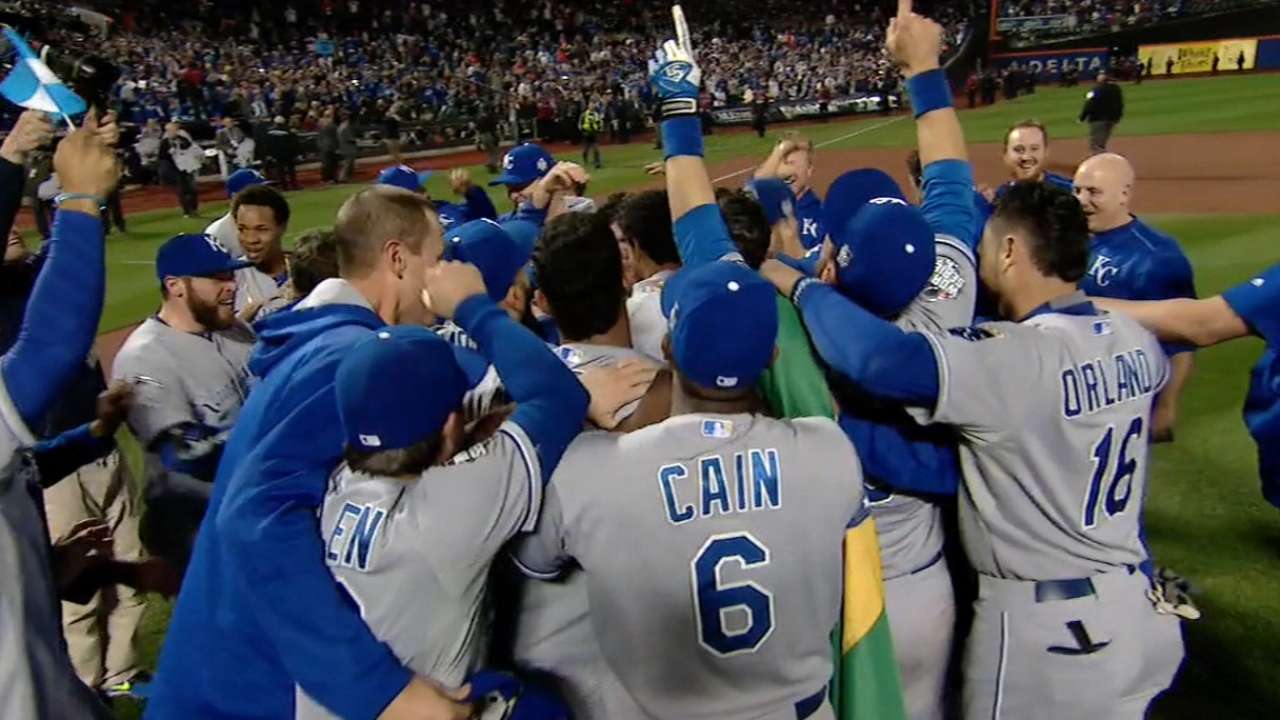 The no-dynasty era began on Nov. 4, 2001, when Luis Gonzalez hit a bases-loaded floater to center off Mariano Rivera, ending the Yankees' three-year run and clinching the World Series for Arizona. Starting with those D-backs, the 16 no-repeat winners are the 2002 Angels, '03 Marlins, '04 Red Sox, '05 White Sox, '06 Cardinals, '07 Red Sox, '08 Phillies, '09 Yankees, '10 Giants, '11 Cardinals, '12 Giants, '13 Red Sox, '14 Giants, '15 Royals and whoever wins the 112th Fall Classic.
"It's partly competitive balance I think, but also partly added playoff rounds," said Hall of Famer Cal Ripken Jr., a member of the 1983 Orioles World Series champs and now a Turner Sports analyst for the upcoming AL playoff series. "When you add the second Wild Card, it's difficult to go through the tournament and win all the way through.
"The depth of the team, the caliber of the team, that's proven who the best team is in 162. But in the playoffs, it's the shorter round; anybody can beat anybody else. A hot pitcher, a hot player or a hot team -- it's going to be close ballgames, it's their execution that matters the most. So I think that makes it much more difficult to repeat."
Teams were naturally far more likely to repeat as champions in the years before 1969, when the postseason was simply the World Series. Through most of Major League history, there were 16 teams, eight in each league.
A gradual expansion of the number of teams, now 30, made it considerably harder to repeat, as did the addition of a Division Series round in 1995 and then a second Wild Card entry in each league starting in 2012 -- making it a 10-team postseason field now.
MLB set the record last fall, surpassing the previous no-repeat record of 14 years in a row from 1979-92, before the Blue Jays repeated as champions in the '93 season.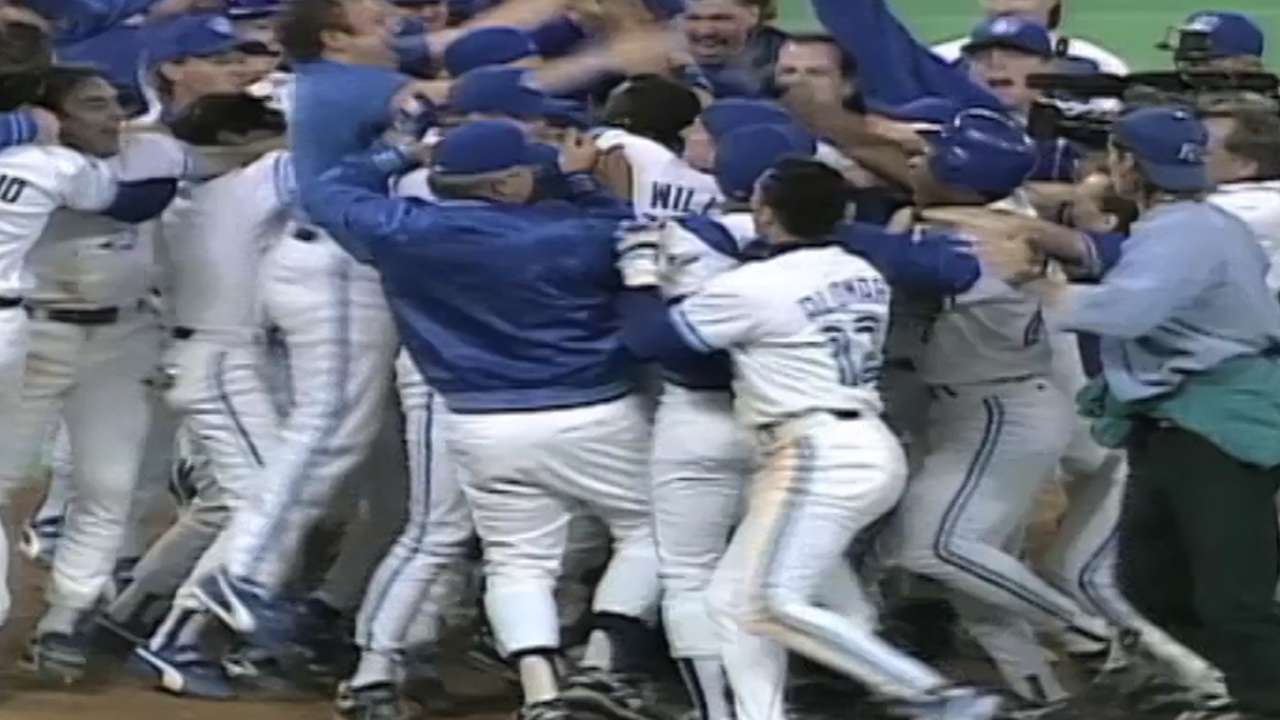 "The Kansas City Royals are a great ballclub; what a great run for two years in the World Series," said Ron Darling, Ripken's broadcast-booth partner and a pitcher on the Mets' 1986 championship team. "But those injuries this year really cost them. Losing Mike Moustakas was a big loss, they didn't have Alex Gordon for a lot of the year and they lost Wade Davis for part of the year. So I think it was more injuries, because the Kansas City Royals held tough all season long. I would be very surprised if they're not part of the playoff picture next year.
"As far as repeating, it's 30 days of baseball hell for a lot of these teams. To be able to do that two years in a row -- Kansas City almost did it -- would be an amazing feat."
Cardinals catcher Yadier Molina, still hopeful of a shot at a fourth Fall Classic, sees many positives of competitive balance.
"I think it's a good thing, because each year, it's a new team to win the World Series," Molina said. "They are all doing a good job, preparing a winning team obviously. It's good for baseball."
Here is a look at the current no-repeat streaks in North American pro sports, in order of the longest active runs. Unless noted, it is also that sport's longest all-time streak.
NHL: 17 (1999-2016)
Excludes 2005 strike season
MLB: 16 (2001-16)
The Masters: 14 (2003-16)
All-time record: 29 (1934-65; no tournament in 1943-45)
WNBA: 13 (2003-15)
Minnesota Lynx are in semifinals in bid to end streak
NFL: 11 (2006-16)
CFL Grey Cup: 5 (2011-15)
All-time: 14 (1983-96)
NASCAR Sprint Cup Series Champions: 5 (2011-15)
All-time: 8 (1949-56)
NBA: 3 (2014-16)
All-time: 18 (1970-87; record among the four major U.S. pro sports leagues)
MLS: 3 (2013-15)
All-time: 9 (1998-2006)
The Portland Timbers won last year and, through Sunday, were in position for the sixth and final Western Conference playoff seed
Mark Newman is enterprise editor of MLB.com. Read and join other baseball fans on his MLB.com community blog. This story was not subject to the approval of Major League Baseball or its clubs.