A's Armenteros, Puk among those using instructs to settle in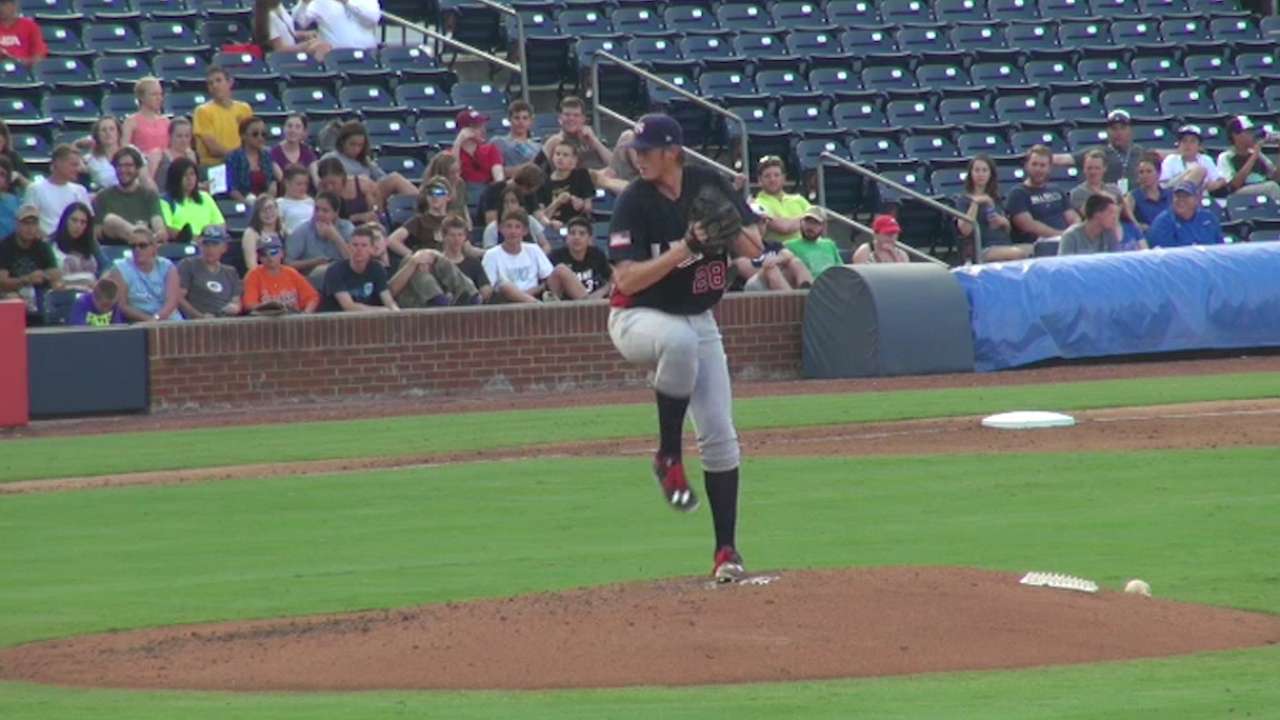 MESA, Ariz. -- Lazaro "Lazarito" Armenteros is in Arizona, but the A's are taking their time getting him up to speed.
The clubs' No. 11 prospect hasn't done any baseball activities in a month, so the A's are taking it slow, but first impressions have been positive.
"It's good to see him, get him out of Haiti and into the situation here," Director of player development Keith Lieppman said. "It's more likely that it'll be a slow easing-in process for him -- get comfortable with us and being here in the United States. It's an interesting dynamic, but one that I think will pay some really good dividends. He's got a really good body, the kid's got great tools."
Armenteros, MLB Pipeline's No. 9 international prospect, signed for $3 million on July 2nd, and he has above average power and athleticism. The 17-year-old will need to work through a few holes in his approach, but with plus bat speed he should still be a good hitter.
A's Top 30 Prospects at instructs
2. A.J. Puk, LHP
3. Grant Holmes, RHP
6. Richie Martin, SS
9. Dakota Chalmers, RHP
11. Lazaro Armenteros, OF
12. Logan Shore, RHP
16. Daulton Jefferies, RHP
22. Sean Murphy, C
23. Casey Meisner, RHP
24. Skylar Szynski, RHP
25. Skye Bolt, OF
26. Marcos Brito, SS
Similar to their approach with Lazarito, the A's aren't rushing Yerdel Vargas, George Bell or Marcos Brito, Oakland's No. 26 prospect, into action either. Vargas, Bell and Brito also signed July 2 and will use the time at instructs to simply adjust to life in the United States.
"The kids coming here for the first time, it's more for the experience of culturalization into the United States, learning to hear English all the time," Lieppman said. "We have English classes, it's really sort of a first experience, just learning how to eat here, how to get around, be a good teammate, just real simple stuff that's part of the bigger world."
Puk working on mechanics
Once he got into the system, the A's simply let A.J. Puk pitch. The 21-year-old lefty was getting used to professional baseball and the club didn't want to overwhelm him with minor mechanical adjustments during such a major life transition.
"For the players that signed with us, or are out of college, we sort of have a rule, we don't touch them," Lieppman said. "We let them play that first half season with very little adjustments and without working on the particulars of their game."
Puk enjoyed the freedom and called it a "good experience," but now it's time for the training wheels to come off. The Athletics' No. 2 prospect tossed 32 2/3 innings across 10 starts with Class A Short Season Vermont in his professional debut, and after taking some time off, has arrived at instructs ready to improve.
"Just some mechanical things I'm working on," Puk said. "I'm working on my pitches and just overall getting used to the offseason program in terms of working out."
The left-hander isn't expected to throw any more than 10 or 12 innings during the program, but he will instead be focused on goal-setting and mechanics in brief, light bullpen sessions.
"This is our first opportunity to instruct and give them some different ideas about what they might improve on," Lieppman said. "We also have a lot of one-on-one discussions about what they might do, what they would do differently. The program is geared toward what they need to work on and how we can help as a staff."
William Boor is a reporter for MLB.com. Follow him on Twitter at @wboor. This story was not subject to the approval of Major League Baseball or its clubs.