Dodgers announce simulcast of Scully's final game
Broadcast will be on SPECTRUM SportsNetLA, KTLA and AM 570 LA Sports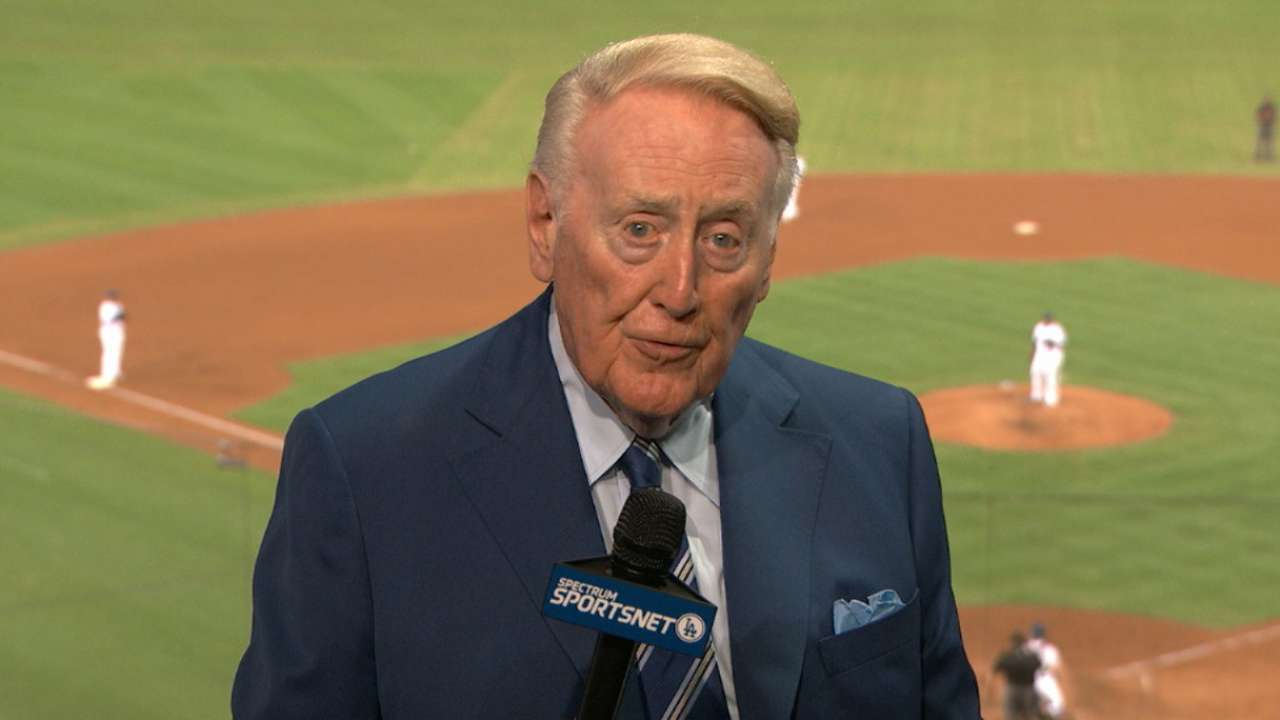 Vin Scully's final broadcast on Sunday will be simulcast in its entirety on SPECTRUM SportsNetLA, KTLA and AM 570 LA Sports.
Scully, whose 67 years of consecutive service with the Dodgers' organization is the longest of any sports broadcaster with one team, will broadcast his final game Sunday in San Francisco. First pitch is scheduled for 12:05 p.m. PT.
"We wanted to make sure that all of Vin's fans are able to share in his final Dodgers broadcast of an incredible 67-year Hall of Fame career," Dodgers executive vice president and chief marketing officer Lon Rosen said. "We want to thank our partner, IHEART Media, Charley Steiner, Rick Monday and Vin for making this possible for all our viewers and listeners."
"The Dodgers, IHEART Media and KLAC all came together and thought it would be only fitting that we simulcast Vin Scully's final broadcast to the Dodgers Network on Sunday from San Francisco," said Don Martin, IHEART Media Los Angeles senior vice president, sports. "We also want to thank Dodgers broadcasters Charley Steiner and Rick Monday, who also felt strongly that our listeners should be able to hear Vin's final call of his unbelievable 67-year career."
The Giants also have a tribute planned for Scully at AT&T Park on Sunday, and they will simulcast his call of the third inning on KNBR 680 radio and on CSN Bay Area.
Cash Kruth is a reporter for MLB.com. Follow him on Twitter at @cashkruth. This story was not subject to the approval of Major League Baseball or its clubs.