Papi, Price have frustration-filled night
Slugger goes 0-for-5 while lefty surrenders three homers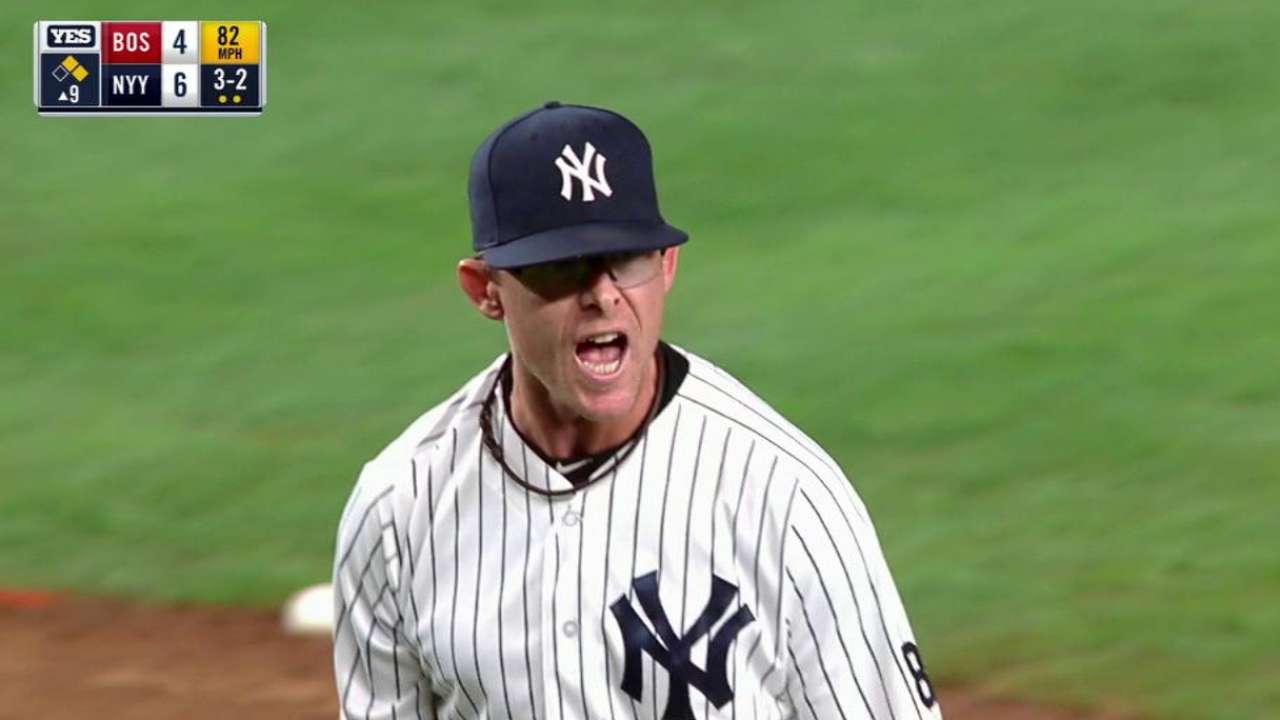 NEW YORK -- David Ortiz would have loved nothing more than to kick off his final few days as an active player at Yankee Stadium with a clinch party.
And the opportunities for the big slugger at the venue he calls his favorite place were tantalizingly frequent on Tuesday night, but ultimately not fruitful in a 6-4 loss to the Yankees.
The champagne remains on ice and the magic number for clinching the American League East is still at one because the Bronx Bombers actually iced Big Papi this time. The defeat snapped an 11-game winning streak for Boston. The Red Sox merely have to win one of their final five games -- or have the Blue Jays lose one -- to be division champs.
But it wouldn't have been Ortiz and Yankee Stadium without drama, and the stage was set in the ninth inning.
With the Red Sox down a pair, Ortiz represented the go-ahead run. With a home run, the clubhouse attendants would have been scurrying around the visitors' clubhouse to place plastic in front of all the lockers.
"Yeah, I mean, that's what he always does," said Red Sox right fielder Mookie Betts. "He comes through in those situations. Nobody's perfect. So he'll be ready to go tomorrow.
Give credit to Tyler Clippard, who struck Ortiz out on a 3-2 splitter to end the game.
For the night, Ortiz went 0-for-5 and left seven men on base.
Ortiz, who had a near half-hour news conference before the game, seemed surprised to see a horde of media members waiting for him after the contest.
"What do you guys want to talk to me for? I was 0-for-5," Ortiz said.
A reporter noted that he wanted to ask Ortiz about going 0-for-5.
"I don't talk about that. That ain't fun," quipped Ortiz. "Nothing, they got me out. Just put it down like that. They tricked me tonight. Too much talking between the pitcher and catcher. I'll trick them tomorrow."
David Price could feel Ortiz's frustration. In his first season with the Red Sox, Price badly wanted to create the clinch in enemy territory.
Instead, he grinded through the outing, giving up 12 hits, six runs and three homers over 6 1/3 innings while notching just two strikeouts.
"I've been throwing the baseball well the past couple of starts and to have a chance to clinch the division for us here, that's not acceptable," said Price. "If our offense scores me four runs, I feel like I like I should go out there and be able to win. That hasn't been the case a lot of the times this year, and that wasn't the case tonight."
What annoyed Price the most was the fact the Red Sox rallied from deficits of 3-0 and 4-2 to tie the game, and he gave the lead right back on a two-run shot by Tyler Austin in the seventh.
"I wanted to go nine innings," said Price. "After we tied it 4-4 in the sixth, in my mindset, I wanted to get nine more outs. I got one more."
With two outs in the ninth, however, Price still had hope in the form of Big Papi.
"He's had an unbelievable season this year," said Price. "He's the guy we want up at the plate with two outs and the tying runners on base. He's our guy. It didn't happen tonight. That's all right. We'll get 'em tomorrow."
And by then, perhaps the plastic will go on the lockers and the champagne will get uncorked.
Ian Browne has covered the Red Sox for MLB.com since 2002. Follow him on Twitter @IanMBrowne and Facebook. This story was not subject to the approval of Major League Baseball or its clubs.