Maddon impressed with Hendricks' confidence
With 16th win, Cubs pitcher boasts league-leading 1.99 ERA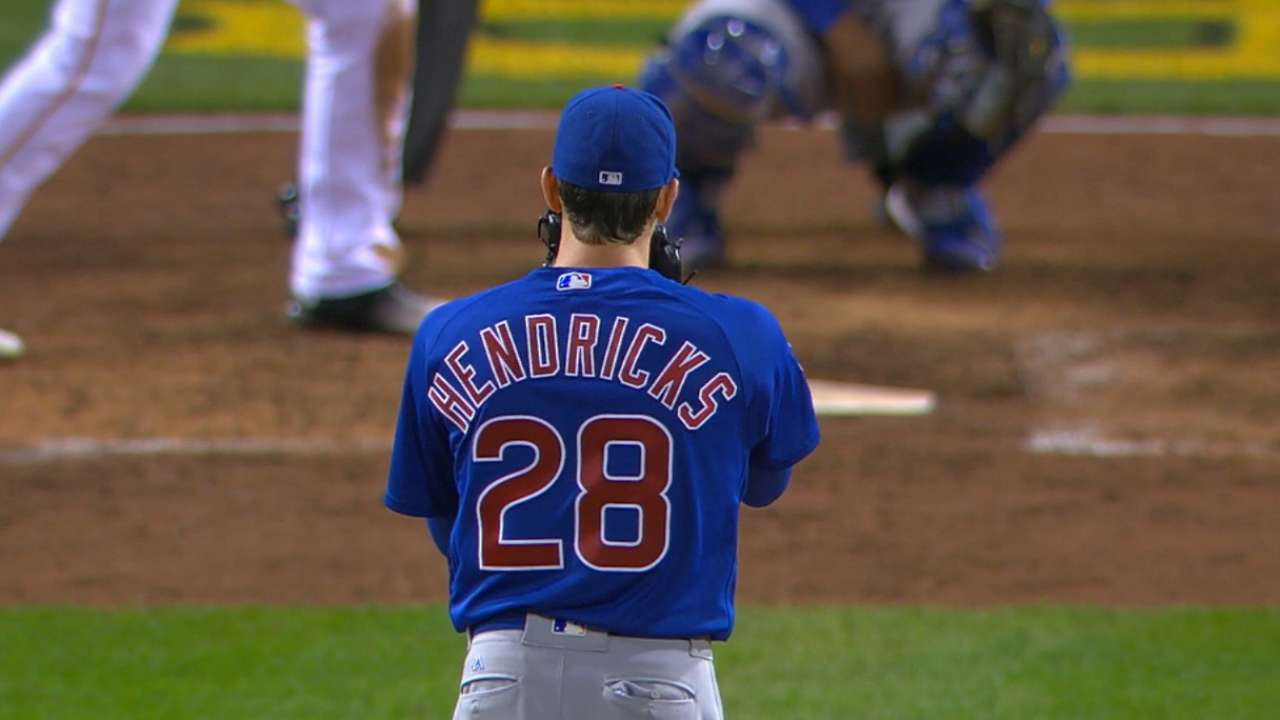 PITTSBURGH -- After the fourth inning, Cubs manager Joe Maddon walked over to Kyle Hendricks in the dugout at PNC Park. Hendricks thought the manager might be peeved because the pitcher didn't score on Kris Bryant's single that inning. Instead, Maddon wanted to know what Dartmouth's mascot was.
"He says, 'So, if I was to go to the bookstore at Dartmouth, what would I see as the nickname of the school?'" Hendricks said Monday after picking up his 16th win in the Cubs' 12-2 romp over the Pirates. "I said, 'Big Green,' and he walked away."
That just shows how relaxed the Cubs are. Hendricks' win was the Cubs' 100th of the season, the first time the franchise has reached that figure since 1935. Those aren't the only impressive numbers linked to the right-hander.
• Buy NL Central champions gear
Hendricks now boasts a 1.99 ERA. You don't have to look far for the last Cubs pitcher to finish the season with a sub-2.00 ERA. Last year, Jake Arrieta did so (1.77) and won the National League Cy Young Award. The previous low for a Cubs pitcher before Arrieta? Dick Ellsworth, who posted a 2.11 ERA in 1963.
Hendricks' stiffest competition for the Cy Young Award will come from his teammate, Jon Lester, who is second in the Majors with a 2.28 ERA. Lester is 19-4, Hendricks is 16-8.
"We did not anticipate all of this," Maddon said of Hendricks, who began this year as the fifth starter. "He's really exceeded [expectations]. This is something he can carry on for years. By no means is it a fluke or anomaly."
Hendricks has given up three or fewer earned runs in each of his past 22 starts, the longest streak by any big league pitcher this season. Against the Pirates, the right-hander scattered seven hits over six scoreless innings and struck out five. He escaped a jam in the third when the Pirates had runners at second and third with one out. Hendricks got Josh Bell to hit a comebacker and Andrew McCutchen then flew out to center.
"The biggest thing I've noticed is he finds a way to get them to make weak contact," Bryant said. "All the ground balls, it doesn't seem like there's any hard ground balls, popups. It's unbelievable what he can do. He just knows how to pitch, he's a smart guy and knows where the ball is going. As a defender, it makes it so much easier to play behind him."
"He is so professional and so oriented to attention to detail, and he's smart," Maddon said of the Dartmouth grad. "He knows what he's doing out there. A big part of it is the confidence factor. His confidence is absolutely in the stratosphere. That kind of pitcher, the kind of stuff he has, you have to have that confidence."
He does not overpower batters, and he did not top 87 mph on any of his third-strike pitches. As Maddon says, Hendricks "challenges hitters in non-conventional ways." The pitcher also isn't checking his ERA on an inning-by-inning basis.
"It's the same thing I've been saying -- to get those results, you can't focus on them," Hendricks said. "The results are out of your control. You just have to focus on the pitches you're making."
Carrie Muskat has covered the Cubs since 1987, and for MLB.com since 2001. She writes a blog, Muskat Ramblings. You can follow her on Twitter @CarrieMuskat and listen to her podcast. This story was not subject to the approval of Major League Baseball or its clubs.